Tia Mowry Shares Heartwarming Photo of Husband & Cute Daughter — Fans Say They Look like Twins
Tia Mowry's husband, Cory Hardrict, and their little daughter, Cairo, looked adorable bonding with each other in a new Instagram post.
Many families were brought together during this pandemic while in quarantine within their homes. While Tia Mowry was among those who bonded a lot with her kids, she recently admitted that her daughter remains a daddy's girl.
The "Sister, Sister" star shared an Instagram photo of her husband, Cory Hardrict, and their only daughter, Cairo, bonding over what seems to be a television show and looking like twins.
As seen in the selfie, the father-of-two sat comfortably, wearing a Metalica tee and facemask, while his little girl sat on him in her pink and red cherry print pajamas.
Although Mowry did not disclose the duo's activity, it looked like Cairo was focused on watching something on a screen. Fans could not help but gush over the adorable photo and notice the strong resemblance between them.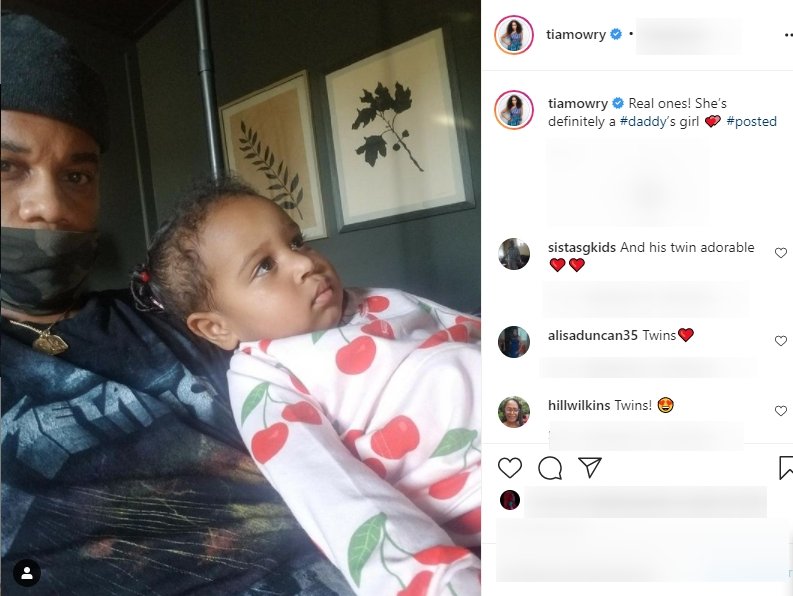 "Precious photo daddy's baby girl," one comment read, while several other followers were unanimous in saying the father-daughter-duo looked like twins.
Instead of having an outdoor party with friends, the Mowry-Hardrict family had a small house party.

Previously, Mowry posted a photo with her daughter looking pretty in pink as they posed before a small Halloween pumpkin set-up. The two wore matching pink swan sweatshirts and tutu skirts while standing hand-in-hand.
Despite the difficult circumstances, the actress still did her best to make her kids feel a little normal amid the pandemic by celebrating Halloween. However, it seems that Cairo is setting into quarantine life well.
The two-year-old decided to unleash her creativity at home by decorating the bathroom while practicing social distancing. Her mom gave fans a glimpse of the toddler's artwork that made everyone's day.
Cairo was snapped arranging Mowry's sanitary pads in a distinct pattern on the glass door in the photo. "Well, I was gonna say 'no,' #cairo, but then again, we gotta keep them busy right!" the star wrote in her caption.
Cairo was among the many kids who celebrated their birthday in quarantine. Instead of having an outdoor party with friends, the Mowry-Hardrict family had a small house party.
The actress shared details about her daughter's birthday, revealing that they had fun with many balloons, decorations, delicious food, cake, and the company of the best people in the world -- family.