Dwyane Wade's Daughter Zaya Looks Stunning after Dressing Herself in a Burberry Sweater & Jeans
Former Miami Heat player Dwyane Wade's 13-year-old daughter, Zaya, recently impressed her fans and followers with photos of a stylish look that she put together.
Dwyane Wade's daughter, Zaya, is proving that she is a beautiful young lady of many talents. The teenager recently took to Instagram to boast about her latest creative process with a look styled by her. She wrote:
"?yeah that's right...I came up with that outfit pairing all by myself?."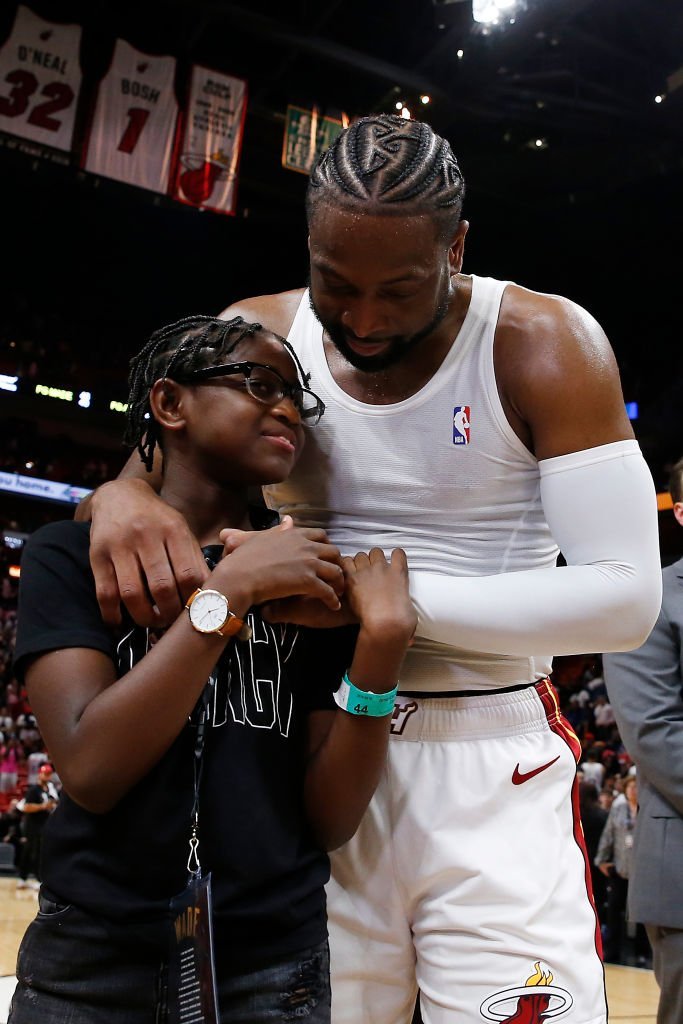 The beautiful 13-year-old Zaya, who proudly rocked her blue-tinted hair, shared two pictures of herself in her fabulous outfit. She was dressed in a stylish Burberry sweater that hung loosely on her small, young frame.
She paired the cute sweater with a pair of loose-fitting blue jeans with frayed edges at the bottom hems. The budding stylist completed the look with a pair of sneakers with mismatched laces — yellow laces on one foot and green on the other.
In the first picture, Zaya posed like a model on the brown leaves and greenery on the ground. With a smoldering look for the camera, she propped one arm on a knee. 
The second photo was a close-up of her look, showing off her flawless face and stylish rings. Zaya's fans and followers fell in love with her style. This beautiful 13-year-old is definitely on to something here!
Wade and his wife, actress Gabrielle Union, did something that surprised a lot of their fans and many other people.
Many things were eye-catching about Zaya's photos, including her hard-to-miss blue hair. As fans have quickly come to understand, this teenager is not scared to try out new styles, colors, and other fun things.
In fact, she debuted her blue hair in anticipation of a fun summer in July. Her proud dad, former Miami Heat player Wade, was the first to show off his little girl's new look on his Instagram. He wrote:
"Love wins ?????."
The proud father shared a precious photo of his daughter hanging out in the pool with her vibrant bright blue hair dripping with water. The post garnered many likes and a long list of comments from fans, friends, and celebrities.
Besides gorgeous shades of blue, Zaya has also tried out other colors, including a delicious cotton candy pink color on her short curls. Wade also joined his daughter by dyeing his hair a nice bright red. The father and daughter twinning duo was magnificent.
Back in February, Wade and his wife, actress Gabrielle Union, did something that surprised a lot of their fans and many other people. 
They introduced the world to Zaya when the then-12-year-old came out as transgender. Wade admitted that he and his family had so much to learn and need to educate themselves about their daughter's gender identity.
The former athlete and his wife also confessed that they had many hurdles to face being Black parents with a Black transgender daughter. All in all, as they continue to learn and grow, their beautiful daughter, Zaya, continues to flourish.