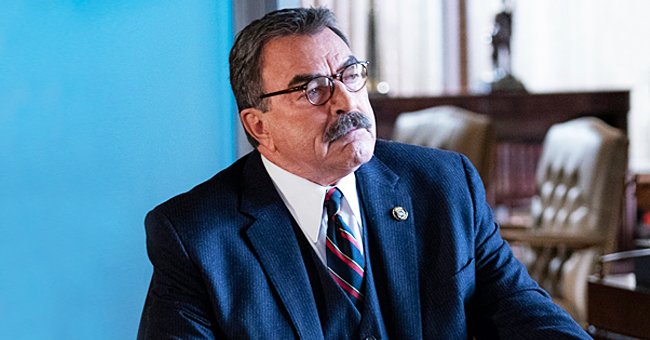 Getty Images
'Blue Bloods' Fans Adore Frank Reagan — Here's the 1 Thing They Said He's Missing in His Life

"Blue Bloods" fans adore Tom Selleck's character Frank Reagan, however many agree that there is something missing in his life and on the show, a love interest!
The Blue Bloods Instagram account recently shared a photo of Frank Reagan, played by the handsome Tom Selleck that had fans sharing that he was missing one thing, a woman.
In the CBS drama, Selleck plays the role of New York City Police Commissioner Frank Reagan. Selleck puts on an amazing performance as a tough-love family man on the show.
After Frank's wife, Mary Margaret Reagan passed away, the character has remained mostly single which has fans wanting a love interest for the Commissioner.
So much so that in the show's newest post of Frank, many fans who adore the actor commented saying not only is he gorgeous but that they wanted to see him with a love interest, one fan wrote,
"One thing missing... He needs a woman in his life!"
A fan comment on Blue Bloods Instagram of Frank. | Photo:Instagram/bluebloods_cbs
Many fans shared the sentiment. Another said she votes for Kelly Peterson, who is portrayed by Bebe Neuwirth. The character appeared in the fourth season as a new Inspector General.
Neuwirth had returned in season 8 and again in season 9 which had fans wondering if it was a hint that she may be a possible love interest for Reagan.
When Selleck first landed the role he was worried he would have to shave his stache.
A fan is hopefully Kelly Peterson will be a love interest. | Photo: Instagram/bluebloods_cbs
Peterson had resigned in season 4 after admitting to Reagan that she was falling for him. Selleck himself has shared his opinion of the possible love match, however, does not leave much hope for the relationship being a possibility.
He shared that he loved working with the actress, Bebe, however, he did not see the characters relationship developing into marriage as he has to stay true to who his character is, he said,
"It's important he remains a man alone in overall concept because that's part of the sacrifice he's made."
Fans adore Frank and want to see him in a relationship. | Photo: Instagram/blueblood_cbs
Both Frank and Selleck are known for their iconic mustaches, however, when Selleck first landed the role he was worried he would have to shave his stache to represent the character correctly as a commissioner.
Luckily, the commissioner is a civilian position as the creator of the show Leonard Goldberg found out after asking the question to CBS, meaning Selleck could keep his mustache for the character.
Selleck is well known for his starring role in the 80s hit "Magnum, P.I." where he too rocked his signature mustache, which turned him into a pop culture icon.
"
Blue Bloods
" debuted its 11th season this year which had Whoopi Goldberg returning for the first episode. Her return to the beloved show left a lot of fans with mixed emotions.
Please fill in your e-mail so we can share with you our top stories!