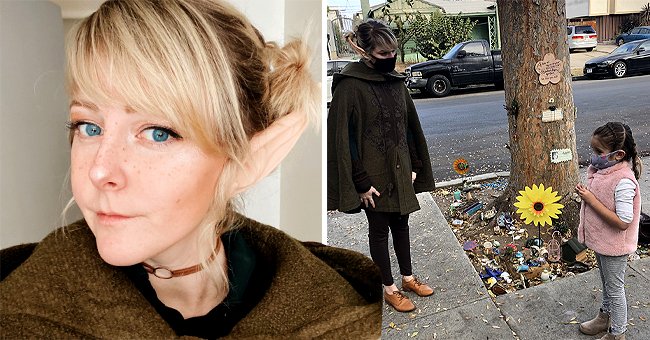 twitter.com/saysthefox
Story of a 4-Year-Old Girl's Friendship with a Real Fairy Goes Viral on Twitter
In a year such as this, where social media is filled with devastating news and horrifying statistics, one could all do with a heartwarming story. Here's a story about a 4-year-old girl's friendship with a real fairy.
One story that has brought a smile to people's faces since it went viral is the cute story of a 4-year-old girl's friendship with a real fairy. A photographer based in L.A., Kelly Kenny, took to Twitter to recount the adorable friendship she shared with the girl
The photographer met the 4-year-old through a fairy garden in her neighborhood. Kenny's personal troubles during the start of the pandemic led her to embark on a routine long night walk in a bid to clear her head.
On one of her routine strolls, Kenny noticed a fairy garden down her street. The fairy garden had a little note about a four-year-old girl who felt lonely during the quarantine and wanted to spread some cheer.
Thinking of a way to lighten up the sweet four-year-old, Kenny wrote a note, pretending to be a fairy named Sapphire who had come to live in the tree because she set it up nicely.
Kenny said she left the 4-year-old a set of activities that, when completed, would earn her a magical fairy dice as a reward. The task required the little girl to say five nice things to people she loved and to do three helpful things for someone in need.
The four-year-old was asked to draw a picture of her favorite animal so that she could show the other fairies. Kenny said she was skeptical about getting a response from the four-year-old but was left emotional when she saw the little girl's response.
Kenny found out that the girl's name was Eliana, and she had completed all the tasks. The photographer then fulfilled her promise and left the magic fairy dice alongside a note for her parents.
She included her phone number because she did not want Eliana's parents to think she was a creep leaving messages for their daughter.The duo developed a close bond via correspondence during the pandemic and kept each other company.
Kenny said her friendship with the 4-year-old girl gave her something to look forward to in a dark time. Eliana's mom, Emily, reportedly said that she was glad about Kenny's impact on her daughter and hoped that the story continues to bring healing to the world.
Kenny's kind story brings to mind a woman who shared a heartwarming story about a man she saw taking care of his father, a Korean War veteran who had trouble feeding himself. The woman, Tiffanie Miller, approached him to thank him for his selfless act.
In return for her compliment, the man sent Miller a note with the caption "C.Y.H" ( consider yourself hugged). An emotional Miller responded to the kind gesture with a warm hug.
Their emotional moment inspired others to give kindness in a time like this. During the pandemic, people have been sharing pictures of good deeds and acts of kindness to others.
Please fill in your e-mail so we can share with you our top stories!