Cecily Chapman Shares a Cute Throwback Photo as She Wishes Happy Birthday to Her Sister Bonnie
Cecily Chapman, daughter of tv reality bounty hunters, Dog and Beth Chapman, shared an adorable throwback to wish her little sister for her birthday. 
Cecily Chapman shared an adorable throwback photo with her younger sister, Bonnie, to wish her sister a happy birthday. The sisters are the daughter of the legendary Tv reality bounty hunters, Dog and Beth Chapman. 
Cecily and Bonnie, plus their other siblings, have had a tough time this year as it was the first anniversary of their mother's death this year. 
The family held a memorial day filled with different activities this year in June to honor Beth. The day consisted of a sunrise hike, followed by a sunset paddle out and prayer. 
She revealed that she had spent a month making plans for the memorial day for Beth, and the fact that she had been distracted and focus on the plans is what got her through the day as she said, 
"Then when the day came, I was really focused on what was going on. So it was kind of a bittersweet distraction."
The two photo series Cecily shared to wish her sister for her birthday featured a photo of the sisters with a beauty filter over it that added white and yellow flowers to their ears, the second one was an adorable photo of the two as young children. 
The caption read she would come to visit Bonnie soon. Birthday wishes are not the only thing Cecily shared with her sister. She has plans to give her mother's wedding dress to her after she is married wearing it. 
Dog has recently got in engaged to his rancher girlfriend, Francie Frane.
The reality star shared that she had decided to wear Beth's wedding dress from her 2006 wedding to Dog, to her own wedding to fiancee, Matty. 
She said she had thought her mother was so beautiful on her wedding day and getting the opportunity to wear her dress at her own wedding will make her feel closer to her mom, she explained, 
"But most of all it's a way for me to feel like she is with me the whole time and be a part of the wedding."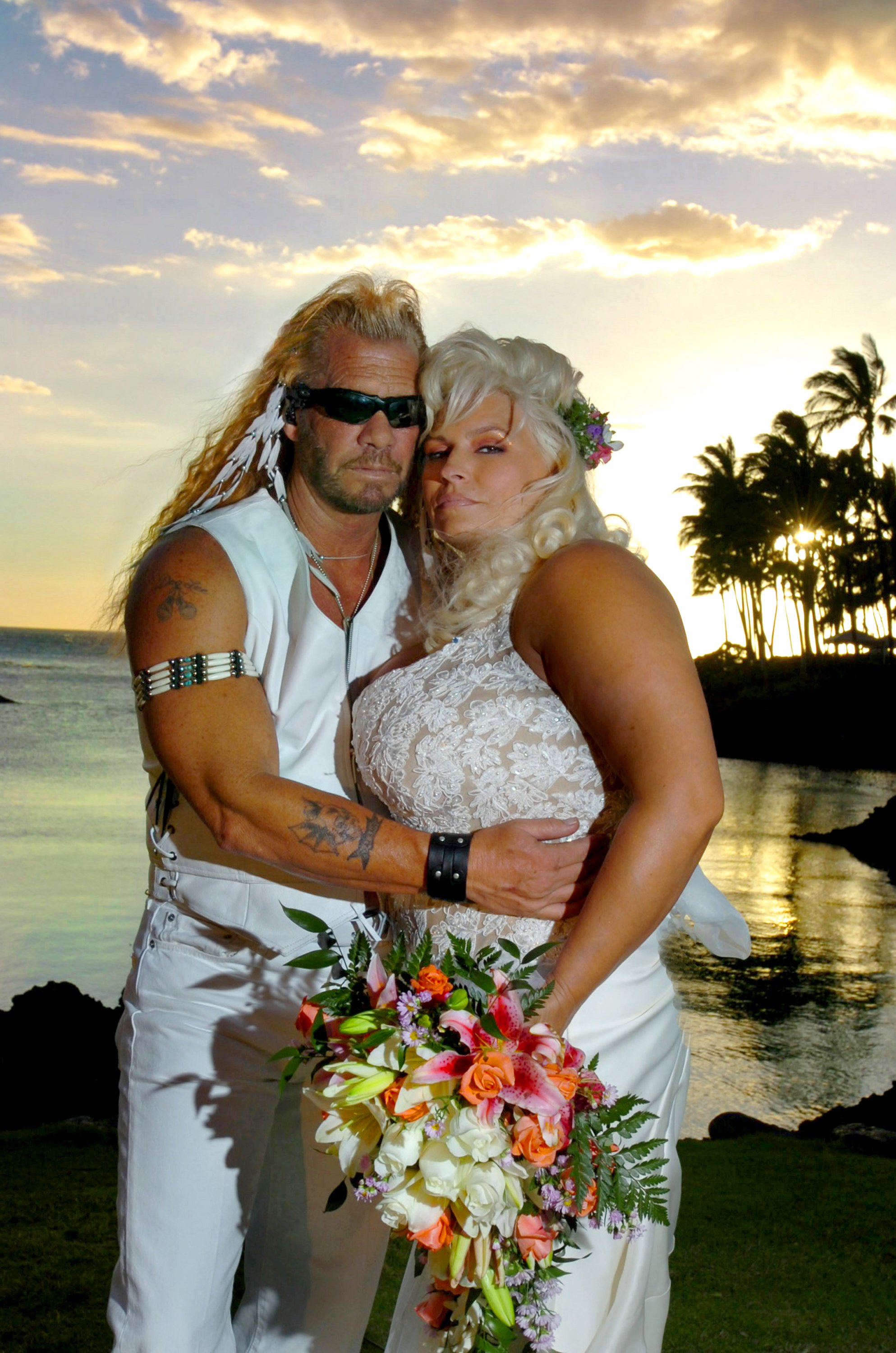 Cecily explained that her dad, whose real name is Duane Chapman had been very supportive about the girls keeping what they wanted of their mothers, and understand what he would mean to her to wear the wedding dress.
Dog has recently got in engaged to his rancher girlfriend, Francie Frane. The two had bonded over the grief of losing a spouse to cancer as Frane's late husband Bob died a few months before beth had passed away. 
Beth died at the age of 51 after a battle with stage II throat cancer, she had been diagnosed in 2017. She left behind her husband, 12 children, and 11 grandchildren. 
Cecily has created a clothing line called For Beth as a way to honor her mother in death. Many of the lines t-shirts and caps are featured on her Instagram account.