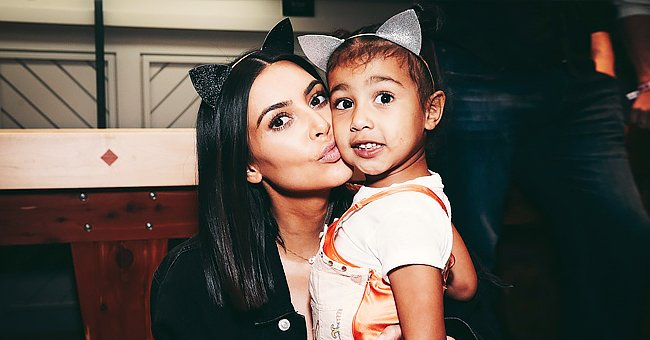 Getty Images
Look at Kim Kardashian's Kids' Lavish Rooms with Personalized Christmas Trees

Kim Kardashian recently gave a tour of her kids' festively decorated rooms, and the proud mom went all out to give her babies the perfect personalized Christmas trees.
Kim Kardashian West has often been criticized for her overly minimalistic house, but the doting mom does things a little differently when it comes to her four kids, North, 7, Saint, 5, Chicago, 2, and one-year-old Psalm.
The SKIMS mogul recently gave her fans a glimpse of her kids' festively decorated room and their Christmas trees which were decorated in unconventional ways according to her kids' wishes.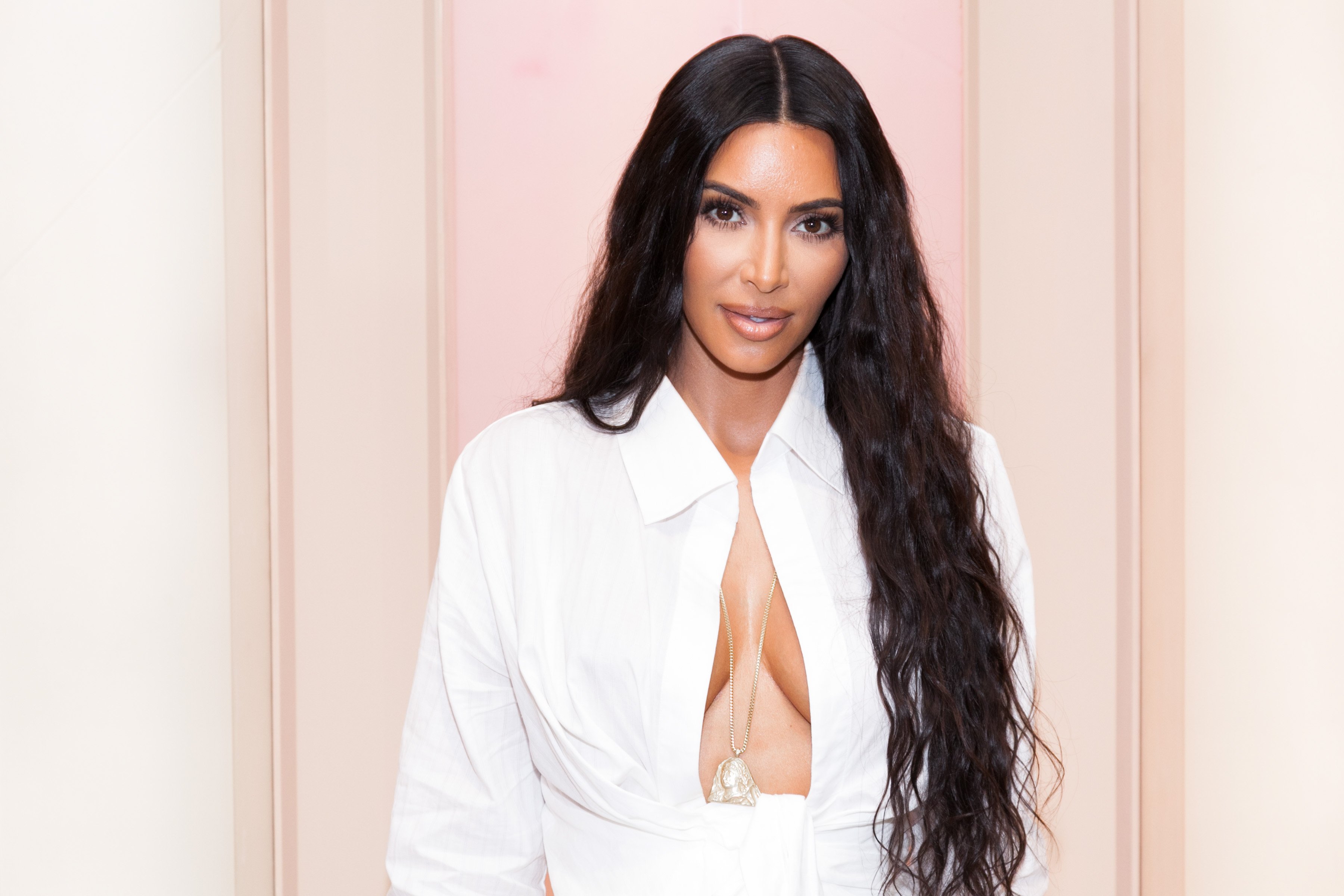 Kim Kardashian West at her KKW Beauty and Fragrance pop-up opening at Westfield Century City in Los Angeles on June 20th, 2018 | Source: Getty Images
As Kardashian gave fans a tour of the Christmas decorations, she zoomed in on a uniquely decorated tree. Instead of conventional Christmas ornaments, Saint's tree featured multicolored dinosaurs.
On the other hand of the extremes, North's Christmas tree was a delightful candy-and-cake-themed tree with colorful cupcake and ice-cream ornaments on pink tree branches.
Kardashian also took the opportunity to show fans her kids' lavish bedrooms. As the camera panned through her daughter, Chicago's room, fans were treated to a hotel-like grey and cream decor.
The room featured a plush baby-pink chair, oval mirror, and some colorful flowers in one corner. In another corner was a tiny vanity table for the adorable girl plus a bookshelf with a large variety of reads.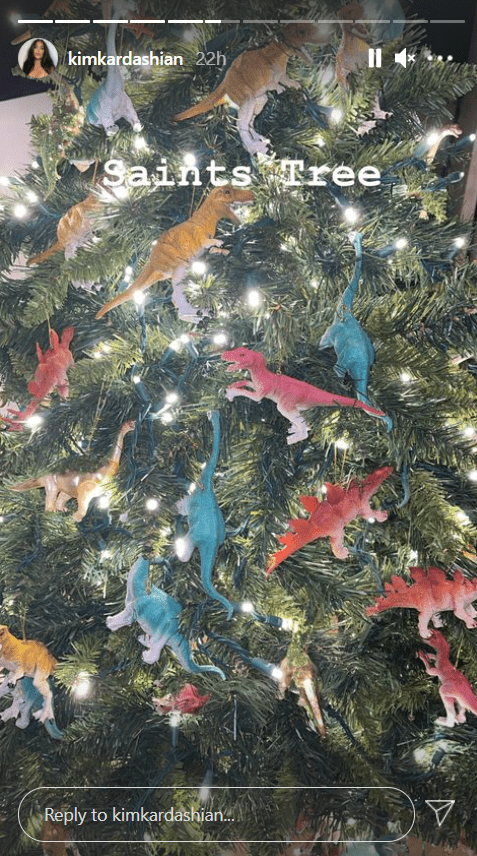 Screenshot of a photo of Saint West's dinosaur-themed Christmas tree.| Source: Instagram/kimkardashian
North's blush-themed bedroom is a stark contrast to Chicago's room and the rest of the house. It is perhaps the only room with bright colors. The room sets itself apart with bright pink walls and decor.
North herself was featured during the tour, lying playfully on her bed which had all pink bedding, plush pink pillows, and rested against a huge butterfly-shaped headboard.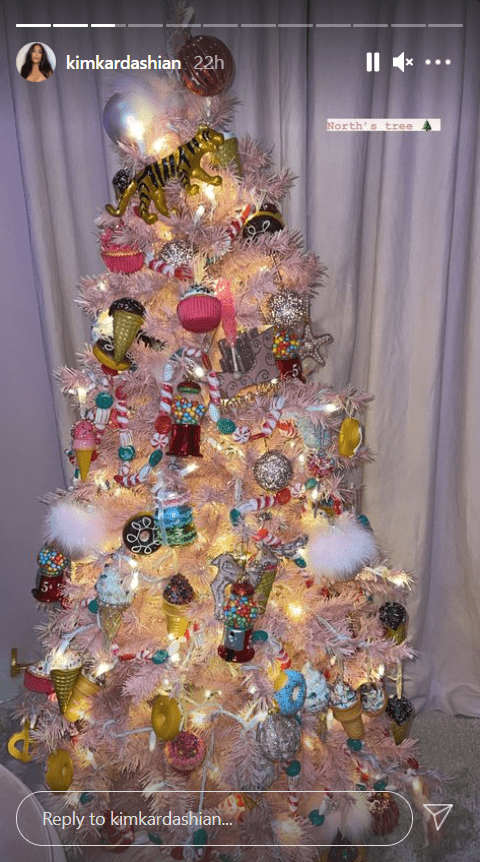 Screenshot of a photo of North West's personalized Christmas tree. |Source: Instagram/kimkardashian
While North's room may deviate from Kardashian's minimalist dream, it's not the only room where the doting mom splashed some color. An earlier tour gave fans a look at the kids' playroom, which is filled with toys and activities for all four kids to enjoy.
The huge playroom, which was featured on "The Ellen DeGeneres Show" in February, featured an array of toys, including child-sized play horses and unicorns, a stage for the kids' performances with their drums and other instruments.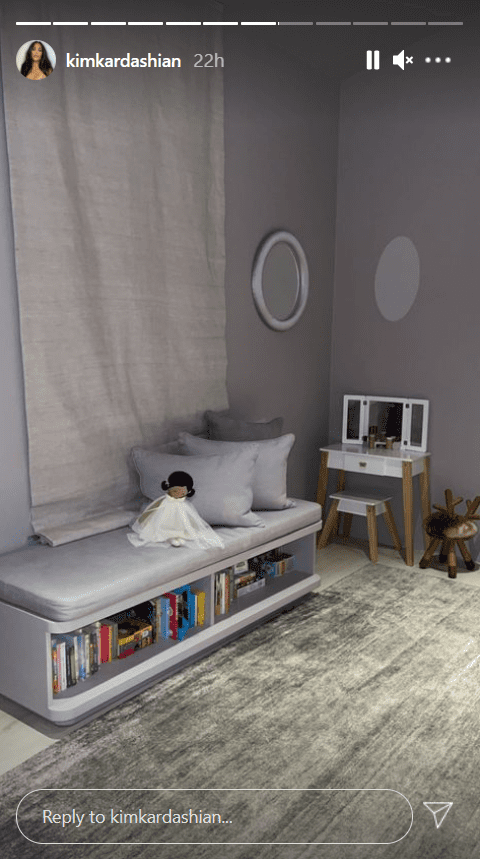 Screenshot of a photo showing Chicago West's vanity and bookshelf. |Source: Instagram/kimkardashian
The extravagant playroom also features a projector so the kids can watch movies, plus a homework station complemented by a huge bookshelf with lots of different books.
Kardashian also showed different areas of the room personalized with each child's preferences. The most outstanding was Chicago's area, which featured a playtime grocery store.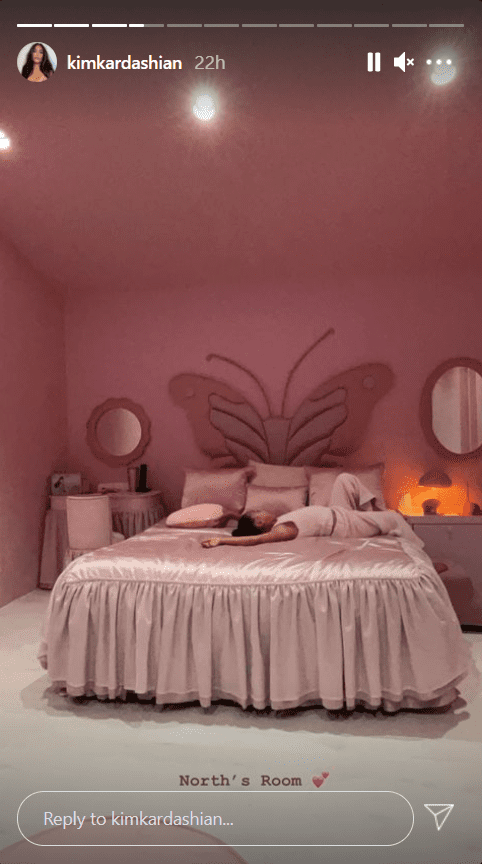 Screenshot of North West lying on her bed in her butterfly-themed bedroom.| Source: Instagram/kimkardashian
However colorful the room was, Kardashian still added aspects of her famous organizational skills in the room with color-coordinated costumes hung neatly in the closet and labeled craft boxes stacked along the wall.
Please fill in your e-mail so we can share with you our top stories!