Catherine Zeta-Jones, 51, Defies Age in Romantic New Photo with Husband Michael Douglas
Catherine Zeta-Jones nestles up to hubby, Michael Douglas, in a picture that will have you second-guessing her 51 years! The beauty celebrates 20 years of marriage to Michael and shares what's kept them sane during the quarantine.
"Chicago" actress, Catherine Zeta-Jones has shared a selfie of her and Oscar-winning husband, Michael Douglas. The 51-year old wears no make-up, as she exhibits a slight pout on her lips.  
Zeta-Jones has accessorized with a pair of large square-framed sunglasses and a tan hat, while Michael sports a blue baseball cap dressed in a blue shirt.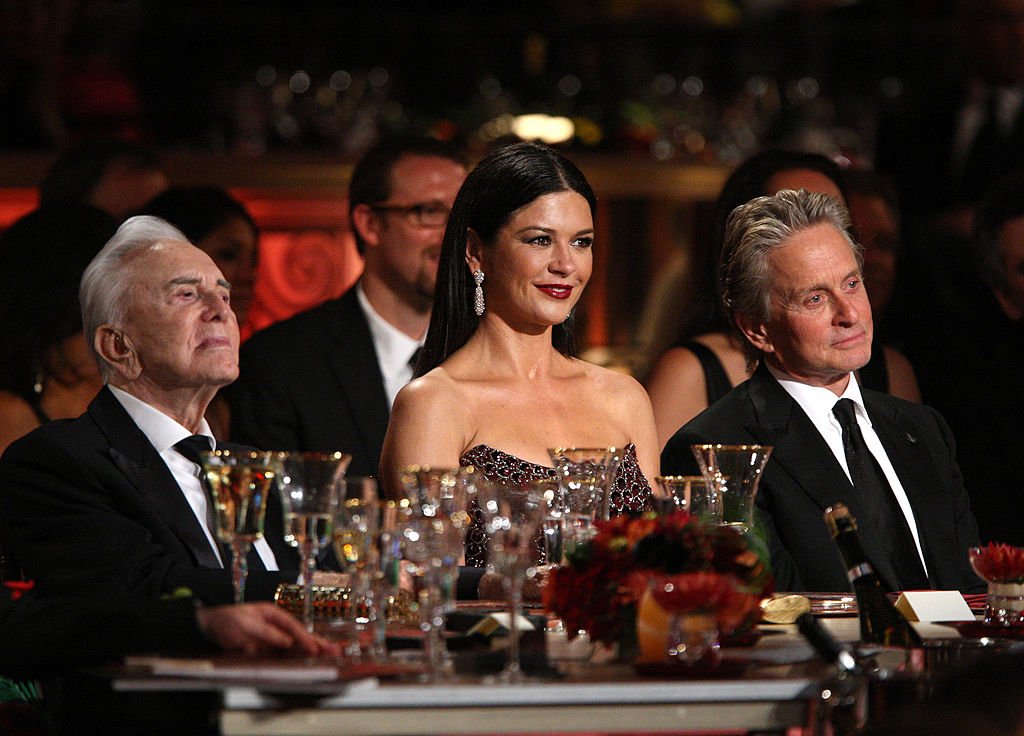 A simple "Goodmorning" caption by Zeta-Jones has drawn many praises in the comments, with one commentator idolizing them as the perfect couple, while another wishes them a wonderful festive season. 
Several emoji's displaying red hearts, faces blowing kisses, and the yellow flame accompany the comments, as one devotee writes: 
"You 're the most beautiful in the word." 
The Welsh-born actress displayed her playful side earlier this month, in a throwback snap of herself from the 90's series "Darling Buds of May," in which "All I Want For Christmas" songstress, Mariah Carey couldn't help commenting on. 
Following Thanksgiving, Zeta-Jones presents a choice between Christmas carols or decorations, in the edited version of the picture where she holds two plates of food, wearing a hat accessorized with yellow flowers and a broad smile.
The star revealed that surviving quarantine was about ensuring all 4 family members did not intrude on each other's space.
Zeta-Jones and Michael celebrated 20 years of marriage this past November. Michael shared a clip on Instagram about meeting his wife for the first time, where he was blown away while watching her screening of 1998's "The Mask Of Zoro." 
His wife put together a slide show of memorable pictures, including those from their wedding day, with James Brown's "I Feel Good" in the background. She captioned her dedication: 
"20 years ago today Michael and I were married!! And 7304.85 days and nights on, I love you now as I did then." 
The star of "Darling Buds of May" lives in a Georgian mansion in Irvington, just outside Manhatten, with her husband, and their son, Dylan (19), and daughter, Careys (17).
They also occasionally enjoy trips to Zeta-Jones' hometown of Swansea in Wales, where they own a large family home, as well as an apartment located in Central Park West.    
The star revealed that surviving quarantine was about ensuring all 4 family members did not intrude on each other's space. They passed the time playing board games including Monopoly and enjoying a game of cards. 
Zeta-Jones also shared her love for interior design, which led to the launch of her homeware range, "Casa Zeta-Jones." She offers an assortment of rugs, bath towels, and linen.