Pamela Anderson Poses in Nothing but a Gold Necklace and Oversized Straw Sun Hat
Pamela Anderson, best known for her many appearances in Playboy magazine, hit the internet hard once again when she posted her new sexy photo on social media.
Television personality Pamela Anderson shared a stunning shot of herself on Instagram on December 27. The photo seemed to have been taken a long time ago.
The 53-year-old blond beauty wore nothing but an oversized sun hat and a large gold necklace dripping with fake diamonds. She is seen pouting her gorgeous lips in the snap.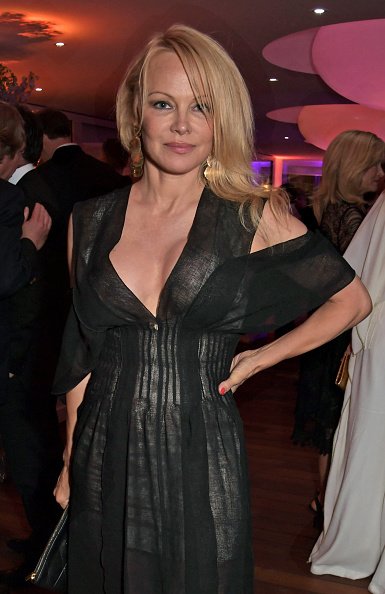 The racy photograph was taken from Anderson's waist up. The "Baywatch" actress was topless, and some strands of her jewelry extended deep into her cleavage.
Anderson's long, blond hair cascaded over her shoulders. Her bangs fell seductively across her left eye, and while taking the picture, her arms appeared to push her breasts together.
In the caption of the fabulous picture, Anderson expressed her desire for sunshine in California or on the French Riviera. The photo has currently received more than 26,000 likes.
In September, Anderson said that she "was never legally married" to Jon Peters.
In the comments section, the star's legion of followers shared their adoration of the photo. However, Anderson restricted comments as she only allows those she follows to share their thoughts.
Anderson previously posted a photo on Instagram, revealing her round bottom in a white dress. The mother of two stared directly into the camera to entice her adoring fans.
For the photoshoot, Anderson donned an outfit with a retro vibe to it. The garment was sleeveless, revealing her toned arms, and the back of the dress featured a zipper.
The sexy ensemble fits tightly around her bottom, which looked full and pert as she sat on heels. A small slit was visible beneath her back at the hem of her dress.
In September, Anderson said that she "was never legally married" to Jon Peters after a report surfaced that she is now dating her security guard, Dan Hayhurst, seven months after splitting with Peters.
The news of Anderson's split with Peters came eight days after she shared her first picture of herself and the film producer as a seemingly married couple to her Instagram Stories.