Fantasia's Daughter Zion Looks Stunning Posing in a Strapless Black Dress with Red Lipstick
For her Christmas look, Fantasia Barrino's 19-year-old daughter, Zion, went for a simple, classy theme and showed off her beauty in a recent post shared on her Instagram.
Singer Fantasia Barrino's beautiful daughter, Zion, recently blew her Instagram followers away with a stunning video of herself, which she shared on Christmas Day. Captioning her post, the beautiful Zion wrote:
"Merry Christmas ❤️"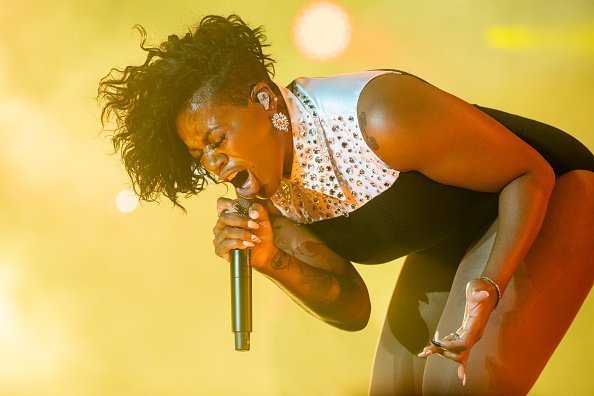 The simple caption perfectly depicted Zion's video with simplicity and effortless style. The dark-haired beauty opted for a simple, clean, and stylish look for her Christmas post.
The clip showed her rocking a semi-visible black figure-hugging strapless tube top, leaving her shoulders, toned arms, and flawless skin on display. 
She accessorized with a dainty silver necklace, which matched her eye-catching stud earrings that glinted in the light as she moved her head ever so slightly while zooming the camera in and out.
Zion rocked a bold dark red lip and fierce but natural-looking makeup. She wore her long dark hair in straight locks that fell down her back. The 19-year-old quickly showed just how much of a stunner she truly is.
They tied the knot and most recently revealed that they are expecting their first child together.
Every time Zion posts on social media or pops up now that she is all grown up, the teenager always reminds her mother's fans that she truly is her mother's daughter.
Fantasia had her baby girl when she was only 17 and has loved her unconditionally since then. The singer has never been shy gushing about her special relationship with her daughter.
Ever since she rose to fame on "American Idol," the proud mom has always made Zion her focal point. When asked if she regretted being a teen mom in 2006, Fantasia said:
"I'm not going to say that my daughter Zion is a mistake because she is a blessing to me. But if I could have waited...she's my angel."
The "American Idol" alum also proudly revealed that Zion is the reason she works hard for everything despite the challenges they have faced. Although she was not certain if Zion would become a music star like her, she revealed that they loved to sing together.
Fantasia shares her darling daughter with her former partner and high school sweetheart, Brandel Shouse. They parted ways in 2003, and years later, they started to battle in court for custody over their daughter.
After the legal battles were conquered, Zion and her mother continued to live a happy life. In 2019, when the singer's daughter turned 18, Fantasia went all out to celebrate the important milestone with the most heartfelt and touching tribute on Instagram.
In 2015, the "Free Yourself" crooner found love again in the arms of Kendall Taylor. They tied the knot and most recently revealed that they are expecting their first child together after struggling with fertility issues.
Fantasia is also the mother to her 9-year-old son, Dallas, with her ex-partner Antwaun Cook. With a new sibling on the way, the stunning Zion and her family certainly have a lot to look forward to.