Stephen Curry's Wife Flaunts Red Lips & Shows off Her Killer Legs in Dress with a High Slit
Celebrity cookbook author Ayesha Curry recently shared new Instagram photos showing off her toned legs in a gorgeous red dress, and she looked nothing short of stunning with complementary red lipstick.
Stephen Curry's wife Ayesha is undoubtedly a very beautiful woman. Once again, the proud mom has taken to social media to show off her captivating beauty.
In a recent Instagram post, Ayesha shared pictures of herself posing in a red patterned maxi dress with tiny straps and a low neckline revealing her gorgeous cleavage.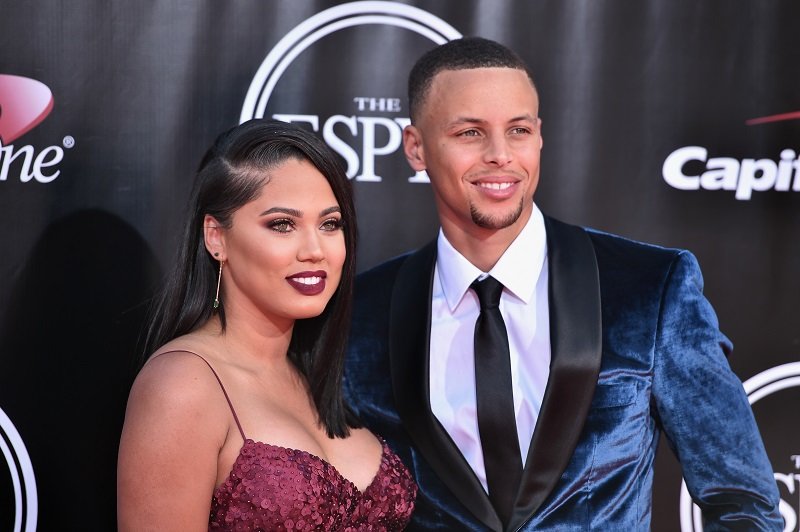 The dress also featured a thigh-high slit through which Ayesha flaunted her long toned leg. She accessorized with a green belt tightly cinching her waist.
To enhance her good looks, Ayesha opted for bright red lipstick and nude eye makeup while letting her long black braids loose over her shoulders. 
Ayesha was captured sitting on the floor with a miniature Santa Claus standing right behind her. While the first slide saw her flashing a charming smile, the second had her stylishly holding one finger to her chin.
She accompanied the images with a caption revealing that she missed her husband and was counting down to the day he would return home to be with her.
As expected, Ayesha's post garnered several reactions from fans and followers who took to the comments section gushing about how good she looked. The images also racked up several likes with over 300,000.
These revelations sparked concerns among internet users who were quick to share their disapproval.
In addition to being famous as Stephen Curry's wife, Ayesha has also made a name for herself as an actress, a cookbook author, and a restauranteur.
Ayesha's greatest achievement is perhaps her thriving family life with Stephen and their three kids. Earlier in the year, the proud mom opened up about her quarantine period, and as expected, it was quite a chaotic experience.
While Ayesha's love story with Stephen has warmed the hearts of many, the cookbook author has come under attack a few times in the past for allegedly being insecure about her relationship.
In 2019, Ayesha granted an interview where she reportedly admitted that she did not like that her husband was always the center of attention for ladies.
She explained that being married to Stephen meant women were always lurking around him and waiting for a chance to be with him. Ayesha noted that she got little or no attention from men, making her doubt herself sometimes.
Unexpectedly, these revelations sparked concerns among internet users who were quick to share their disapproval over Ayesha's comments during the interview.
However, despite the backlash, Ayesha received support from Stephen, who publicly declared that he was proud of her for speaking her truth and remaining authentic.
Over and over again, Ayesha and Stephen have proven that they would always have each other's backs, and not even naysayers can get between them.