Kelly Clarkson Stuns Fans Singing a Powerful Rendition of Madonna's Iconic Song 'Borderline'
"American Idol" alum Kelly Clarkson had fans gushing over her music prowess after performing a powerful cover of Madonna's iconic song, "Borderline," during a recent episode of her talk show.
Kelly Clarkson is undoubtedly a talented singer, and once again, the "American Idol" alum is showing off her vocal range with a new mind-blowing performance.
During a recent episode of her daytime talk show "The Kelly Clarkson Show," the singer gave a powerful rendition of a famous classic song by the Queen of Pop, Madonna.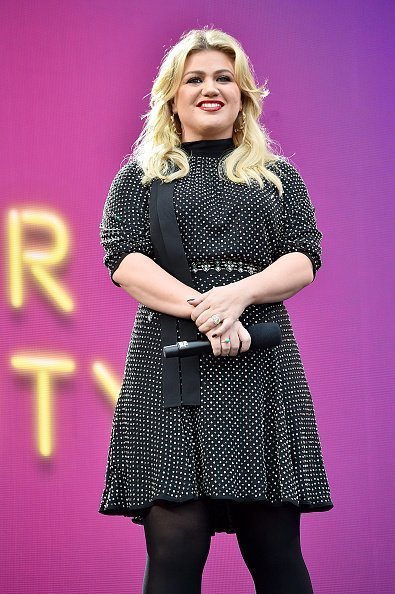 Clarkson sang Madonna's 80's hit single, "Borderline," during the "Kellyoke" segment of her famous talk show, and to say she nailed it would be somewhat of an understatement.
Dressed in a brown dress shirt and black tights, Clarkson sang in a dark studio with shining yellow and purple lights behind her, giving the stage an 80s night-club look.
Clarkson sang "Borderline" in its original version for the most part but soon included her own touch while wrapping up the famous hit song.
The singer's amazing performance caught the attention of several fans who took to the comments section, gushing about how well Clarkson delivered the song.
Clarkson rose to fame in 2002 after emerging as the winner of the first season of "American Idol."
While one user commented that the rendition was perfect, another described Clarkson as a true songstress and vocal legend for how well she delivered "Borderline."
"Borderline" is a track off Madonna's eponymous debut album released in 1984. The song recorded success on its release, charting in the top 5 in five countries and making the top 10 on the Hot 100 list of that year.
Clarkson's recent cover of "Borderline" is not the first time she is taking on any of the pop legend's songs. Last April, the singer covered "Like A Prayer," Madonna's hit 1989 song.
Like her most recent performance, Clarkson hit every note on the song, adding her own spin to make it a memorable and soulful experience for viewers of her show.
In addition to Madonna's songs, Clarkson has also covered several songs on her eponymous talk show. Her most notable performances include "Princess of China" by Coldplay and "Hard Candy Christmas" by Dolly Parton.
Clarkson rose to fame in 2002 after emerging as the winner of the first season of "American Idol." Following her victory, the singer gradually warmed her way into the hearts of many with her powerful vocals and bubbly personality.
With multiple Grammy awards and several achievements today, Clarkson remains arguably one of the most successful winners of " American Idol."