Rose Byrne Calls Bobby Cannavale Husband but They Are Not Married — inside Their Love Story
Actress Rose Byrne has been with her partner Bobby Cannavale for almost a decade, and even though she calls him "husband," the couple are yet to tie the knot officially. 
Just like regular folks, celebrities, too, find their happily-ever-after. Most often forget that the only difference between a fan and a celebrity is fame; everything else is pretty much the same. 
And so it is no surprise that these amazing people who most look up to do find love in the most magical way, just like the rest of us. Thus goes the story of Rose Byrne and Bobby Cannavale.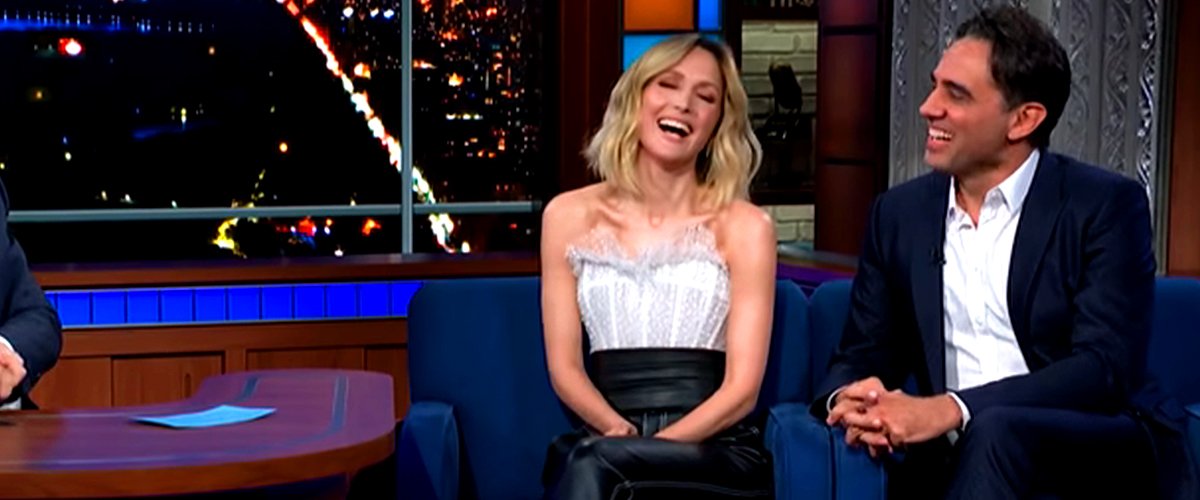 THEIR LOVE STORY 
According to InStyle Australia, Rose Byrne and Bobby Cannavale met on the set of the 2012 musical, "Annie," and they have been together ever since.
In the movie, Byrne played Grace, the woman who was a mother figure to Annie, while Cannavale played the political adviser to Jamie Foxx's character. 
"HUSBAND" AND "WIFE"
During a joint interview they had a while ago with Vulture, Cannavale and his "wife" gave a detailed explanation on the reason why they call themselves "husband and wife."
Bobby Cannavale explained that it was just easier to call themselves husband and wife. According to the actor, boyfriend and girlfriend seemed too young, and the word partner felt sterile. Therefore, the perfect words they could muster were husband and wife. 
However, even though Vanity Fair confirmed that the couple is still yet to walk down the aisle, in December 2019, Byrne was seen in public with two bands on her finger.
CANNAVALE AND BYRNE'S CHILDREN
Although busy parents, this couple make sure to put their children first. Byrne and her husband always make time for their two boys, Rocco, 4, and Rafa, 2.
Their 2020 interview with Vulture revealed that they had actually planned on getting married.
Not long ago, the couple made a joint guest appearance on "The Late Show with Stephen Colbert," and when asked about their kids, they revealed they are a handful. 
To Stephen Colbert's surprise, they stated that their nickname for their two-year-old son, Rafa, is "seal team 6." According to Cannavale, he is tough, crazy, and also a killer.
Their older son Rocco, on the other hand, is more, sensitive, relaxed and likes singing and dancing, but the toddlers are unstoppable when they join forces. 
The couple also revealed that early in the morning, they usually hear their boys talking to each other and conspiring against them. It always sounds like they were upset about something. 
Cannavale has another son, Jake, from a previous relationship with writer Jenny Lumet. Just like his dad, Jake is also an actor, and he has been cast alongside his dad in a movie named "Nurse Jackie." He also played a bounty hunter in "The Mandalorian."
WORKING TOGETHER
Most recently, Cannavale and Byrne starred in "Medea" (not to be confused with the popular Tyler Perry series "Madea"). The movie is about a wife whose blind rage toward her cheating husband leads to murder.
In the past, the couple has been cast together in movies like "Annie," "Spy," "Martha the Monster," "Angie Tribeca," and "Adult Beginners." The couple was also cast for a live reading of Arthur Miller's "A View from the Bridge."
MARRIAGE AND MORE CHILDREN
Their 2020 interview with Vulture revealed that they had actually planned on getting married, but giving birth to their second son knocked them off the trail.
Rose Byrne is not hyped to give her two boys a new sibling anytime soon, and according to her, they have a sibling already: "each other." The actress, 39, told Us Weekly exclusively:
"I can't even think about that, I'm so busy. [My boys] are keeping me very busy. They're physically very exhausting. They're still so little as well..."
CAREER AND AWARDS
Cannavale's big break arguably came when he was cast in the first-responders drama, "Third Watch" back in 2001. His performance in that movie led to his roles in the iconic series, "Ally McBeal," "Law & Order," and "Six Feet Under."
In 2005, he went on to win an Emmy for Outstanding Guest Actor in a Comedy for his role as Vince on "Will & Grace." Many years later, his career skyrocketed when he joined the cast of "Boardwalk Empire."
On the show, he played the role of a villain, Gyp Rosetti, from the third season. His excellent portrayal of the character secured him his second Emmy Award in 2013.