LHHATL Star Joseline Hernandez Exposes Belly Tattoo in a Blue Top with Matching Pants (Photos)
Reality television star Joseline Hernandez looked in good form in new snapshots she shared on her Instagram page that showed her in a chic outfit as she flaunted her belly tattoo. 
"Love & Hip Hop: Atlanta" star Joseline Hernandez is a gorgeous beauty, and if there were any doubts about that, she cleared them with a recent post on her Instagram page. 
The "Puerto Rican Princess," as Hernandez is also known, shared two pictures in a post she made on Wednesday that showed her in a chic two-piece Dizirih outfit.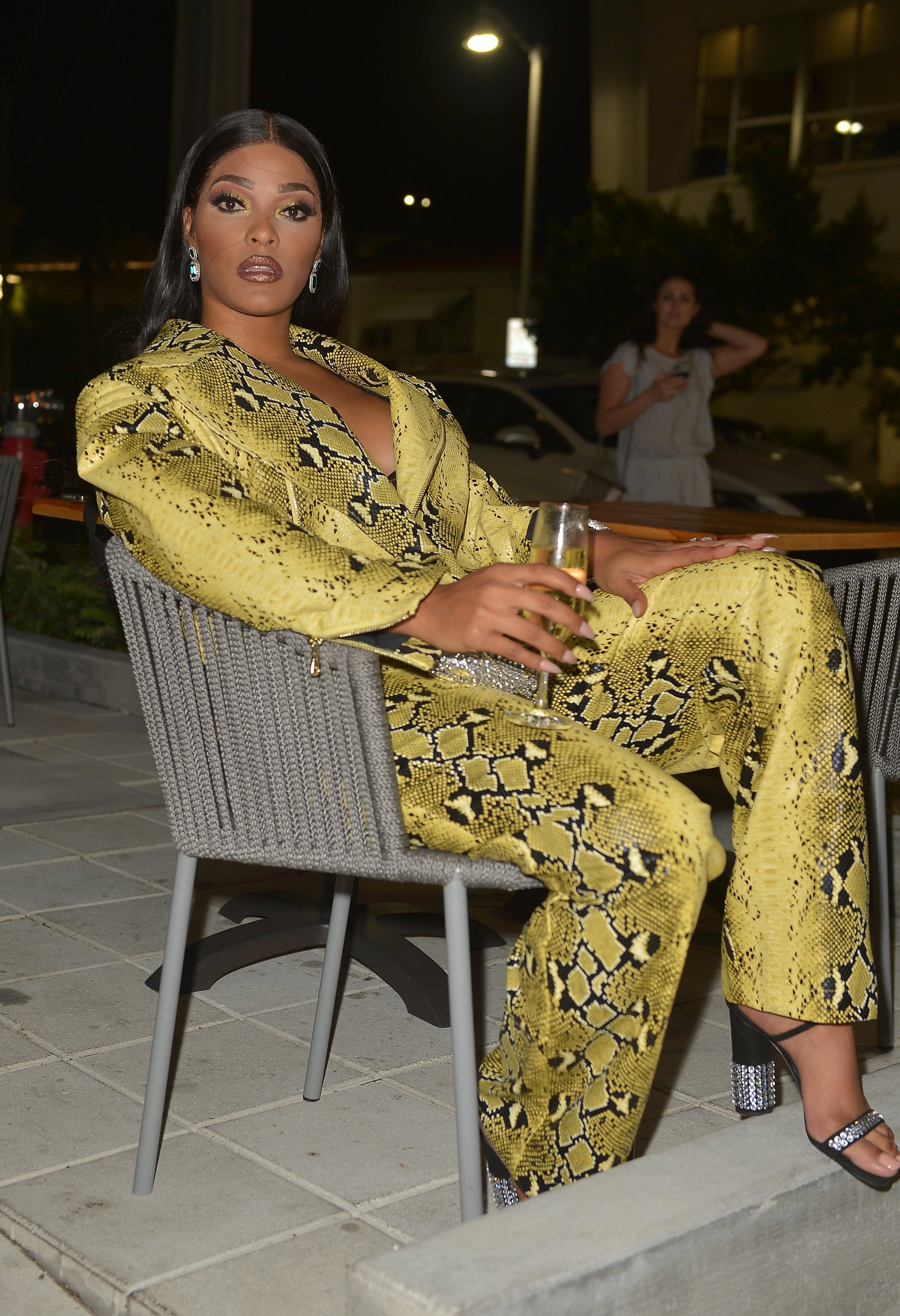 She wore a blue crop top and matching tight pants that showed her gorgeous curves. Hernandez's outfit also revealed the tattoo on her belly. She also wore red lipstick.
The 34-year-old carried a black bag that matched her lovely black hair. She posed in front of a white wardrobe in the snapshots. In the second picture, she posed holding her phone close to her hair. The beautiful diva captioned the post:
"Bodied this two piece set from @dizirih_1 shop now!! ????so Comfortable ?."
It was not surprising to find many of Hernandez's fans drooling over her look in the pictures. One fan said she looked pretty and that they love her outfit.
Another fan said they loved Hernandez's lipstick color, while a third fan described her as a stunning, gorgeous Puerto Rican beauty. 
Stevie J offered a petty response after the clip of Hernandez crying was released by sharing a video of Bonnie playing with his son.
Hernandez was born on November 3, 1986 and hails from a large Puerto Rican family comprising six children. She spent her early childhood in Puerto Rico before her family moved to Miami. 
She started her entertainment career in 2012. Besides being a main cast member in VH1's "Love & Hip Hop: Atlanta," she is also a rapper and released ten hip-hop singles during her time on the show. 
Hernandez had a well-publicized relationship with American DJ and record producer Stevie J. They announced they were married in 2012 but admitted four years later that their marriage was faked for publicity. 
The couple split in 2016. Hernandez later revealed she was pregnant with Stevie J's child and gave birth to their daughter, Bonnie Bella Jordan, in December 2016.
In 2019, Hernandez started dating music producer Robin Ingouma, known professionally as Balistic Beats. The couple is engaged and told HollywoodLife in an interview last year that there was pressure on them to get married. 
Despite being unsure about when the marriage would occur, Hernandez said she knows her flower girl would be her adorable 4-year-old daughter Bonnie, who she lost custody of to Stevie J last year. 
Fans saw Hernandez's reaction to losing custody of her daughter in "Marriage Boot Camp: Hip Hop Edition," in which she stars alongside Balistic Beats. The reality star cried as she told her fiancé about the news. 
Stevie J offered a petty response response after the clip of Hernandez crying was released by sharing a video of Bonnie playing with his son, Stevie Jordan Jr., captioning it, "Stevie n Bonnie Brother & Sister fun."
Despite feuding with Stevie J and his wife Faith Evans over Bonnie's custody, Hernandez told HollywoodLife that she, Ballistic Beats, Stevie J, and Evans are now cool and co-parenting well enough. 
Hernandez's fans would be well pleased that she is looking as beautiful as ever with her recent post and would continue to wait on news about when she and Balistic Beats eventually tie the knot.