Salma Hayek Celebrates 17M Followers on Social Media Posing in a Dress with a Plunging Neckline
Salma Hayek took to Instagram on Sunday to kick off a milestone! The actress celebrated reaching 17 million followers by sharing a sizzling picture of herself in a fitting green dress with a plunging neckline.
Salma Hayek celebrated hitting an impressive 17 million followers on her Instagram page with a series of gorgeous poses at her tropical destination in a dress that complimented her toned physique.
The ageless beauty, who recently celebrated her 54th birthday in September, stunned her followers with the images captioned in multiple languages. The picture garnered millions of likes and thousands of comments.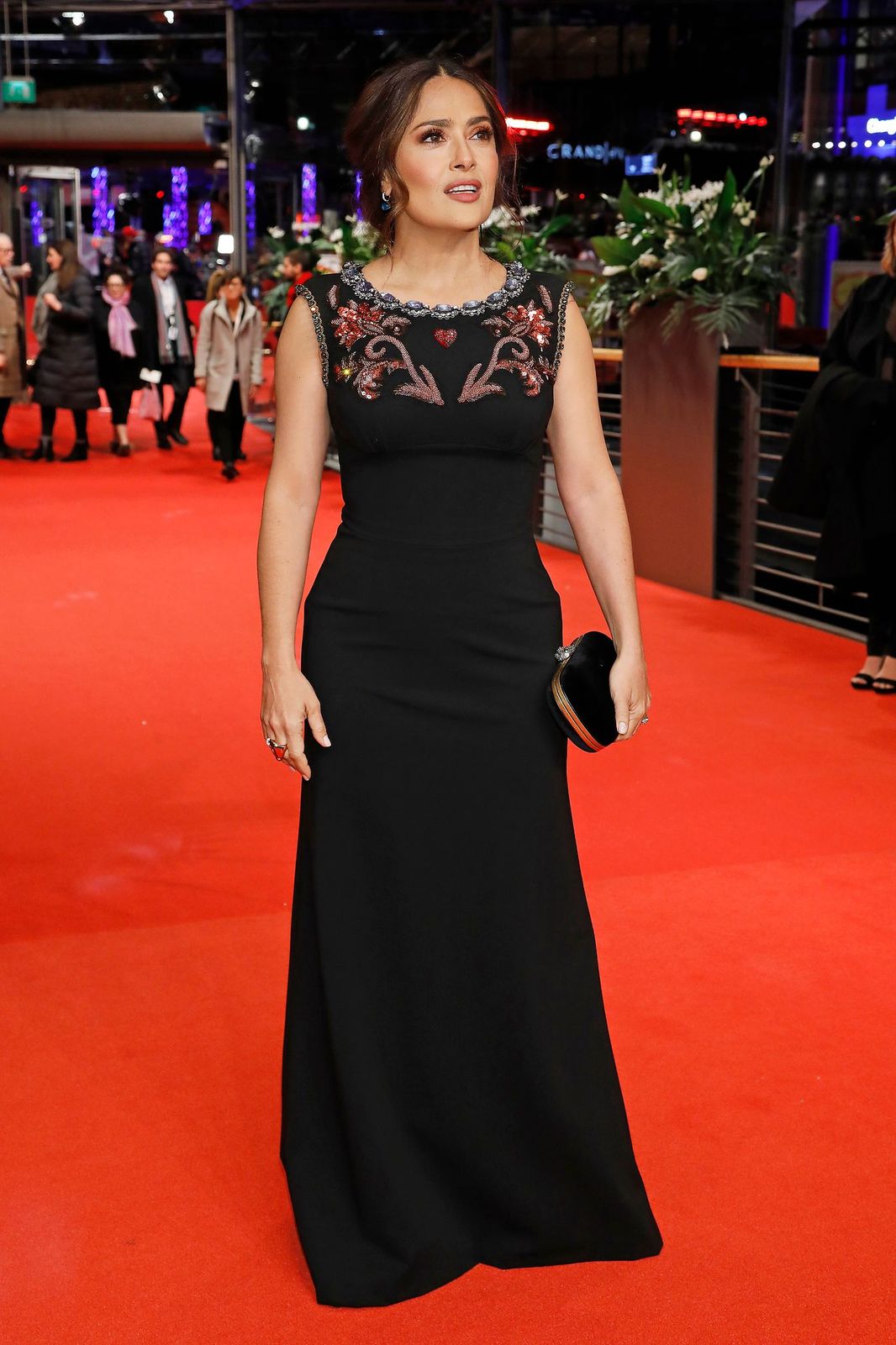 Hayek has been teasing her fans with her swimsuit style from her vacation. In one video that garnered over 4 million views, Hayek shook her wet hair in a sultry deep plunging black swimsuit with tassels.
The "Desperado," star in a pose of strength, positioned her arms in the air while smiling. Hayek rocked the sexy dress, which showed off an ample amount of cleavage and cutouts at the waist. One commenter gushed:
"Holy smokes… Gorgeous!" 
Hayek is no stranger to being a sex symbol. Through starring in a number of varied roles, the actress's famous physique gained more attention after starring in Quentin Tarantino's supernatural film, "From Dusk Till Dawn." 
The role, however, nearly missed Hayek to go to Madonna. It required Hayek to dance with snakes, but the star almost skipped the film due to her fear of them. Hayek, however, beat her fears to secure that role.
Hayek rarely posts pictures of her husband and child.
Back in September 2020, the ageless beauty turned 54. No stranger to celebrating her successes with fans, the star also took to Instagram and posted a bright picture of herself in a yellow Melissa Obadash designed swimsuit.
The actress topped off the daring one-piece with a matching yellow maxi-dress and gold jewelry posing in front of beach blue waters. Hayek also showed off her flawless skin in barely-there makeup and told fans in the post:
"I am very grateful and proud for every single one of my 54 years."
Hayek's style has spilled over to her personal life. The star is married to Francois-Henri Pinault, CEO of French Luxury Group Kering. Kering is the parent company to famous brands, Yves Saint Laurent, Gucci, and Hermes.
Pinault and Hayek have one child between them, a daughter named Valentina Paloma Pinault, 13. Hayek and Pinault have been together since 2007 and announced their engagement and baby news at the same time. 
Despite sharing her life, Hayek rarely posts pictures of her husband and child. The star enjoys using her Instagram page to cement her status as a Hollywood sex symbol and a platform to share with fans movie news.
Hayek recently took the time to share news of her new film. Hayek is set to star alongside Owen Wilson in tech-thriller "Bliss." The film is set to be released exclusively on Amazon Prime Video on February 5.