'Love Jones' Star Nia Long's Fans Say Her Sons Look like Her While Smiling in Bed in a New Pic
Fans had a lot to say when they reacted to actress and movie star Nia Long's post of her two sons Massai Zhivago Dorsey II and Kez Sunday Udoka, on Instagram.
"The Fresh Prince of Bel-Air" star Nia Long took to Instagram to share a beautiful picture of her two sons, Massai Zhivago Dorsey and Kez Sunday Udoka which she captioned:
"Brothers and @cordaroys = happiness and love ?."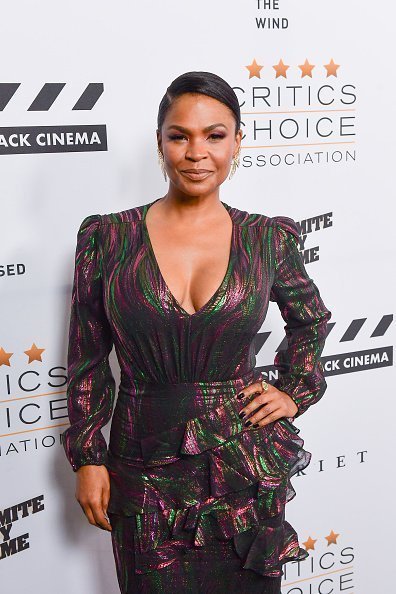 The post has gained more than two thousand likes on Instagram. Many fans talked about the uncanny resemblance between the mother and her two sons.
The picture captures Long's two sons under a duvet smiling with two pillows under their heads. Massai and Kez wore black T-shirts and Massai had a black wave cap on his hand.
During a previous interview, Long spoke about her experience as a single mom. She revealed that her mom was a single parent and against all odds, raised her into the successful woman she is today.
The actress also replicates her mom's dedication to her son, Massai. Long also revealed that Massai's father was still in his life and helped take away some of the pressures of raising their son.  
Long and Udoka are yet to tie the knot as they've agreed not to put a tag on their relationship. 

In another interview, Long spoke about her responsibility as a mom and actress. She admitted that it was a difficult task and required a lot of discipline.
The actress also spoke about her challenge of taking time off after pregnancy and going back to work. Long said she did not get work when she was pregnant and had to work her way back into the movie industry after she gave birth.

She was also full of praises for mothers who could quickly jump back to work after they've had a baby. In her case, it took a lot of time. The 50-year-old gave birth to her second son, Kez, in 2010. 
Long had revealed that the pregnancy was unplanned. The actress explained that she was supposed to travel to Ghana for a movie when she discovered she was pregnant.
Long got engaged to Ime Udoka in 2015. Udoka is a former NBA player and the father of Kez. However, Long and Udoka are yet to tie the knot as they've agreed not to put a tag on their relationship. 
In the interview, Long expresses her skepticism and confusion about marriage. She later added that she didn't need to be married to feel like she was in a working relationship with her partner.
In a different interview, Long talked about successful women and relationships. She said that most successful women reach a point where they need companionship and it is vital for such connections to happen naturally.
Long also talked about being vulnerable and open to love. She said women should open up to love and companionship despite their success because, at some point in their lives, they won't want to walk on their own.