Gabby Sidibe's Fiancé Shares Photo Showing Her Hourglass Figure in a Tight T-Shirt & Pants
Brandon Frankel is one proud husband-to-be as he shared photos of his fiancée, Gabourey Sidibe, flaunting her hourglass figure on his Instagram page.
Brandon Frankel recently took to his Instagram page to share a photo of his wife-to-be, Gabby Sidibe, clad in a tight T-shirt and pants. The image expressly revealed the hourglass figure of the "Empire" star.
Sidibe wore star-tight pants and a black T-shirt with an inscription "phenomenally black" boldly written on it. Sidibe's hair was worn in short curls, and a white-framed pair of glasses with a gold chain dangled from them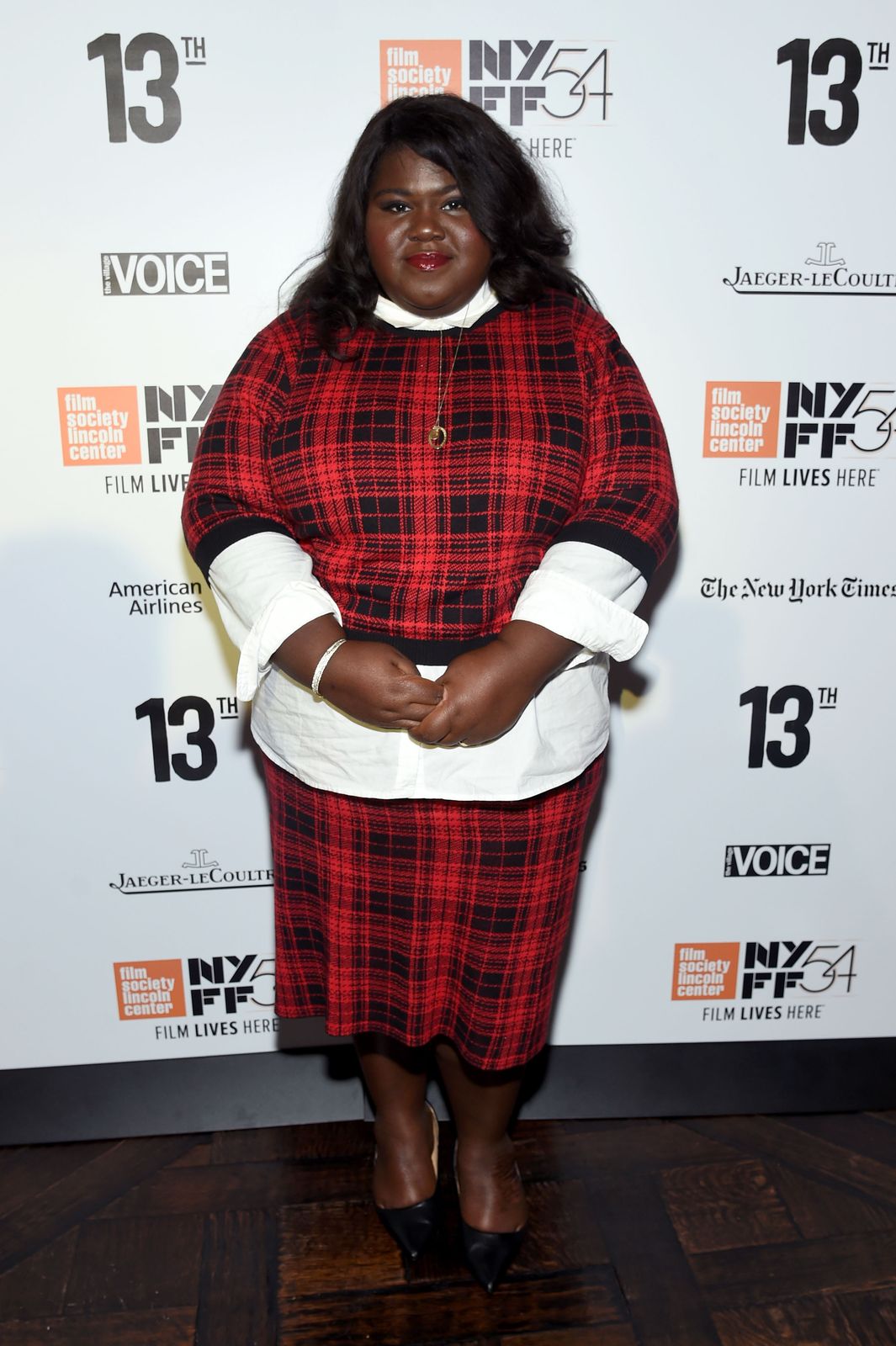 The photo had her standing with a hand on her waist and a bottle of water on the other, which was the probable reason for the caption:
"stay hydrated folks."
The image, which has garnered over 3500 likes, had many positive comments. Fans took to the comment section to appreciate Sidibe's curves and sent lots of heart emojis and well wishes to her.
Frankel is fond of showing off Sidibe. The two lovebirds got engaged in November after dating for a while. They were first spotted in May 2019 when Frankel shared an image of him and the actress on his Instagram page. 
Since then, they have continued to wow their followers with amazing pictures and praise for each other. Their engagement, which had tongues wagging, was the talk of the town in November.
Sidibe was surprised by an unclad Frankel who knelt on a bed arrayed in rose petals with balloons as "Will you marry me" hung on the wall of the room.
Sidibe, who had gone through episodes of depression, low self-esteem, and backlash from fans due to her weight, is grateful...
The "Empire" star's dream has come true. She had earlier stated after her laparoscopic bariatric surgery in 2016 that she looked forward to dating and getting married to not just anyone but her "best friend."
She decided to opt for surgery after several attempts to lose weight naturally. Sidibe stressed that she needed to worry after being diagnosed with Type 2 diabetes alongside her brother, hence her decision to undergo surgery. 
In an interview with People, Sidibe revealed that having lost her first trainer, whom she made significant progress with, to cancer, she realized that she needed the surgery. She said:
"I wasn't cheating by getting it done. I wouldn't have been able to lose as much as I've lost without [the surgery]. I spent years trying to lose this much weight..."
In her memoir, "This Is Just My Face: Try Not to Stare," she shared her experiences pre and post-surgery, including her mental health struggles.
Sidibe, who had gone through episodes of depression, low self-esteem, and backlash from fans due to her weight, is grateful for the gift of Bradon Frankel. 
She refers to him as the partner she thought she was too independent to need. Fans look forward to this duo tying the knot and wish them all the best in their future endeavors.