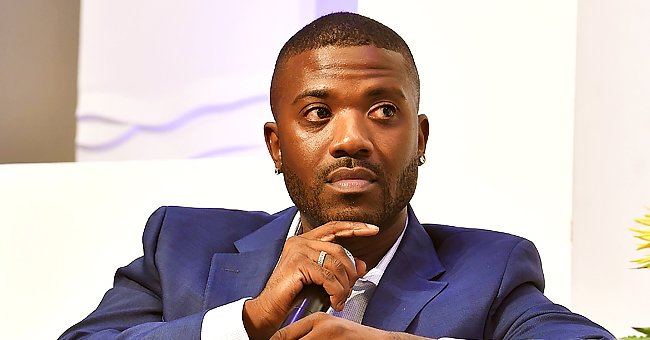 Getty Images
Ray J's Son Epik Looks Serious Sitting on His Mom's Arm While Doing Baby Talk Into Camera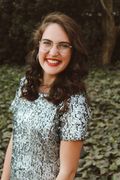 Ray J and Princess Love's one-year-old son, Epik, has a serious talk with the camera whilst sitting on his mom's arm. Princess Love posted the videos to her Instagram story.
Epik Ray Norwood, the son of rapper Ray J and Princess Love, was captured having an earnest conversation with his mother's camera. The adorable one-year-old clearly had a lot to get off of his chest.
Wearing a cute gray t-shirt with green print on it, the rapper's son was comfortably perched in his mother's arms during his cute speech in the Instagram video. Princess Love was also featured in the stories, looking into the camera during her son's chat.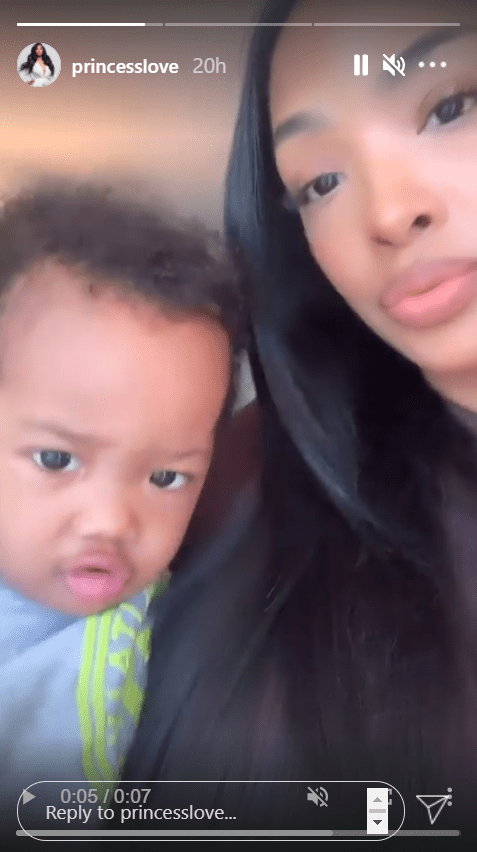 Screenshot of Princess Love's Instastory from January 21, 2021. | Source: Instagram/princesslove
FIRST SON, SECOND CHILD
Epik is the couple's second child and first son, born in January 2020. The toddler has an older sister named Melody Love, who is turning 3 in May. Princess Love's son is clearly the apple of her eye as she posted a picture of him with the caption:
"I asked God to send me a man who will always love me..so he gave me a son."
Despite her post's sweet intentions, Princess Love received considerable backlash from her followers in the comments section. They were complaining about the mother placing too much pressure on Epik and expecting too much from him.
EPIC GENDER REVEAL
As per usual, the "Love and Hip-Hop" stars did not fail to disappoint when it came to their son's gender reveal. Two months after they announced the pregnancy, Ray J hopped on a helicopter to release blue powder into the sky to announce the gender.
The second-time parents and reality television stars were not about to let the occasion go uncelebrated hence their decision to do the over-the-top reveal from the highest point possible.
TROUBLE IN PARADISE
The rapper's relationship with his wife has, however, not been without controversy. Towards the end of 2019, Princess Love commented on a family photo posted by Ray J complaining that he abandoned them in Las Vegas. Her comment read:
"Left me and Melody stranded in Vegas and blocked me from calling … now you wanna post family photos. #ByeUgly."
These accusations turned into a very public fight, with Ray J taking to various media outlets to apologize and set the record straight about what actually happened. The rapper put the saga down to an exaggerated disagreement.
DESPITE THE DIFFICULTIES
Both Ray J and Princess Love have recently admitted that they have been experiencing significant difficulties in their marriage. So much so that the rapper's wife filed for divorce, but nothing has been legalized as of yet.
Princess Love's accusations didn't stop at abandonment, but she went as far as claiming in a social media post that the "Sexy Can I" rapper was cheating on her. Ray J denied any infidelity in an interview on The Wendy Williams Show.
However tumultuous and controversial the reality television star's relationship might be, there is one thing that they can agree on, and that is the importance of co-parenting their children.
Both parents have explicitly expressed that their focus is not on their relationship (whatever state it may be in) but rather on Melody and Epik, ensuring that their children have everything they need.
Please fill in your e-mail so we can share with you our top stories!