See Zonnique Pullins' TBT Photo Flaunting Her Fit Legs in Black Dress with a Denim Jacket
Tiny Harris' oldest daughter, Zonnique, shared a mirror selfie showing her toned legs in a black mini dress and oversized denim jacket. 
Zonnique Pullins, the 24-year-old daughter of Tiny Harris, shared a selfie to her Instagram feed where she shows off her fit legs. The young mother captioned her photo as a "Throwback almost Thursday" post. 
The black mini dress paired with an oversized dark blue denim jacket complements Pullins' petit frame. The Xscape singer's daughter drew her outfit together with a black baseball cap and a black handbag slung across her body.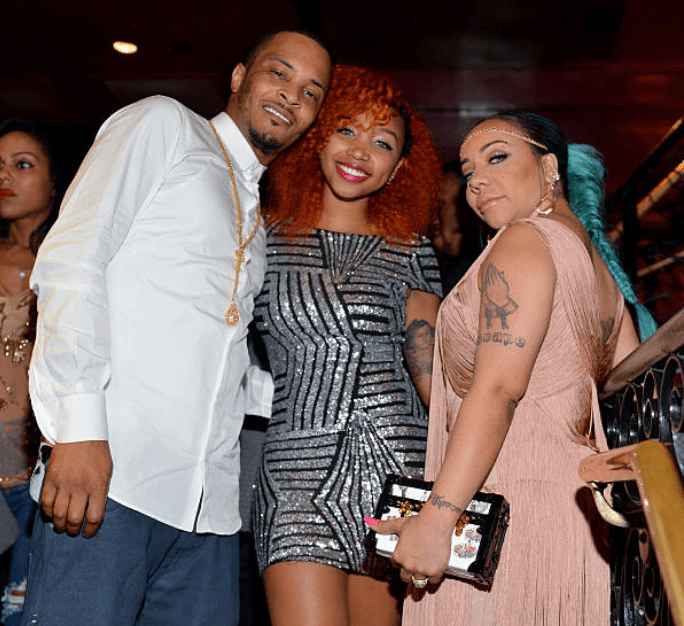 YOUNG MOM AND FASHIONISTA 
The casual yet stylish outfit that Pullins is wearing in her Instagram post, attests to her fluid and classy fashion sense. Whether she goes all out in a tight and bright ensemble or is in loungewear at home, Pullins is a fashionista. 
[Pullins] arranged for her stylist Jeremy Haynes to put everything together and the maternity photoshoot produced some stunning pictures. 
Her new status as a mother is definitely not stopping the singer from showing off her great taste in clothes or her fit legs. Pullins had a baby girl in December 2020 and she may be keeping the baby out of the spotlight but she is still very much in it.  
BOYFRIEND AND FATHER
Pullins had the baby with her boyfirend, Bandhunta Izzy. The baby's arrival was announced by the new mom's talk show "The Mix" on Fox Soul. They posted an Instagram video with the caption: 
"Congratulations to @ZonniqueJailee on the arrival of her baby girl! ?Our princess ? arrived this morning at 6:27am, weighing in at 8lbs 8oz, and 21 inches long!" 
This is Pullins' first child but her boyfriend's third. The musical artist has two children from previous relationships, namely Skye,his 5 year-old daughter followed by a 3 year-old son. Pullins and Bandhunta Izzy live together but are not engaged. 
GRANDMA TINY
The young mother has not only been receiving support from her boyfriend but also from her mother, Xscape sing Tiny Harris, and her step-father TI Harris. Tiny's involvement even stretched so far as helping pick the baby's name. 
The excited grandmother also took to social media to announce the birth of her first grandchild. Tiny spoke out about how her daughter was adjusting to the new life as a mom in an interview with "The Mix" and revealed: 
"Zonnique's doing great. She's getting her rest in, as much as she can. The baby's sleeping a lot so she's been able to rest a lot."
EXTRAVAGENT MATERNITY SHOOT 
Pullins recent selfie posted on Instagram is not the first time that she is showing some leg. She arranged for her stylist Jeremy Haynes to put everything together and the maternity photoshoot produced some stunning pictures. 
Wearing a colorful, flowing gown that showed off her perfect bump, the mom-to-be's figure was highlighted by the floral background. The 24 year-old has a knack for showing off all the right curves. 
With Pullins and her family all equally estatic to welcome the new baby into the family, it's easy to understand why it looks as if the new mom is coping so well with all the changes. 
Support from her boyfriend, friends, colleagues and also her fans has the daughter of Tiny Harris stepping into her maternal role with confidence. Hopefully Pullins will be flaunting her fit legs some more in the near by future.