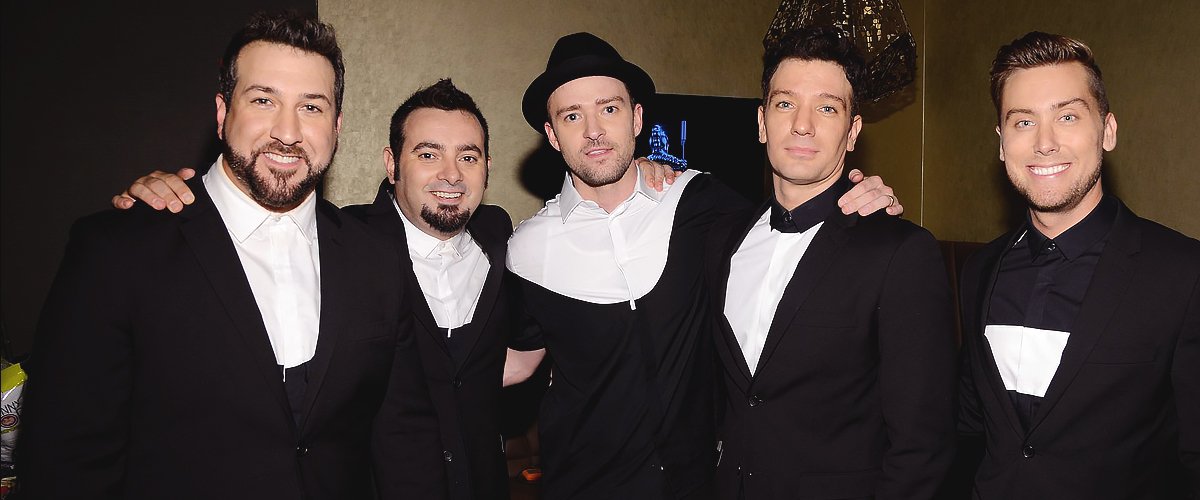 GettyImages
NSYNC Members Life and Career 18 Years After the Band Went on Hiatus
The American boy band NSYNC broke the hearts of millions of their fans worldwide with their temporary-turned-permanent split in 2002. Here is all you need to know about NSYNC members now.
The '90s were dominated by many popular boy bands who enjoyed some fame at different periods. Still, none of them stood out quite like the American boy band NSYNC.
The group was formed in Orlando, Florida, in 1995 and consisted of five members — Justin Timberlake, JC Chasez, Chris Kirkpatrick, Joey Fatone, and Lance Bass.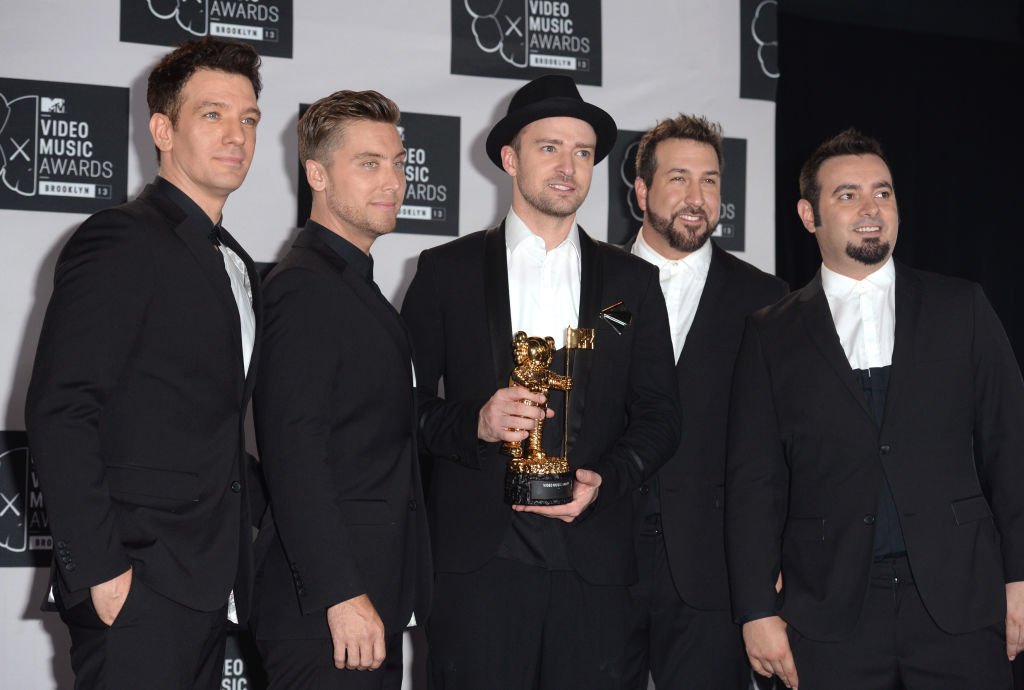 Justin Timberlake and NSync backstage in the Awards Room at the MTV Video Music Awards 2013 | Photo: Getty Images
Following the release of their self-titled debut album "N Sync" in America in March 1998, fans immediately became obsessed with the group.
Over the next few years, the band redefined pop culture as they took fans on a thrilling journey that not only brought fame and fortune but also resulted in eight Grammy nominations and millions of records sold.
INSIDE NSYNC'S HIATUS
After settling a highly publicized legal battle with their manager in 2000, the group released their second studio album, "No Strings Attached," which sold 2.4 million copies in one week.
In 2001, NSYNC released its third album, "Celebrity," with the accompanying PopOdyssey Tour and Celebrity Tour earning over $120 million combined.
Following the tours, the group went on a hiatus in 2002. While it was initially meant to be temporary, the group has not recorded any music or toured together since.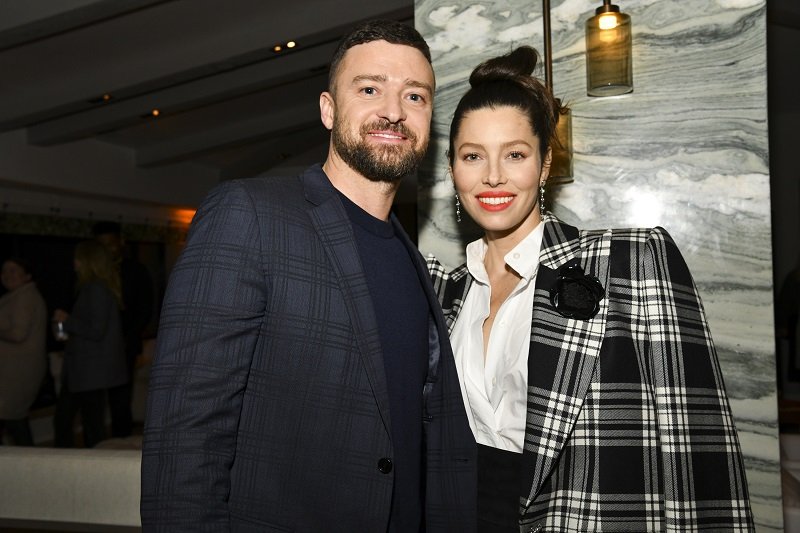 Justin Timberlake and Jessica Biel on February 03, 2020 in West Hollywood, California | Photo: Getty Images
There have been different accounts of the circumstances that led to NSYNC's breakup from each band member. However, one thing that has remained constant through the years is their enduring friendship.
Since then, some NSYNC members have gone on to have successful careers in the entertainment industry, while others have taken up a more reclusive lifestyle.
TIMBERLAKE'S SUCCESSFUL SOLO CAREER
Justin Timberlake has undoubtedly enjoyed the most prosperous solo career of all NSYNC members who opted to continue their music careers as solo artists.
Shortly after the group announced their hiatus, Timberlake launched his solo music career with his debut album "Justified." The album sold seven million copies worldwide and featured hits like "Rock Your Body" and "Cry Me a River."
The 39-year-old singer's impressive music career has produced five studio albums and several hits, which have helped him win ten Grammy awards.
Apart from his music career, Timberlake has also enjoyed a successful acting career spanning 14 years. Justin Timberlake's movie credits include "The Social Network," "Bad Teacher," "Friends With Benefits," and "In Time."
Timberlake married actress Jessica Biel in 2012 after they dated on and off for about five years. The couple welcomed their son, Silas Randall, in April 2015.
FATONE'S DETOUR FROM MUSIC
Joey Fatone arguably had the most likable personality of all the members of the famous boy band. Following the group's split in 2002, Fatone took a detour from music and became a TV personality and actor.
He has hosted several TV shows over the years, including "The Singing Bee," and "Celebrity Circus." Apart from being a TV host, Fatone has also contested several popular reality TV shows like "The Masked Singer" and "Dancing With the Stars."
Joey Fatone married his high school sweetheart Kelly Baldwin in June 2004. The couple were married for 15 years and welcomed two daughters before their divorce filing in May 2019.
More recently, NSYNC reunited on April 30, 2018, to receive a star on the Hollywood Walk of Fame.
Fatone is currently in a relationship with Izabel Araujo. The lovebirds began dating in October 2014, shortly after he separated from his estranged wife, Baldwin.
CHRIS KIRKPATRICK KEEPS LOW PROFILE
Chris Kirkpatrick was the oldest member of NSYNC, and he also came up with the idea to start the group after missing the cut for the Backstreet Boys.
Since the band split in 2002, Kirkpatrick has kept a low profile and has mostly stayed out of the spotlight. Although he has appeared on a few music shows, he has almost entirely quit music.
He remained very active in the entertainment business and took several minor acting gigs. He also did voice acting roles in video games and cartoons, with the most notable one being Chip Skylark's voice on "The Fairly OddParents."
Kirkpatrick married his long-time girlfriend, Karly Skladany, on November 2, 2013, at the Loews Resort Hotel in Orlando, Florida. The couple shares a 3-year-old son Nash and currently reside in Nashville, Tennessee.
LANCE BASS' COMING OUT
During his NSYNC days, Lance Bass was best known for his boyish charm. In the years following NSYNC's split, Bass has come to be defined by his bravery and courage after coming out as gay in 2006.
Throughout his time with NSYNC, Bass lived in denial of his sexuality and even went on dates with women to keep up with the lie. He revealed he lost many friends after he came out, but his NSYNC bandmates' unwavering support helped him get through the difficult time.
Lance Bass is married to Michael Turchin, and the couple is currently trying to start a family together. The couple has continuously expressed their desire to start a family but has experienced several setbacks in the process.
Lance Bass has completely turned his attention from music on the career front, and he has been involved in a few reality shows over the years. The NSYNC alum also hosts his own radio show, "Dirty Pop with Lance Bass."
JC SANCHEZ'S SOLO CAREER
During his time with NSYNC, JC Sanchez was one of the lead vocalists, and he contributed to writing a couple of the songs on their second album, "No Strings Attached."
Like Timberlake, Sanchez also launched his solo singing career after the split. He never enjoyed quite as much success as Timberlake, and right now, he writes and produces music for other artists.
Sanchez is the only member of NSYNC who never got married. However, he has been in a long-term relationship with his girlfriend Jennifer HuYoung for more than six years, and they seem very happy together.
NSYNC MAKING A COMEBACK?
The group has not recorded any music together since they split in 2002, but they reunited at the 2003 Grammy Awards to perform a televised Bee Gees medley in honor of that band.
Over the years, the band members have regrouped a couple of times, including a one-off performance at the 2013 MTV Video Music Awards, where they performed a medley of "Girlfriend" and "Bye Bye Bye."
More recently, NSYNC reunited on April 30, 2018, to receive a star on the Hollywood Walk of Fame. All five members were present at the ceremony, and they were most grateful to their fans for all their love and support.
Over the years, NSYNC has been trailed by rumors of a comeback, but none of it has materialized into new music for their fans. Still, the records they made together remain evergreen and continue to plug the hole left by their absence.
Please fill in your e-mail so we can share with you our top stories!