Naomi Osaka Shows off Her Natural Long Hair & Brown Eyes as She Takes Fun Selfies on Instagram
Japanese tennis player Naomi Osaka shared some "goofy" selfies on Instagram showing her long curly hair and gorgeous brown eyes whilst announcing her joining the Workday team. 
Naomi Osaka, US Open 2020 winner, posted three fun selfies to her Instagram feed. The tennis player flaunted her long curly hair and brown eyes in the cute photos showing her personality's silly side. 
The tennis player's 1.8 million followers on Instagram loved seeing the casual and fun-loving side of her whilst she posed in her Workday t-shirt. Osaka shared her becoming a Workday ambassador as she is preparing to play in the Australian Open.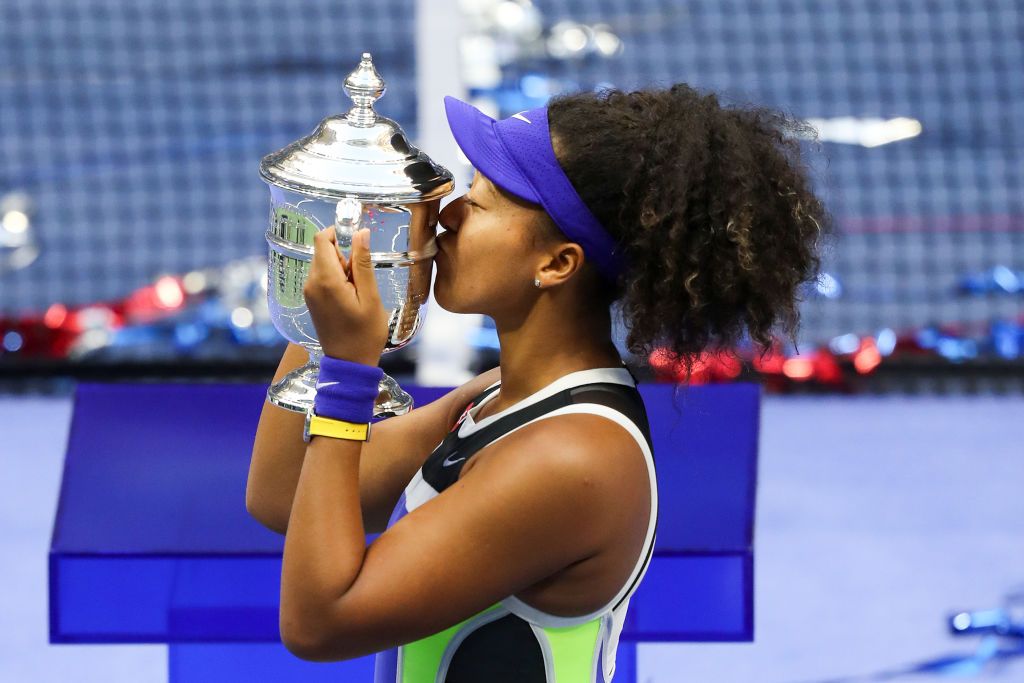 MORE TO HER THAN TENNIS
This champion tennis player took to Instagram to share an unfiltered and fun moment with her followers. Despite her go-getter attitude on the tennis court, Osaka clearly has a lighthearted approach, too, as she shared in her caption: 
"Ahead of the Aussie Open, I wanted to let you guys know that I've joined the @workday family. Lol I ended up taking a bunch of goofy pics because I got excited ?? looking forward to what's ahead :) #wdayambassador "
Fans were also able to see Osaka in her comfort zone as she showed off her long natural curls that compliment her dark brown eyes. Her funny faces in the selfies didn't take away from the tennis player's natural beauty showcased in these photos. 
FAMILY HISTORY 
Osaka gets her striking looks from her Haitian father, Leonard Maxime Francois, and her Japanese mother, Tamaki Osaka. The 23-year-old was born in Japan, but the family moved to America to pursue tennis more seriously when she was three. 
Osaka didn't stop there as she went on to win the Australian Open in 2019, where she was rewarded with a generous $2.9 million.
Osaka has an older sister, Mari, who is also a professional tennis player but has been hindered by injuries. Osaka's sister was always her greatest rival growing up, spurring her on to play better so that she could beat her. 
JAPAN VS AMERICA 
Osaka's father made various difficult decisions to further his daughters' tennis career and make it easier for them to succeed. One example is having the tennis player registered to play for Japan instead of America to secure better funding. 
Because Osaka was born in Japan but has lived in America for 20 years, she has dual citizenship. The tennis player views her multicultural and biracial background as an advantage because it makes her more relatable. She elaborated saying: 
"Maybe it's because they can't really pinpoint what I am, so it's like anybody can cheer for me."
ALL THE TITLES 
Since beating her idol, Serena Williams, in the 2018 US Open, Osaka has established herself as a force to be reckoned with on the tennis court. This victory made her the first Japanese woman to win a Grand Slam singles title. 
Osaka didn't stop there as she went on to win the Australian Open in 2019, where she was rewarded with a generous $2.9 million. The Grand Slam titles kept on rolling in as she also won the US Open in 2020. 
This Japanese Haitian American is definitely not up and coming anymore but is rather very much on the road to becoming the next Serena Williams. Osaka is not only breaking down biracial stereotypes in tennis but in sport and society in general. 
With the support of her fans, family, and all of her home countries, this young tennis player has a long and promising career ahead of her. With the Australian Open ahead, she is sure to leave an impression once again.