Tyler Perry Pens Heartfelt Farewell Message after the Death of Baseball Great Hank Aaron
Entertainment mogul Tyler Perry penned a heartwarming message to baseball legend and home-run king Hank Aaron, who recently passed away in his sleep.
As a baseball fan, Tyler Perry didn't let the day pass by without paying a short and heartfelt tribute to Hank Aaron, one of the legendary baseball players who left a legacy in the world of sports. 
Aaron, a former Atlanta Braves' athlete and one of the most valuable players in Major League Baseball, passed away in his sleep on January 22. He gained fame for his record-breaking home-runs.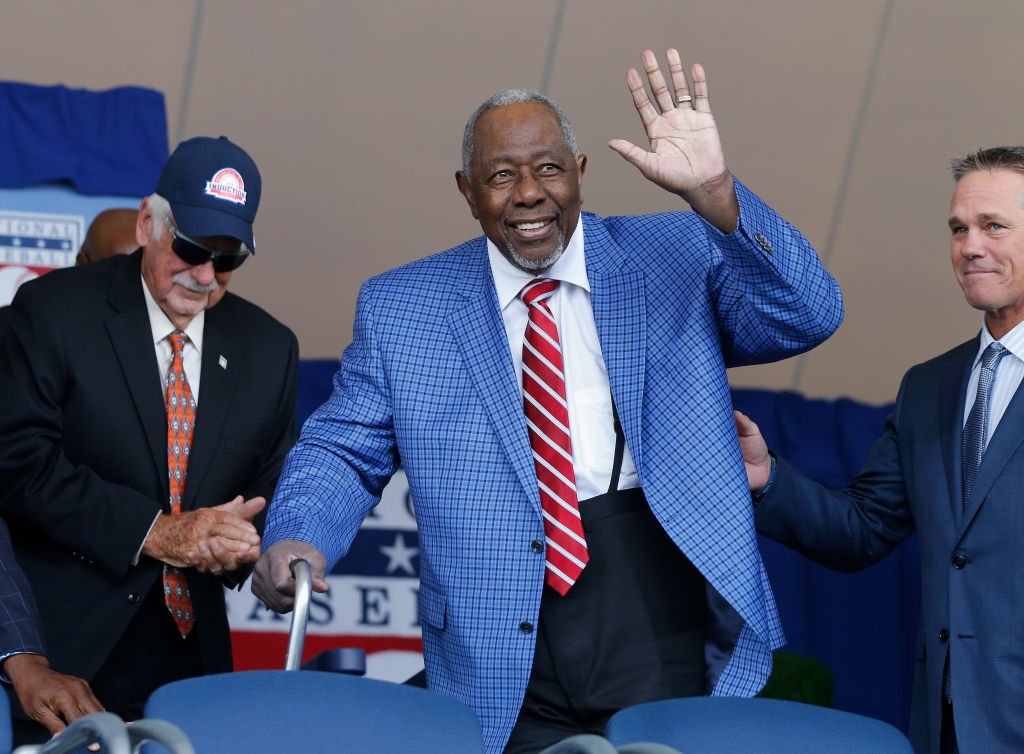 REMEMBERING A LEGEND
Atlanta Braves Chairman Terry McGuirk earlier said that the team was devastated at Aaron's passing, adding that the late baseball star was the organization's beacon of light.
Aaron, a Hall of Famer and Atlanta's first professional athlete, was the most prolific force in the diamond field. Despite his success, he hadn't lost his humble nature. 
The baseball icon's grounded personality has made Perry an instant fan. The 51-year-old TV producer and actor took to Instagram to remember his time with Aaron.
Variety's 2020 Showman of the Year posted an old picture of himself with Aaron during a formal event, where he held his hand as a sign of respect. Aaron beamed with joy seeing him in person.
Beside his delightful snap, Perry couldn't help but feel heartbroken. The Tyler Perry Studios owner, who had his "Sistas" series renewed for season three, captioned his post:
"As another giant says goodbye, we say "Thank you." Because you were, so many are. Because you did, so many can!!"
BEYOND HIS CAREER
Aaron had finished his stellar 23-year career in MLB with 624 doubles, 755 home runs, and 2,297 run batted ins. He also accomplished at least 2,174 runs, 3,771 hits, and 240 stolen bases.
Beyond his excellent skills in playing the sport, Aaron was also known for activism to uphold civil rights and racial equality. He endured racism from 1954 to 1976.
Aside from championing the civil rights movement, Aaron had gotten a coronavirus vaccination, his final appearance in public.
ADVOCATING CIVIL RIGHTS 
In 2019, he reflected on the dark moments during his time in MLB. In one of those times, Aaron shared that he couldn't open a letter because it had resentful messages addressed to him.
Amid the hate, Aaron continued to use his career as a platform to uphold civil rights. He encouraged more young Black athletes to stay in baseball. 
Aside from championing the civil rights movement, Aaron had gotten the coronavirus vaccination, his final appearance in public. He was vaccinated together with his wife, Billeye Aaron.
Although the Black community members are skeptical of the vaccine because of historical abuse and discrimination, getting vaccinated was Aaron's way of inspiring Black Americans to do the same. 
Another iconic figure in sports had died recently. Diego Maradona, the legendary Argentine football star, considered one of the best football players of all time, had passed away at 60.