Snoop Dogg's Daughter Cori Broadus Looks Cute Posing Makeup-Free With Her Adorable Dogs
Rapper Snoop Dogg's only daughter Cori Broadus recently struck a pose with her two cute dogs while also showing off her natural beauty in a cool photo.
Rapper Snoop Dogg's daughter, Cori Broadus, recently wowed her fans with the coolest photo of herself posing with her two fabulous-looking dogs. Captioning her post, Cori wrote:
"My Oompa-Loompas and I??fashionovapartner."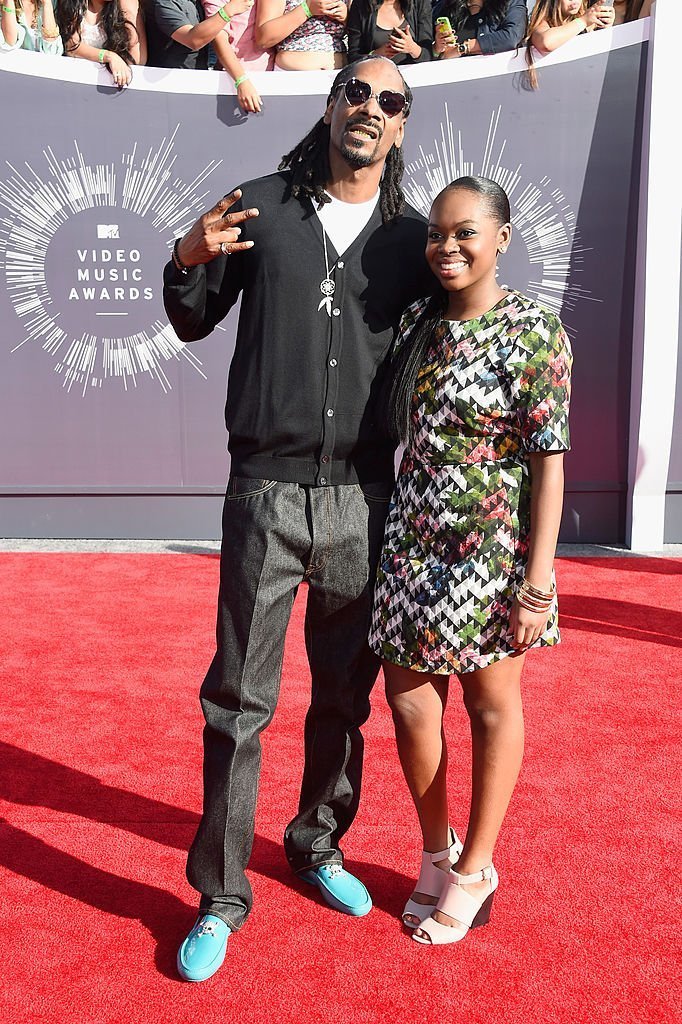 In her picture, Cori looked every bit her father's daughter as she posed like a regal queen with her canine friends by her side, making the picture even cooler.
Snoop's daughter was clad in a fuzzy and cozy navy blue top and pants ensemble with a matching navy blue jacket to fight off the chill while being cute.
With her makeup-free face looking as beautiful as ever, Cori gave a piercing straight stare to the camera. She had the smaller of her two chocolate brown dogs sitting on her lap, while the larger one sat beside her on the floor.
Cori's fans and followers were absolutely taken with her beauty and the charm that her dogs brought. The comments were filled with compliments for the dog mom and her fur babies.
[Cori] has also been putting herself out to be a beacon of self-confidence and beauty for others out there.
Cori is a woman beautiful and charming in all her glory. At 23, the young beauty has an admirable grip and understanding of her self identity.
Often known for speaking her mind and sharing her truth, Cori loves to use her platform to share messages of hope and inspiration to other young Black girls. In 2018, she ditched her long locks for a fresh big chop. In a post following her reveal, she wrote:
"They should've casted me for Black Panther."
The then-18-year-old encouraged her fans to stop being afraid of trying out new things while gushing about how real her growth is. She's also been putting herself out to be a beacon of self-confidence and beauty for others out there.
To prove her strength and empower others to show theirs, Cori chopped off her hair in 2018. Her big chop reveal was not her first as she used the opportunity to openly speak about her experience with colorism.
In 2016, the young starlet beautifully spoke about the pain of growing up as a dark-skinned woman with hate and colorism surrounding her. She reassured her fellow chocolate girls that they are all beautiful.
Cori is the only daughter of her father, and one of his four children; three of whom he shares with his wife of over two decades, Shante. Besides Cori, Snoop shares his sons Corde and Cordell with her.
Cori comes from a family of extensive greatness, and so it is not surprising that she exudes such a powerful and drawing aura in her many social media posts.