Fans Can't Take Their Eyes off Salma Hayek's Cleavage as She Eats Tacos — See Reactions
American actress Salma Hayek allures her devoted followers with her eye-catching outfit while eating tacos in a recent Instagram post.
When it comes to style and panache, American actress and producer Salma Hayek ticks almost all the boxes. The 54-year-old has a knack for creating buzz around her brand whenever she takes to social media.
Taco Tuesday was lit thanks to the actress who took to her Instagram page to mesmerize her many loyal followers with an eye-catching dress that showed her voluptuous cleavage.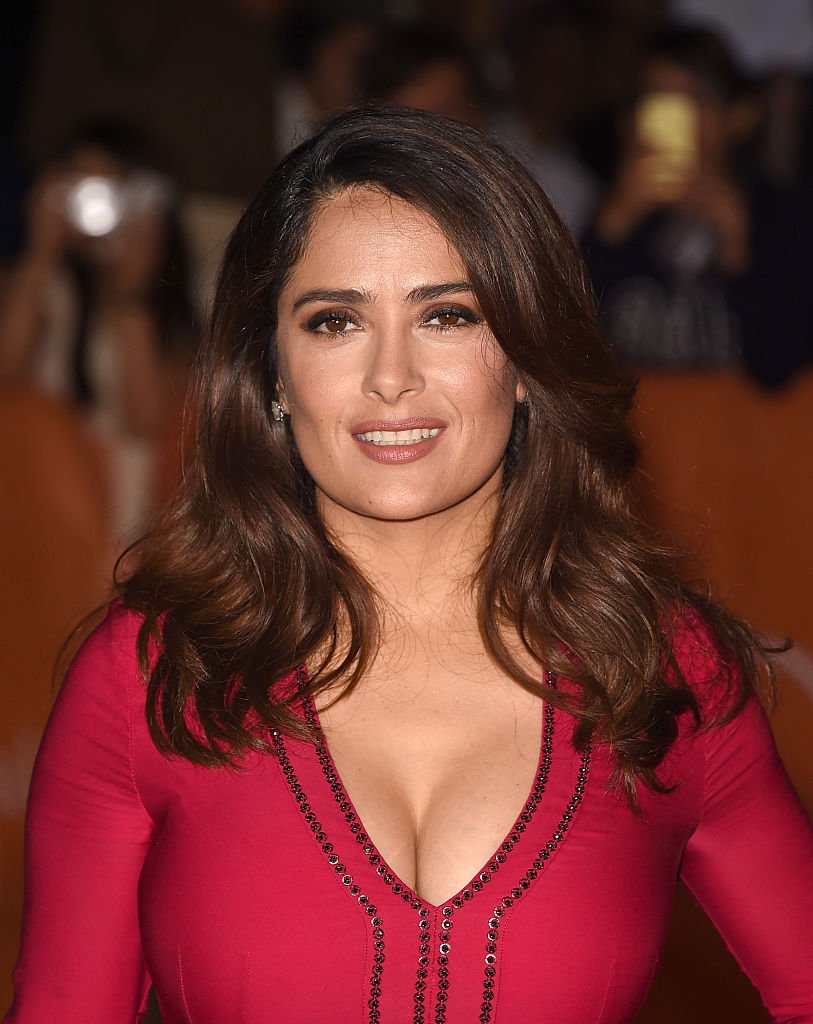 The "Like A Boss" star posted three pictures of herself standing in a kitchen behind a stove with a plate on it. The first picture captured Hayek munching her treat. On the kitchen counter were fixings for the meal.
The second pictured featured Hayek with a full plate including salsa, avocado, and lemon. The last picture showed the actress holding tacos in her left hand while dapping the bottom of her lip with her other hand.  Hayek captioned her post:
"You know you have been too long in quarantine when you dress up for #tacotuesday ? ?."
The beautiful actress dressed up in a beautiful floral dress with colorful tiny petal patterns. The dress had long sleeves that held tight on the actress's waists, and the remaining part of the sleeves had a dramatic puff that gives it some edge.
The dress gave some strong, seductive vibes with its low-cut neckline that showcased Hayek's voluptuous cleavage. It also had a tight bodice that clung firmly to her chest, which accentuated the actress's well-defined bosom.
Hayek has continued to dazzle her instagram followers with more swimsuit pictures.

Hayek's followers wasted no time in showing the actress some love. The post has garnered over a hundred thousand likes on Instagram and is still flooding with numerous comments from devoted fans who can not seem to get enough of the star.
One follower was full of praises for the "Ugly Star" star. She said that the actress is one of the most beautiful and sexy women in the world. Another follower said she wanted the star's gorgeous dress.

The actress ended 2020 on a good note. In her last Instagram post of the year, Hayek wrote about approaching the new year by staying healthy and spending time with nature.
The post was followed by two pictures of the actress on the beach rocking a lovely purple swimsuit, and as always, her followers were in her comment section showing the actress love.
Meanwhile, Hayek has continued to dazzle her Instagram followers with more swimsuit pictures. One of her posts showed the actress in water as she looked at the sun with her hands running through her hair.
Hayek gave birth to her daughter in 2007, and this led to some weight gain. However, the actress previously revealed that she was happy with her body, although she isn't as slender as she once was.