Tamron Hall Looks Stunning Wearing a Pink Versace Snake-Print Shirt & Chic Pink Pants (Photo)
Talk show host Tamron Hall's wardrobe is envied by every woman with a yen for high fashion and her latest outfit with a Versace signature piece is sizzling.
It will be no surprise to fans of award-winning journalist and talk show host Tamron Hall that she is one of the best-dressed women on TV. Hall does not stinge on glamour, and often conducts her show in outfits lesser women would wear to a red carpet.
This time, the woman whose wardrobe every fashion lover craves showcased a stunning outfit with a sizzling and slinky Versace snakeskin signature piece as its centerpiece.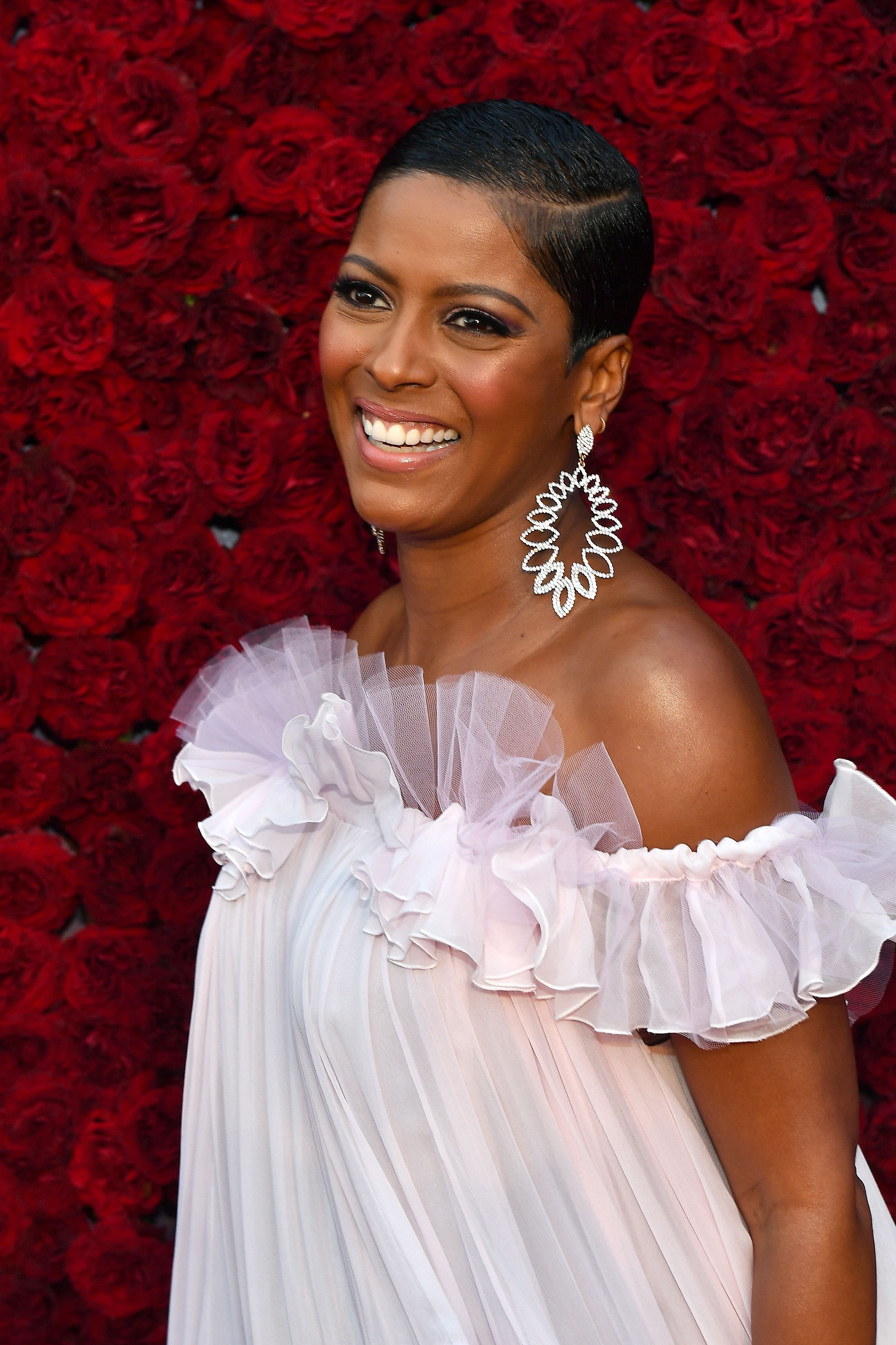 VERY VERSACE
On January 27, 2021, the "Tamron Hall" show posted a snap of Hall on its Instagram wearing slim candy pink side-zip pants and a sleek black and pink snakeskin print knit blouse with a bold masculine collar.
The shirt is further embellished with gathers at chest level on either side of the placket and closed with Versace's signature metal buttons emblazoned with the famous Medusa head.
Hall, who gave birth to her son Moses in April 2019, displayed the same elegance and verve throughout her pregnancy.
FLAIR FOR FASHION
Hall's immaculate taste has made her a fashion pundit, and she is known for her love of color in her on-screen wardrobe, at odds with most other talk show hosts who opt for a discreet low-key look.
Hall wears bright, bold primary colors, neons, strong prints, and plaids -- anything, in fact, that strikes her fancy. She splurges on emerging designers and established brands with an even hand and always looks absolutely perfect.
BRED IN THE BONE
Hall revealed that she acquired her taste for flamboyant and unusual clothing in her childhood. Back in the day, despite their economic difficulties, her mother and her grandmother would always dress up to the nines to go to church.
The women in her family emerged from their bland everyday clothing every Sunday like gorgeous, glamorous butterflies in brilliant colors. Hall observed the confidence and pride they exhibited in their Sunday best and claimed it for her own. 
STYLE GURU
Hall, who gave birth to her son Moses in April 2019, displayed the same elegance and verve throughout her pregnancy. Her baby bump did not stand in the way of the Emmy-winner's inimitable glamour.
The journalist married music executive Steven Greener and announced the marriage at the same time she announced her pregnancy, in March 2019, just weeks before the birth of their son.
VACCINE TROUBLE
In September 2019 Hall incurred the wrath of an anti-vax mother on her show when she remarked that she wouldn't want her son Moses, who was still too young for a vaccine, to be in contact with her son.
The outraged woman has lodged a lawsuit against Hall for discriminating against her son and is suing the talk show host for $16 million. All 50 states in the USA mandate vaccination before children can enroll in school.