Kim Kardashian Shows Her Curves in a Baby Spice Inspired Look in Animal-Print Top & Blue Skirt
Kim Kardashian took her fans on a trip down memory lane with a photo of herself showing off a '90s look. Can you guess which Spice Girl member she channeled in this photo?
"Keeping Up with the Kardashians" reality star Kim Kardashian has never disappointed her fans with her stunning fashion. The 40-year old socialite is known for her body-hugging outfits.
With the many tight dresses she has worn, Kardashian took to Instagram another figure-hugging outfit that showed off her incredible hourglass body.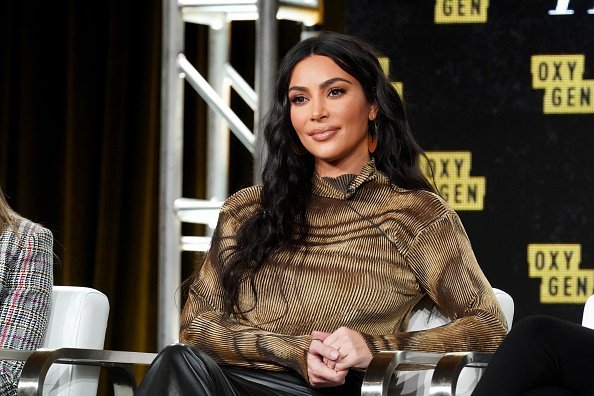 A NOSTALGIC LOOK
Coming from a fashionable family, to mix and match outfits is second nature to Kardashian. For this snap, the doting mother to four children dressed up in a look inspired from the '90s.
The SKIMS founder wore a brown snakeskin tube top and blue mini skirt. Her look seemed to be reminiscent of one of the members of the '90s  pop girl group Spice Girls.
Aside from the alluring outfit, Kardashian styled her hair in pigtails with few strands of hair falling down her face. She captioned her post, "Baby Spice."
Baby Spice is British actress Emma Bunton's stage name and was the '90s children's favorite Spice Girl member. With the reality TV star channeling Baby Spice, many fans were in awe of her gorgeous look.
One of the fans expressed that Kardashian was amazing in her snap, while another noted that she looked like her daughter North. Another avid fan chimed and said:
"Impressive picture."
FLAUNTING HER ASSETS
Kardashian never shies away from flaunting her assets in designer clothing that would flatter her curves. She recently donned a sheer long pencil dress and orange flame heels from Prada. 
While she is big on designer clothes, Kardashian doesn't let her own clothing brand stay on the side. The KUWTK star modeled SKIMS while rocking long braids she learned from her sister Kylie Jenner.
Kardashian was reportedly plotting her divorce from West since July 2020, after the rapper revealed he considered aborting North.

KIM'S DIVORCE AND  "EXIT PLAN"
Being put in various controversies is not new to Kardashian. As KUWTK is about to end, her marriage to rapper Kanye West is about to fall as well. The couple tied the knot in 2014.
They recently greeted the new year with a divorce, in which Kardashian reportedly had settlement talks with divorce attorney Laura Wasser. The couple was said to be keeping their divorce a secret. 
Kardashian was reportedly plotting her divorce from West since July 2020, after the rapper revealed he considered aborting North. She even has an "exit plan" covering their finances.
The makeup mogul is reportedly worth $900 million and her husband $3.2 billion which brings their total worth to $4 billion. Kardashian also expressed she wanted to divide their shared belongings "evenly."