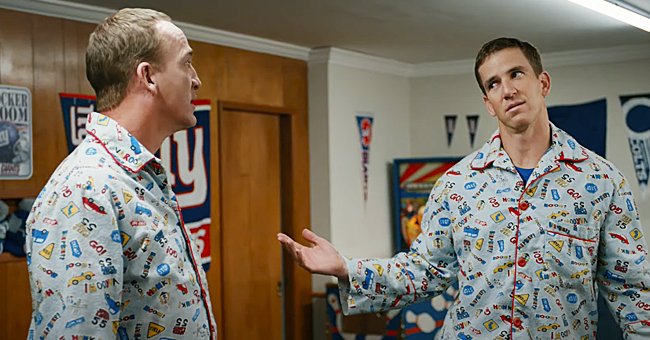 youtube.com/OfficialFritoLay
NFL Icons Peyton & Eli Manning Wear Comical Pajamas Sets for Super Bowl Commercial — See Video
NFL Icons Peyton and Eli Manning wear hilarious matching pajama sets for the Frito-Lay Super Bowl commercial.
The NFL Manning brothers, Peyton and Eli, wore funny pajama sets for their appearance in a Super Bowl commercial for Frito-Lay. Their dad, Archie, appeared in the commercial too!
The commercial hosted a few other legends from the sport including, Joe Montana, Jerry Rice, Troy Aikman, Jerome Bettis, and Terry Bradshaw.
Eli and Peyton Manning in matching pajamas for a Super Bowl commercial, 2021. | Photo: youtube.com/OfficialFritoLay
Peyton and Eli's sibling rivalry was put on display for the commercial. The two brothers wore matching pajamas and acted as younger versions of themselves, hanging out in the basement.
The brothers, who have four titles between them, are throwing a football between them while they sit on beanbags. Peyton taunts Eli by asking him if he is still warming up:
"You still warming up?"
Eli then retaliates by throwing a hard pass toward Peyton, and the football breaks into the drywall. Their famous football dad, Archie Manning, appears on the stairs and asks them what they are doing.
Archie was a former quarterback for the New Orleans Saints. He is wearing a Saints' bathrobe in the commercial. Peyton blames the situation on Eli, and the next scene plays.
The commercial with the NFL players will run before the Super Bowl on February 7.
The next scene features Joe Montana and Jerry Rice, the legendary duo from the San Francisco 49ers. The two are snacking on some Doritos when they are interpreted by Troy Aikman, from the Dallas Cowboys.
The two 49ers tell Aikman that no Cowboys are allowed, which references the teams' rivalry in the 80s and 90s. Aikman responded and said that he did not even play against them in a Super Bowl:
"I didn't play you guys in the Super Bowl!"
The last scene featured Pittsburgh Steelers greats Jerome Bettis and Terry Bradshaw, discussing a pass from the 1972 playoffs when Franco Harris caught a ricocheted pass from Bradshaw.
Frito-Lay said they plan to have three commercials, including this one, during the month for the Super Bowl. The ads will be for Doritos 3D Crunch and a new product, The Cheetos Crunch Pop Mix.
The commercial with the NFL players will run before the Super Bowl on February 7. The game will see the Kansas City Chiefs play against the Tampa Bay Buccaneers.
Two likely Hall Famers are playing in the Super Bowl this year. Tom Brady from the Tampa Bay Buccaneers will win his 7th Super Bowl ring if his team comes out on top.
Please fill in your e-mail so we can share with you our top stories!