Rob Kardashian Shares a Cute Snap of Daughter Dream with Stunning Curls as She Sips a Drink
Rob Kardashian's little girl Dream pulled at fans' heartstrings on social media after her dad posted a heartwarming photo of her slurping up a cup of juice. 
Star dad Rob Kardashian showed off his daughter, Dream, looking adorable indoors and sipping from a cup. The black and white image was taken from a vantage point.
Little Dream flaunted her full black hair that was slicked down in a side part while she sported a T-shirt and a pair of jean shorts. The baby girl was unaware of the camera as she sipped from a straw.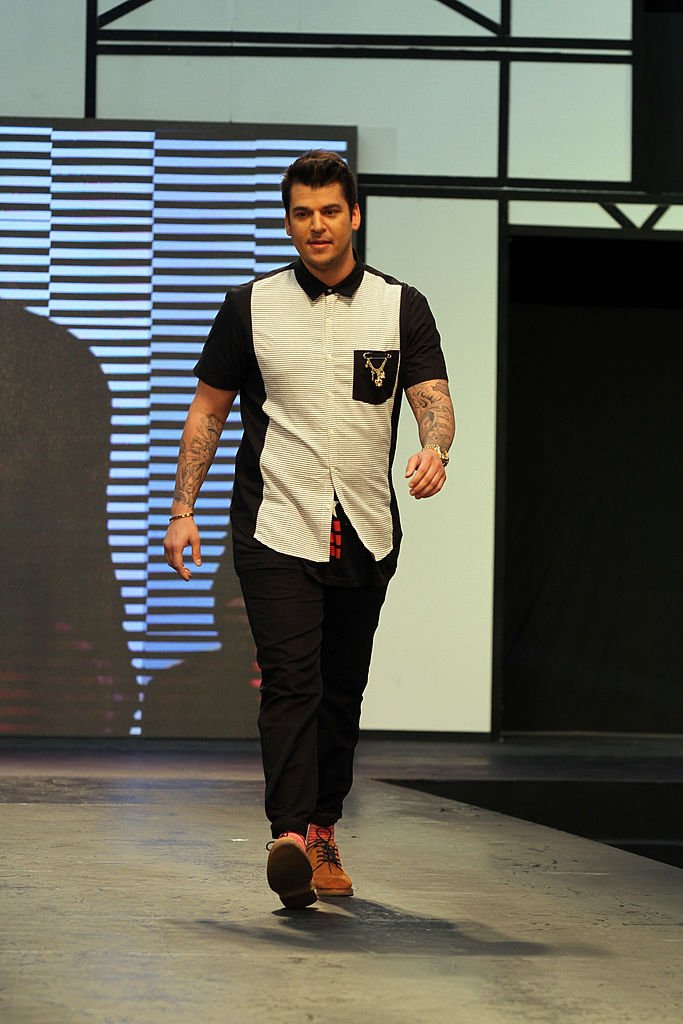 The young girl's cool outfit was perked up with a tiny necklace and a matching bracelet, as she seemed solely interested in savouring her juice. The photo reposted from a fan page included a pink heart  emoji.
This is not the first time Dream, 4, would be gracing her dad's media timeline. In one of Rob's media shares, the tot rocked a hand-me-down shirt from her dad.
The view was an appealing one with Dream sporting her dad's old-time shirt with his name written in bold letters. The star dad noted that she had found the shirt and rocked it well. 
Last November, Dream turned four and enjoyed a warm celebration with her family members. Her dad shared several birthday tributes on social media, showing his love and affection.
Recently, she joined her famous aunts, Kim, Kourtney, Kylie, and Khloe, in a fun trip to Turks and Caicos.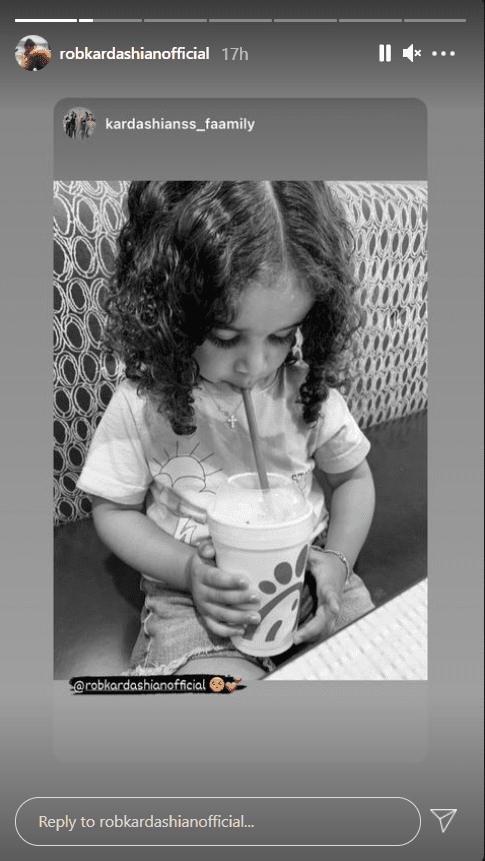 Just before the end of 2020, Rob and his baby mama, Blac Chyna, were said to have reached a custody agreement after being at loggerheads for so long. Court documents ascertain that the pair have shared physical custody. 
The pair was to alternate weeks when their baby girl would spend time with them. The legal papers also revealed that both parents should be alcohol and drug-free when their daughter was around.
Prior to this time, Rob, 33, claimed that his fellow reality star, Chyna was volatile and that she once raised a gun to his head while he was at his sister Kylie Jenner's mansion. 
He also requested that Chyna's access to Dream should be reduced to only weekends, adding that there should be a supervising nanny around in case she became violent. 
All his claims were refuted by Chyna's lawyer Lynne M. Ciani, who noted that Rob was only trying to discredit his client and tag her an unfit mom. Ciani affirmed that Chyna was a devoted mother. 
While her parents might be simmering down from being at each other's throats, little Dream keeps enjoying fun moments with her large family, especially with her cousins. 
Recently she joined her famous aunts, Kim, Kourtney, Kylie, and Khloe, and their kids, in a fun trip to Turks and Caicos, where the family also celebrated Kylie and her little daughter, Stormi's birthdays.