Diana Ross' Grandson Ziggy Captures Fans' Hearts Looking like His Dad While Laying in a Crib
Diana Ross's newest grandson Ziggy Blu is melting fans' hearts as he looks so much like his dad Evan Ross. Evan posted a video on his Instagram story showcasing his baby.
Evan Ross's son with Ashlee Simpson, Ziggy Blu, is absolutely adorable and is raking in Evan's followers' love and support after he shared a clip of Ziggy on his Instagram on Monday.
Evan had been updating his fans with cute videos of his son since Ziggy's birth last year. In his most recent video, Ziggy is featured in his pram while his dad pushes him, simultaneously recording the mirror's reflection.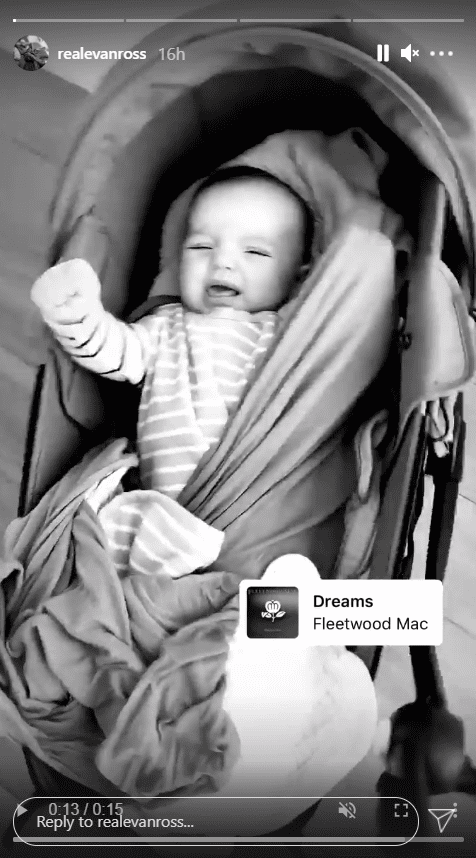 Evan has used the audio from Fleetwood Mac's "Dreams" to accompany Ziggy Blu's video. He shows the little tyke restless in his pram in another black and white clip.
The "Hunger Games" actor then shifts back to the color film, where he displays Ziggy kicking his blanket off while sticking his sweet pink tongue out playfully.
Evan and his wife welcomed Ziggy in October 2020. Simpson said of their son's arrival, "Our sweet boy has arrived! I'm over the MOON we are so Blessed!"
The couple have just shared pictures of their son's nursery with the world, and it is interestingly designed with a bohemian and rock theme in mind. The entire space has a rustic, earthy feel.
The whole room has warm tones and boasts two lightning bolt light fixtures, a bookshelf, an adorable brown crib, as well as a plush cream mat, which Simpson poses on barefoot, implying it's beyond soft. 
Diana loves to show off her big family and her grandchildren, which is why they all attended the 2017 American Music Awards.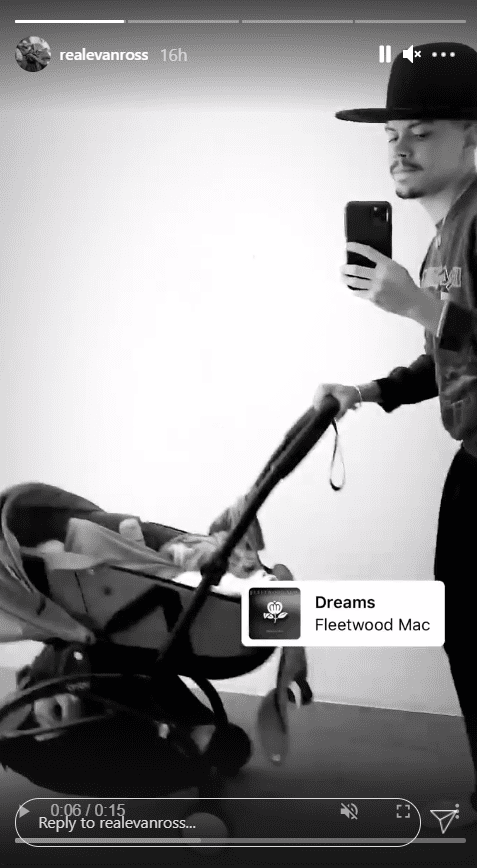 Ziggy is Evan and Simpson's second child together. Their daughter Jagger Snow is now five-years-old. Simpson also has an older son named Bronx Mowgli with her ex Peter Wentz of Fall Out Boy. 
Simpson and Evan were married in 2014 and gave birth to Jagger Snow in 2015. In a recent post shared to Evan's Instagram, he presented Jagger and Ziggy interacting, saying:
"Brother and sister just talkin love."
Evan's mother, Diana, loves to show off her big family and her grandchildren, which is why they all attended the 2017 American Music Awards. Diana was there to pick up her Lifetime Achievement Award.
Evan, his wife Simpson, their daughter Jagger, and son Bronx were present. Rhonda Ross and her son Raif, plus Ross Naess, Kimberly Ryan, Callaway Lane, and Chudney Ross, were there.
Diana is well-known for maintaining a strict yet also generous demeanor towards her grandchildren. Her eldest daughter, Rhonda, has often talked about her mother's ability to navigate her family life.
Rhonda also spoke about how her mother had taught her how to balance a career with child-rearing by setting an example. Rhonda had given up acting temporarily to focus on her son Raif.