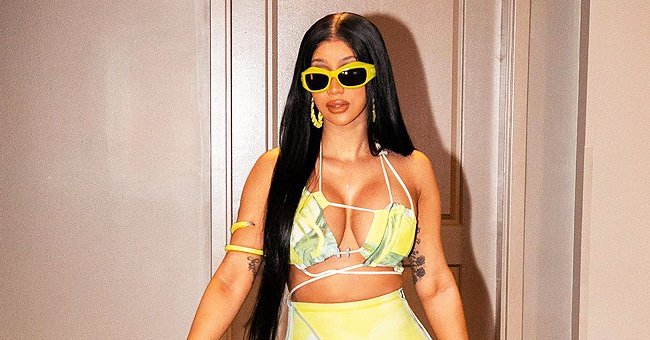 Instagram/iamcardib
Cardi B Displays Her Voluptuous Cleavage in a Yellow Ensemble Rocking a Bra & Tight Pants
Cardi B draws attention to her full cleavage in a yellow two-piece outfit on her social media page this Monday. Cardi is full of sunshine in the bright bra and tight pants.
Cardi B (real name Belcalis Marlenis Almánzar) has again astounded her 82 million followers with her fantastic figure and voluptuous curves in a neon ensemble courtesy of Ottolinger shared on her Instagram.
Cardi B, who is well-known for her quick-whip tongue in songs like "WAP," showed off her sophisticated sense of fashion again. The rapper has on a fitted pair of patterned pants and a matching bikini-style top.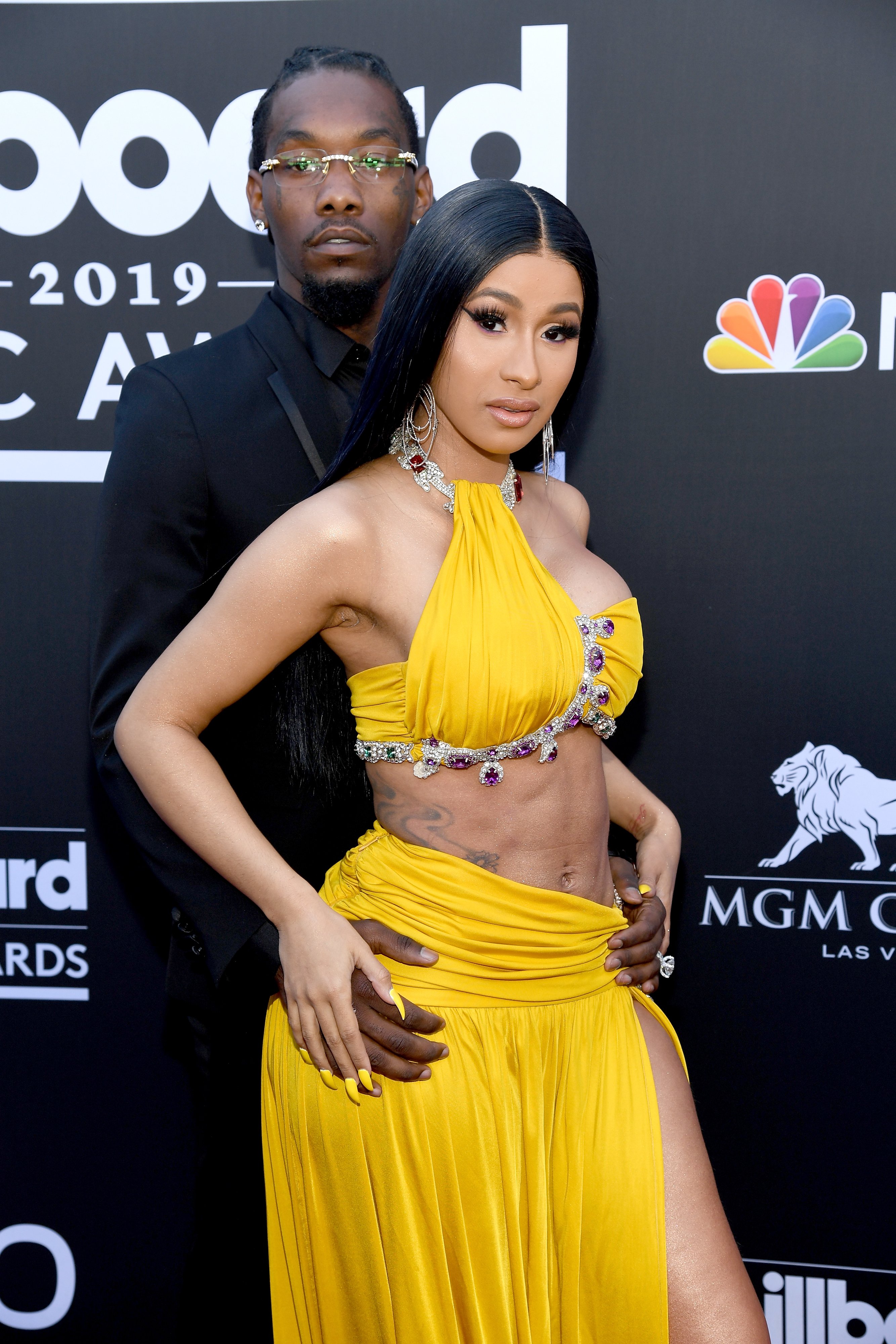 Offset and Cardi B at the 2019 Billboard Music Awards, 2019 in Las Vegas, Nevada | Source: Getty Images
Cardi has accessorized well with two thick yellow textured bangles on her wrist, a little yellow clutch, and another wrap-around bangle that resembles a snake. She also has matching hoop earrings.
Cardi has on Bottega Veneta shoes to further complement the outfit, showing her white toenails peeping out. The post received over two million likes. One fan commented:
"Baby one thing about you is you gone SERVE FASHION."
Cardi is known for her fashion versatility. She favors outfits that reveal a lot of skin, such as dresses with high slits, tops with plunging necklines, and the bodycon. But Cardi also branches out from these ensembles.
She has been photographed wearing flair pants, formal ball gowns, pantsuits, sequined dresses, blazers, and more. Cardi is not limited to one particular image but chooses to flit between them like a butterfly.
Cardi showed that she still knows how to dance like a stripper in the Silhouette Challenge recently.
Cardi, who just released a new single called "Up," came under criticism for making music tailored to becoming viral TikTok dances. She lashed out on Twitter, denouncing such claims.
The accusations came after individuals on TikTok used the song almost immediately after it was aired in the hopes that the celebrity might notice and be given a chance to feature in her videos. Cardi tweeted saying:
"How ya mad that these female rappers songs becoming tiktok challenges because people genuinely wants to dance to it."
Although the superstar finds TikToks difficult and has never even done the TikTok WAP challenge, Cardi showed that she still knows how to dance like a stripper in the Silhouette Challenge recently.
The challenge has a mashup of Paul Anka's "Put Your Head On My Shoulder" and Doja Cat's "Street." When the beat drops, all you see is the individual's silhouette under a deep red filter.
Cardi posted her video clip on Wednesday evening and completely nailed it even though she admitted it was tough. The video begins with her entering the frame in a kimono and ends with her slaying on the pole.
Cardi is undeniably talented in more ways than her followers can count. Cardi's gifts are diverse, from her epic fashion sense, her million-dollar music, to her sick dance (and stripping) skills.
Please fill in your e-mail so we can share with you our top stories!