Jazmine Sullivan's Personal Life Including Her Mother's Battle with Cancer
Jazmine Sullivan has hit the headlines since she sang the National Anthem at the 2021 Super Bowl and upstaged the game and the eagerly anticipated half-time show.
For entertainers, getting invited to perform at the Super Bowl halftime show is the pinnacle of their career, the final affirmation that they are international stars. This year, the Super Bowl has created a brand new star: Jazmine Sullivan.
Sullivan accompanied country music singer-songwriter, Eric Church in singing the traditional National Anthem at the beginning of the game, and demonstrated a vibrant, powerful voice that had her audience gasping for breath.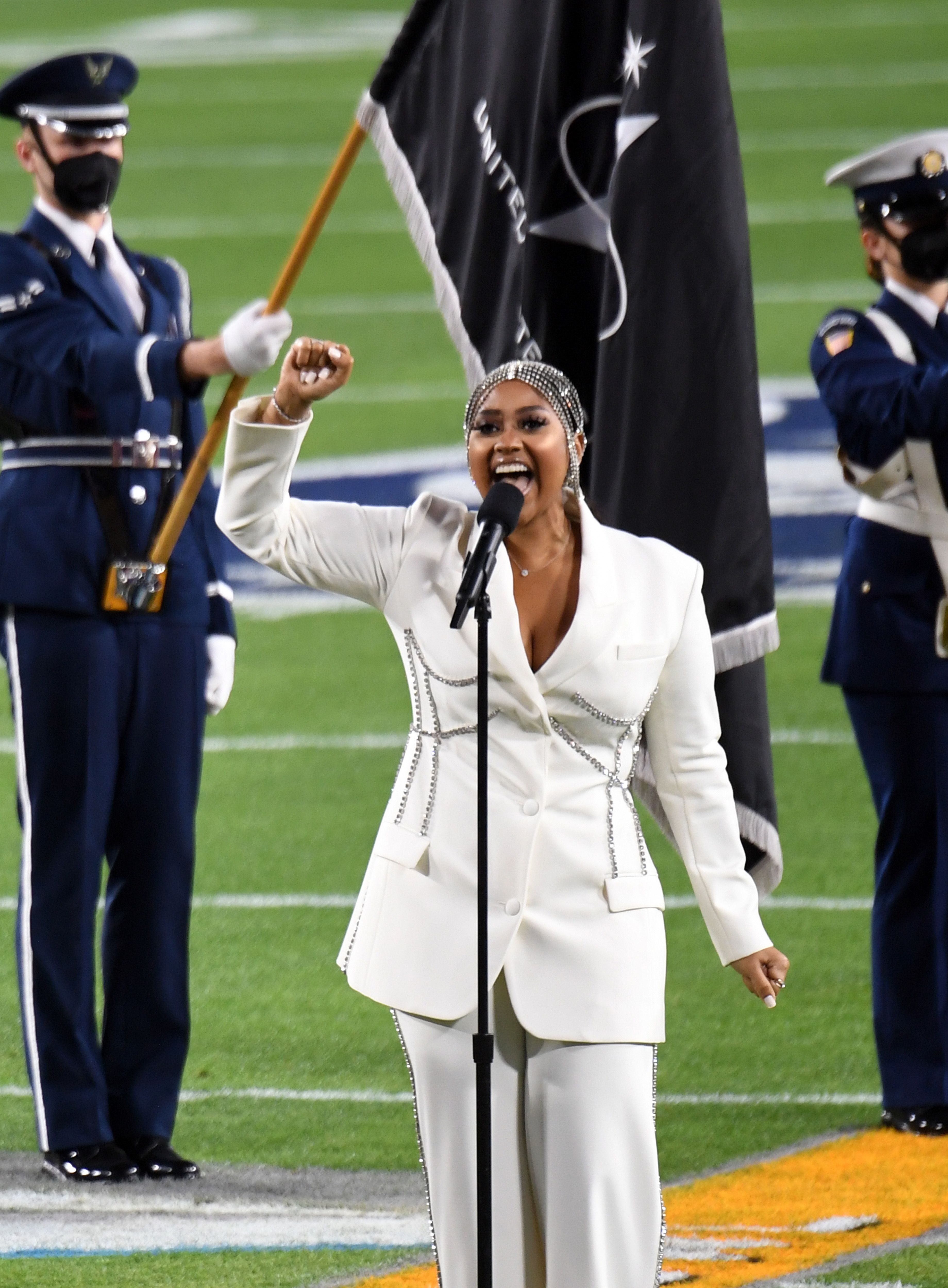 THE STAR-SPANGLED BANNER
For the dazzled new fans who discovered Jazmine Sullivan when she sang "The Star-Spangled Banner," it may seem like she achieved over-night success, but she has been waiting for mainstream recognition of her talent for a long time.
The Philadelphia singer started singing as a child, and at 15 she landed a recording contract with Jive Records, the label of Britney Spears, and 'NSync. It looked as if Sullivan was poised for stardom, but Jive filed away the album she'd recorded, and dropped her. 
FIRST HIT
The dream that had seemed about to come true vanished, but Sullivan did not give up -- she kept singing and writing songs. Her first break came in 2006 when a song she co-wrote with Christina Milian, "Say I," became an R&B hit,
The success of "Say I," led to a contract with Sony Music Entertainment's J Records and to her first album, "Fearless" co-produced by rap icon Missy. "Fearless" entered Billboard's Top R&B/Hip-Hop charts at #1 and put Sullivan on the musical map.
The woman who sings about heartbreak and breakups is in a long-term relationship with musician and producer Dave Watson.
CONSOLIDATION
Sullivan became a star in the R&B/Hip-hop firmament and recorded with rap icon Snoop Dogg, and toured Ne-Yo. In 2010 Sullivan's second album "Love Me Back" was released. Critics loved it, but the sales did not match "Fearless."
Sullivan stepped away from performing and concentrated on honing her skills as a songwriter, though she always promised her fans that she would eventually be singing again. It took four years for Sullivan to keep her promise, but it was worth the wait. 
SINGING FROM THE HEART
2015 marked the release of her third album, "Reality Show," and in 2017 she worked with the legendary Mary J. Blige on her record, "Strength of a Woman." By 2020 Sullivan had racked up an astonishing 12 Grammy nominations, but no wins as yet.
In late 2019 Sullivan's world was shaken by the news that her beloved mother, Pam Sullivan, who was a backup singer, was suffering from inflammatory breast cancer, the most aggressive of all breast cancers.
BATTLING BREAST CANCER
2020 was a difficult year for the Sullivans, with Pam battling her cancer and undergoing round after grueling round of chemotherapy. Just days after her historic performance at the Super Bowl, Sullivan tweeted:
"Today is my mom's final day of chemo! (...) Of all the blessings that are pouring in right now...that is the only thing that matters to me!!"
Sullivan went on to urge other cancer patients to keep fighting, and sending prayers for their recovery. Sullivan, who accompanied her mother to every treatment, expressed the belief that she had made it to "the other side."
On the romantic front, the woman who sings about heartbreak and breakups is in a long-term relationship with musician and producer Dave Watson, and the two have been making beautiful music together, in and out of the studio, for several years.
Meanwhile, Sullivan's new album Heaux Tales which was released on January 8, 2021, and debuted at  #1 US Top R&B Albums, #2 on US Top R&B/Hip-Hop Albums, and  #4 on the US Billboard 200 charts.
It looks as if Jazmine Sullivan is poised to claim the star-spangled crown she so richly deserves, and maybe next year, we will see her pouring out her passionate songs in the Super Bowl half-time show as the star she is.