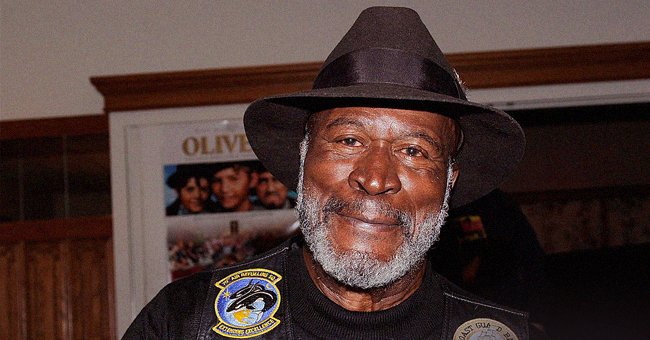 Getty Images
John Amos & His Only Son Smile in Matching Hoodies in a Sweet Video Showing Their Strong Bond

John Amos and his son K.C. looked adorable as they sang together in a new video shared by K.C. The pair even had on matching outfits as they bonded.
The relationship between a parent and a child can be strict most times, but there are fun days, and John Amos and his son KC Amos showed how much fun they have together.
In a new video shared on Instagram with K.C.'s 5,500 plus followers, John and K.C. looked to be having fun as they sang along to Bob Marley's "Buffalo Soldier."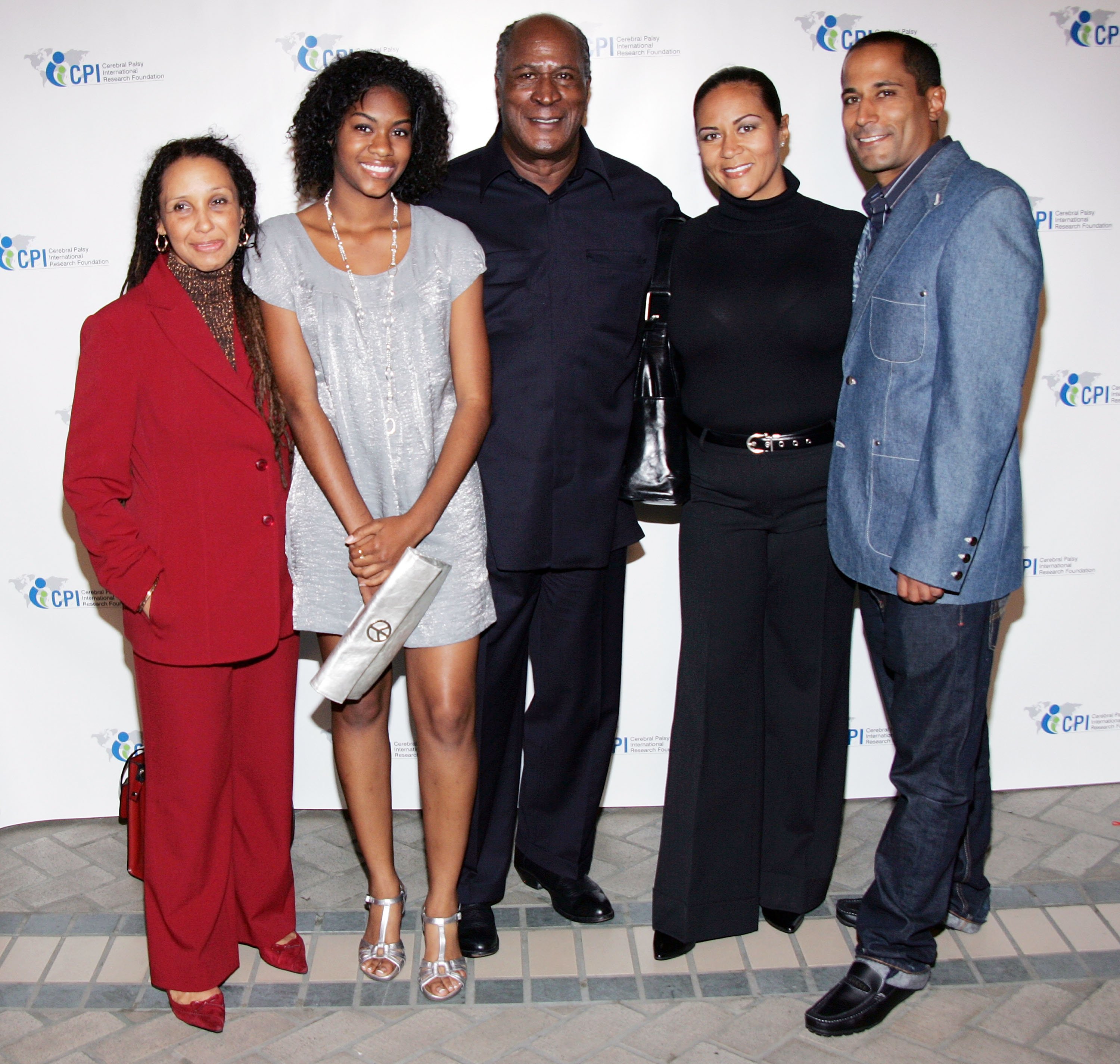 John Amos, Shannon Amos, KC Amos and friends in Los Angeles on December 3, 2008. | Photo: Getty Images
John had on a Kansas City Mack red merch, which he paired with black peaky blinders and dark sunshades. He looked rugged with his scruffy white beard lining his jawline.
While K.C. had on a similar red merch, he added a neck scarf and cream-colored bowler hat to his red outfit. He also wore sunglasses and had cream-colored hand mitts. The post had the caption:
"Kunta was not harmed in the filming of this Tik Tok. ? The tug on collar was his idea... Thank you for stopping by & enjoying the Good Vibe..."
The father-son duo was seated in the car as "Buffalo Soldier" played from the stereo and were enjoying the moment by singing and being in sync with the lyrics being belted out by the reggae legend.
However, things turned funny when the song reached the part where Marley sang about the soldier being taken from Africa, and K.C. pulled the collar of his dad's hoodie, which elicited a surprising look from John.
John has always been an inspiration to him.
The video, which currently has over 1220 views, had lots of comments from John and K.C.'s lovers. Some expressed that they loved the relationship between the two, while some pointed out that it was always fun seeing them together.
Others wanted to know why John's face changed when he had been the one who had asked K.C. to tug on his collar as stated by K.C. in the caption, and some talked about K.C. needing to be careful when "roughhousing" John. K.C. replied saying:
"You know it!! We be rough housing through out the day. Gotta be careful, Pops can still lay it on me. ?"
Although he often shies away from the media and prefers being behind the cameras, K.C. never fails to showcase his love for his father. He revealed that his dad was one of his heroes as he set the model for what an African American father should look like.
From sharing adorable videos of them bonding to sharing beautiful messages on Father's Day, K.C. showers John with all the love a father deserves while constantly stating that John has always been an inspiration to him.
John is one of those actors who is fortunate enough to have more than one iconic role on his resume. His two biggest parts were when he played James Evans Sr. on "Good Times" and the elder Kunta Kinte on "Roots".
Although he was dropped from his James Evans role, his impact on American society cannot be forgotten as he became the poster figure for how fathers should behave.
Please fill in your e-mail so we can share with you our top stories!