Erin Napier Shares a Photo of Ben with Their Daughter as Gives Update on Her Child's Leg Injury
Reality TV star Erin Napier is in a lighter mood as she shares a cute photo of her daughter, Helen, enjoying playtime with her dad while giving an update on her daughter's leg injury.
Watching a child become ill or suffer an injury is never easy for any parent, and HGTV stars Ben and Erin Napier have lived through that nightmare over the last few weeks.
The reality TV couple has painfully watched their daughter crawl back to recovery after suffering a horrific leg injury last month. However, things finally seem to be getting back to normal in their household.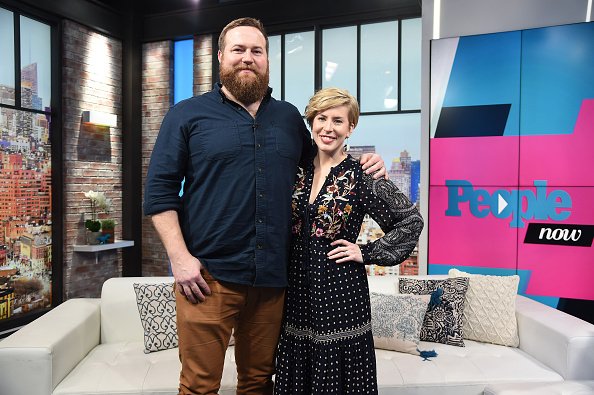 Erin has been posting regular updates of her daughter's road to recovery over the last few days. She recently shared some positive news with her followers alongside adorable photos of her daughter Helen, 3, enjoying playtime with Ben.
In one of the images, Ben carried his daughter in his arms while making a funny face at her. The other photo captures the father and father locked in a warm embrace. Erin wrote in the caption:
"She is Belle and he is Beast 'but no horns.' (also, her leg is doing great! she's found all sorts of ways to get around the house without walking!)"
Erin shared the heartbreaking news of her daughter's injury through a January 21 Instagram post. She went further to reveal that Helen fully broke her Tibia and fibula bones. 
The next few days were trying for the couple, and they both admitted to finding it difficult to concentrate at work while their daughter was going through some pain. 
The 35-year-old HGTV star recently revealed that her mom Karen Rasberry was diagnosed with Coronary artery disease.
Later that month, Helen underwent surgery to set the broken bones back in place. Once again, Erin took to her Instagram page to update her followers about the procedure. The "Home Town" co-host wrote:
"It took a procedure with general anesthesia, re-break and resetting her leg bones with a full leg cast [...] but my baby girl finally felt great today." 
It has been a tough couple of weeks for Ben and Erin, but they have been able to ride through the storm, and fans can count on the pair to keep them abreast of Helen's continued recovery.
Meanwhile, Erin has not had the best start to the new year. Apart from her daughter's unfortunate injury, the 35-year-old HGTV star recently revealed that her mom Karen Rasberry was diagnosed with Coronary artery disease.
Erin also urged her followers to pray for her mother while sharing a screenshot of a touching message Rasberry had written on her Facebook page to break the news to her friends. 
Despite the setbacks that have confronted Erin at the start of the new year, she has still found the strength to go about her work with the same positive energy. It is no wonder viewers love her, and her fans have shown they have her back no matter what.