Marty Schottenheimer Was Happily Married for 54 Years — Facts about the Late NFL Coach
Former NFL coach Marty Schottenheimer transcended to glory in February 2021, leaving behind his wife of 54 years, their two adorable children, and a handful of grandkids.
During his time as a coach, Marty Schottenheimer always had the right strategy to face any contender and lead his team to victory. However, one adversary proved itself a tough nut to crack, eventually claiming the legend's life.
Sadly, the news of the retired NFL coach's death hit the media in February 2021, with family members confirming he died from Alzheimer's disease; he was surrounded by loved ones.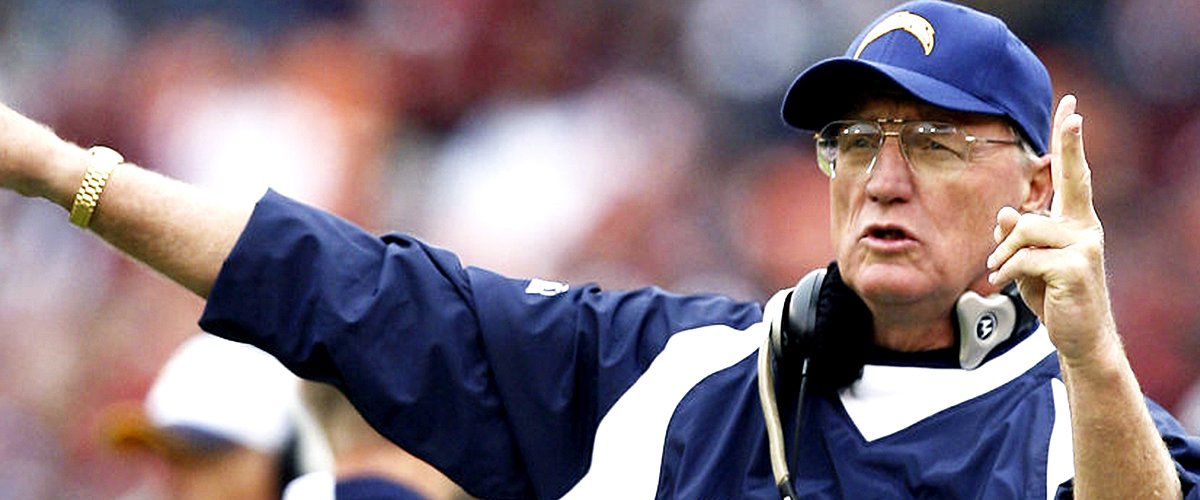 While most football fans knew about the condition, others were in the dark about Marty's 10-year health struggle that eventually led to his death. The realization leaves one wondering what other facts about the NFL icon is stuck in mystery land.
ACCOMPLISHED LIFE OF SCHOTTENHEIMER
To many football lovers, Marty Schottenheimer only fell short in one aspect: his ill-luck when it came to winning the Super Bowl. And who would blame them? 
With an impeccable career profile, a superb foresight for strategizing, an elite team of young, skillful athletes coupled with his unmatched skills, the iconic coach could have pulled off anything.
Longtime NFL coach Marty Schottenheimer has died at 77 due to Alzheimer's.

He has the eighth-most wins of all time.

RIP 🙏 pic.twitter.com/jMRyaK1HIH

— B/R Gridiron (@brgridiron) February 9, 2021
Born in Pennsylvania, 1943, football was hardly the only career path opened for the late star. Yet, he chose to identify with his passion, utilizing his skills to come up with formations and strategies unlike any other.
His wife, Patricia, released a statement days later, confirming he was in stable condition and had the love and support of loved ones.
He kicked off his career as a professional coach in 1974, post-football retirement, coaching the World Football League's Portland Storm.  year later, he served as New York Giants' linebackers coach for the NFL.
He also coached NFL's Detroit Lions' linebackers. Between 1980 and 1988, the legend remained a coach with the Cleveland Browns, leading the team to several victories.
An absolute legend of the gridiron. Coach Marty Schottenheimer coached the Senior Bowl 4 times, representing the Chiefs and the Chargers, including the 2004 game where he got an up-close look at QB Philip Rivers prior to the NFL Draft. RIP Coach. pic.twitter.com/np3N9k7uUC

— Reese's Senior Bowl (@seniorbowl) February 9, 2021
At the end of his tenure, the Browns amassed a 2-4 (.333) mark in the playoffs and a 44-27 (.620) regular-season record. In 1989, he moved on to the Kansas City Chiefs, where he coached for ten seasons.
At the time of his exit in 1998, his efforts earned the team several victories, three division titles, and seven playoff appearances. Marty also worked with the Washington Redskins, San Diego Chargers, and UFL's Virginia Destroyers before his retirement in 2011.
So sorry to hear about the passing of Marty Schottenheimer. He was a great man and a great coach. He impacted so many lives for the better, including mine. My heart goes out to the Schottenheimer family.🙏🏽 pic.twitter.com/Hsdj6kV071

— Tony Dungy (@TonyDungy) February 9, 2021
SCHOTTENHEIMER'S CAREER SUCCESS
Championing 205 wins as an NFL head coach and 200 regular-season wins was a record-breaking feat for the late coach. Both records placed him as the NFL head coach with the most wins to not reach a championship.
Additionally, Marty remains the only eligible coach in NFL history that never became a Football Hall of Fame inductee despite having up to 200 regular-season wins.
Notably, his career escapades made him one of the most successful coaches to walk the earth. Long before becoming a coach, the late icon already made a name for himself in the world of football as a linebacker.
RIP Marty Schottenheimer. I will always appreciate Marty giving me my first shot in the NFL. Great Coach. My condolences to his family. pic.twitter.com/VABRJDu4X1

— Bruce Arians (@BruceArians) February 9, 2021
He became a professional football player after playing college football at Pittsburgh University. Buffalo Bills selected him in the seventh round of the 1965 AFL draft.
The icon played with them for the next four seasons before moving to the Boston Patriots for two seasons. His playing records also include stints with the Pittsburgh Steelers and the Colts.
Marty retired from football just before the 1971 season and pursued a career in real estate for the next three years. In 1974, he began his journey as a Football coach, proving himself a force to reckon with for the next seventeen years and 21 seasons.
We join the @NFL community in mourning the passing of Marty Schottenheimer, who spent part of his legendary coaching career with the Detroit Lions as a linebackers coach from 1978-79. pic.twitter.com/ZJZ6nKezeT

— Detroit Lions (@Lions) February 9, 2021
SCHOTTENHEIMER'S PERSONAL LIFE
Marty Schottenheimer tied the knot with his wife, Patricia Schottenheimer, in 1968, marking the beginning of their 54 years of bliss. They lived together for years in their home on Lake Norman, North Carolina. 
There they welcomed their two children, a son, Brian Schottenheimer, and a daughter, Kristen Schottenheimer. The duo's son, Brian, who followed in his dad's footsteps, grew up to become a coach. 
Today, he serves as the quarterback coach and passing game coordinator for Jacksonville Jaguars and, previously, as Seattle Seahawk's offensive coordinator.
Marty Schottenheimer, 1943-2021.

We lost a great Pitt man today.https://t.co/QNzzzOYzPG pic.twitter.com/8bNrkqLVMw

— Pitt Football (@Pitt_FB) February 9, 2021
HIS BATTLE WITH ALZHEIMER'S DISEASE
Marty Schottenheimer was diagnosed with Alzheimer's disease in 2011. According to the WHO, the condition, which causes a progressive brain disorder that disrupts one's memory and thinking capacity, is irreversible and affects about 5 million Americans.
Following his diagnosis, the icon's family kept it private for years until the symptoms became more prominent and noticeable. They went public with his ailment in 2016, also disclosing the progress of his condition and the medical care he underwent.
Years into the iconic coach's battle with Alzheimer's, he signed up to participate in a drug trial test conducted by Roche laboratories in Switzerland.
Saddened to hear of Marty Schottenheimer's passing. My heart goes out to his family, friends and former teams.

One of the all-time great competitors and coaches. pic.twitter.com/r8Cj03xsK2

— John Elway (@johnelway) February 9, 2021
Through his tough heath struggles, Marty's family stood by him, offering their constant support, loyalty, and devotion every step of the way to help him overcome the disease.
MARTY SCHOTTENHEIMER'S DEATH
On Saturday, January 30, 2021, the football legend developed complications resulting from progressive brain damage. As a result, he was rushed to a hospice facility near his home in Charlotte, South Carolina.
We mourn the loss of the legendary Marty Schottenheimer. pic.twitter.com/jlMCgw69WC

— NFL (@NFL) February 9, 2021
His wife, Patricia, released a statement days later, confirming he was in stable condition and had the love and support of loved ones. However, on February 8, 2021, Marty Schottenheimer succumbed to his decade-long battle. He died at the age of 77.