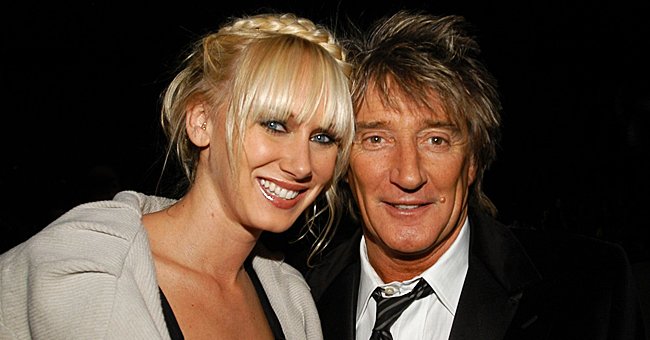 Getty Images
Rod Stewart's Daughter Kimberly Is All Grown up and Is Now a Celebrity Closet Organizer
Not allowing the pandemic to hinder her, Kimberly Stewart has added celebrity closet organizer to her resumé after tackling her father, Rod Stewart's closet, and seeing that there was a business opportunity.
Rod Stewart's untidy closet in his Palm Beach home in Florida had his daughter Kimberly Stewart jump in to put her organizing skills to use. A few months later, Kimberly's business, The Realm, was kickstarted.
The rock star's 41-year-old has decided to convert her tidying skills into an entrepreneurial effort launching her business, which focuses on organizing celebrities' closets for them.
Kimberly Stewart attending the Farrah Fawcett Foundation's "Tex-Mex Fiesta" 2017 on September 9, 2017 | Getty Images
THE REALM
Kimberly took to Instagram to announce that she has launched a luxury organizing company with a curating aspect. The 41-year-old entrepreneur has named her business The Realm by Kimberly Stewart.
Kimberly was inspired to tackle a new business after she organized her dad's home during the quarantine. The response on social media to the few photos that she posted had her considering making it a business. Kimberly elaborated, saying:
"I got direct messages from people asking me to come do their houses. At that point, the idea came to life, and I realized that I needed to reorganize closets professionally."
THE FIRST OF EIGHT
Kimberly is one of eight children that share Rod as their father. She had always had a need to be creative and curate, which started with organizing her Barbie dolls' clothes when she was young.
Rod has had 8 children with 5 different women making him notorious for his large family and specific taste in women.
Rod's closet underwent the same tidying strategy, with Kimberly color coordinating all of his clothes. With plenty of patterns and colors, the professional organizer had the best time putting it all in order.
ROD'S ELABORATE FAMILY
Kimberly may be Rod's child that features the most in the spotlight, but she is definitely not an only child. The rockstar had his first child when he was 17 and decided to put her up for adoption. 7 children followed, which Rod had with various partners.
The 41-year-old entrepreneur also has a child of her own, Delilah Genoveva Stewart, with actor Benicio del Toro. The parents were never in a relationship. Delilah's closet has also been organized by Kimberly, with the mom saying:
"Delilah sometimes will wear a favorite article of clothing until it is two sizes too small, at which point mama steps in. I have everything for Delilah in categories like play clothes, school clothes, dress up."
FAMILY HISTORY
Kimberly's mother, Alana Stewart, was one of the many models and actresses that the British rock star was involved with. After having two children with Alana, Rod moved onto to have children and relationships with 3 other models.
Kelly Emberg, Rachel Hunter, and Penny Lancaster followed in Alana's footsteps. Rod has had 8 children with 5 different women making him notorious for his large family and specific taste in women.
Having released multiple successful albums and records, Rod is now also contributing towards his children's success by allowing Kimberly access to the spaces that need organizing in his house.
The Realm by Kimberly Stewart hasn't only benefitted Kimberly but has left her family members with very well-organized closets, kitchens, and pantries, making life much easier.
Please fill in your e-mail so we can share with you our top stories!