Bruce Campbell Was Ordained as Minister and Married a Zombie Couple — Facts about the Actor
Actor Bruce Campbell is an ordained minister qualified to wed couples. He performs his ministerial duties while living up to his Hollywood reputation with outstanding movie roles.
Bruce Campbell grew up on TV in the full glare of the public. From his early days on "The Evil Dead," it was apparent the star was not one to dim his light even in the face of challenges.
Hence, when the challenges did come, albeit in the form of a failed marriage and a daunting work schedule, the icon faced it head-on and emerged stronger. The experience also taught him important life lessons, which serve as a guiding light for him to date.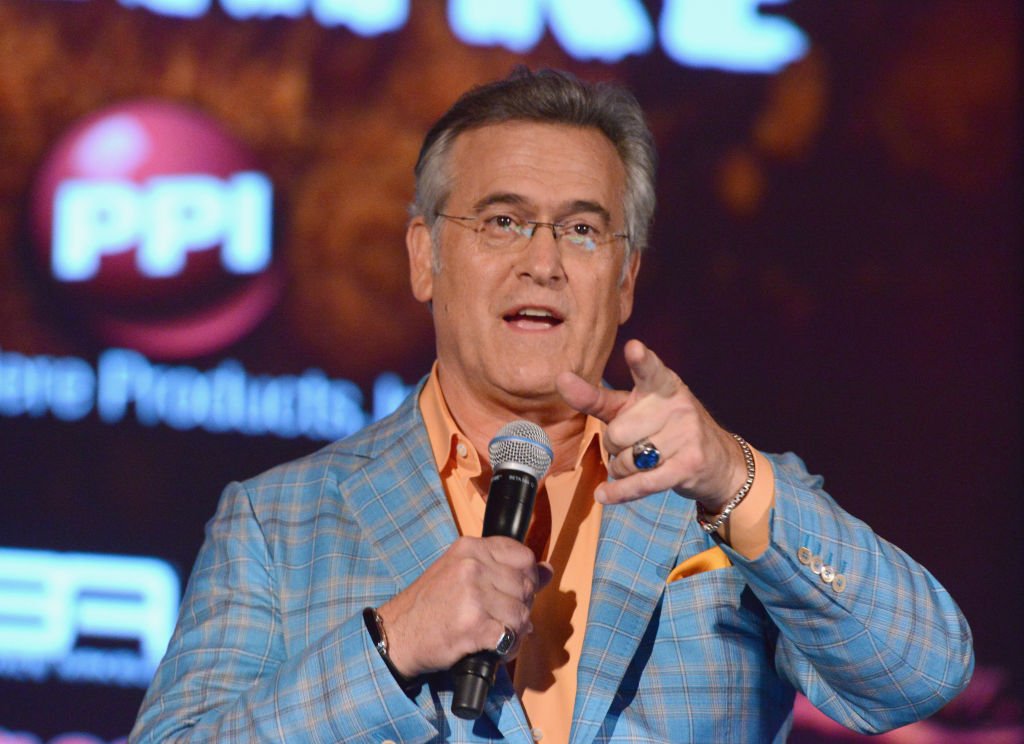 BRUCE CAMPBELL'S LIFE
Born in Royal Oak, Michigan in 1958, Bruce Campbell's path as an actor seemed to be cut out for him. His mom, Joanne Louise, was a homemaker, while his dad, Charles Campbell, worked in advertising for almost four decades. 
Campbell is an ordained minister, licensed to officiate weddings for couples.
In addition to advertising, Charles kept jobs as a director and actor in local theatres. As a teenager, Campbell began trying his hands on acting and directing like his father. 
He became more interested in movie-making after meeting filmmaker Sam Raimi in Wylie E. Groves High School, where they both attended. Little did he know the creative hobby would someday skyrocket him, and his high school friend, to the world of fame.
CAMPBELL'S MARRIAGES AND FAMILY
Bruce Campbell has been married twice. First, he married Christine Deveau in 1983, and their union yielded two children, Rebecca and Andy. The couple stayed together for six years before things turned sour.
According to the actor, Deveau became increasingly devastated by his constant absence from home due to long working hours, acting schedule, and travels to various locations. 
Bruce Campbell rarely had time for her or the kids, which ultimately made the mother of two decided she wanted out. Campbell recalled urging her to rethink her stance at first and even offered to quit acting.
However, Deveau's mind was already made up, and they went through with the divorce. Many years later, Campbell is thankful that his ex-wife insisted on the divorce. 
Next, he married costume designer Ida Gearon in 1991, following their meeting on the set of "Mindwarp."  The lovebirds are still together to date and reside in their family home in Jacksonville.
BRUCE CAMPBELL'S CAREER
Campbell, like his 2000 Eric Gruendemann-directed television series, has proven himself a Jack of all trades. Aside from acting, he has excelled in film production, comics, voice acting, writing, and other commendable projects.
His first major film role was in "The Evil Dead," where he played a lead character while also serving as a co-executive producer behind the camera. 
The Sam Raimi-produced film became such a hit that it gave way to two sequels, "Evil Dead II" and "Army Of Darkness," with the icon starring in both.
Additionally, Campbell made cameo appearances in other superhero flicks like "Spider-Man" film series. Bruce Campbell's other notable works include "The Quick And The Dead," "Darkman," "Congo," "Escape From L.A," "Sky High," and "Burn Notice."
In 2000, he landed a major role in "Jack of All Trades," also produced by Sam Raimi. Bruce Campbell reprised his role as Ash Williams in the 2015 spin-off of "The Evil Dead," titled "Ash vs. Evil Dead."
BRUCE CAMPBELL'S ORDINATION 
Campbell is an ordained minister, licensed to officiate weddings for couples. He announced his ordination via Twitter in 2017, admitting he had only married one couple as a one-shot deal since becoming a minister. 
He received the biggest shock of his ministerial career once when he officiated a real-life zombie wedding. The actor recalled his surprise when the couple specifically asked for him to oversee their wedding. 
Upon his arrival, he found the bride and groom both dressed in zombie-themed outfits, with the wife bearing a screaming zombie baby that was protruding from her stomach.
Admittedly, that was the weirdest highlight of his ministerial career. All he could think at that point was how much the duo was desecrating the sacrament of matrimony. 
His thought went out to the to-be-weds' families, imagining how disappointed they must have been at their kids. However, to Campbell's bemusement, the groom's father showed up as a zombie as well, which gave him a level of consolation. 
Concluding it was a family of freaks, after all, gave him the willpower to officiate the wedding successfully. It all turned out well.
Combining his ministerial duties with a bolstering movie career can be daunting. But who better to make it work than the born-hero, Bruce Campbell?