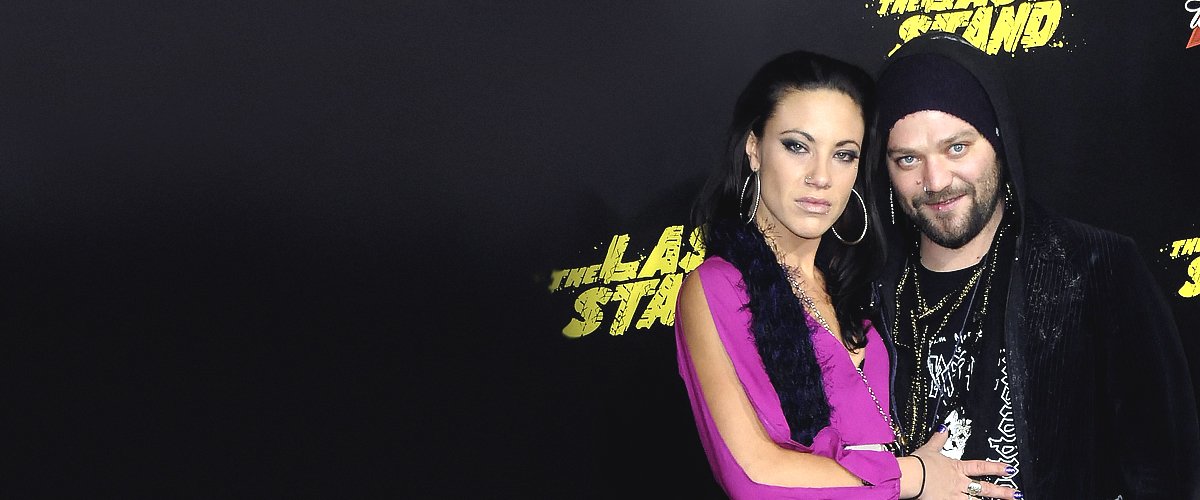 GettyImages
Bam Margera Shares a Son with Second Wife Nicole Boyd — inside His 2 Marriages

MTV stunt performer and notoriously wild daredevil Bam Margera has lived a full life, but his love life, consisting of two marriages and one child, just might be the most intriguing part of it all. Take a look!
Skateboarder and television personality Bam Margera first rose to prominence in the early 2000s as an outlandish stunt performer on the MTV reality stunt show "Jackass."
Today, Margera has evolved and changed over the years and has even been married twice! Take a look at his relationship life, two marriages, and the son he shares with his second wife.
Bam Margera and Nicole Boyd arrive for The Los Angeles Premiere of "The Last Stand" held at Grauman's Chinese Theater on January 14, 2013 | Photo: Getty Images
HIS RELATIONSHIP LIFE
In the late '90s, Margera was engaged to his then-sweetheart, Jenn Rivell, a divorced single mom. The earlier years of Margera's career prominently featured Rivell, too, as she appeared in several of his projects.
At the time, they were cohabiting and remained together for seven years. Unfortunately, in 2000, the relationship ended abruptly, and their separation soon resulted in legal battles.
In November 2006, the skateboarder filed for a later-denied "Protection from Abuse" from his ex-fiancee, alleging that she broke into his house.
That same year, he got engaged again to his childhood friend, Melissa "Missy" Rothstein, and this time, they made it to the altar.
MARGERA'S FIRST MARRIAGE
Rothstein and Margera's marriage was undoubtedly one for the books. The events leading up to their wedding were captured in the MTV series "Bam's Unholy Union."
The wedding-centered show saw MTV's cameras follow the couple through each step of the event planning, never minding the ever-ominous MTV curse.
The mythical curse infamously sees to it that every couple that films an MTV series ends up divorced. They obtained their marriage license, again, under the heavy watch of MTV cameras and prepared for their holy, or "unholy" matrimony.
Rothstein and her beau first met when they were kids in the sixth grade but did not start going out until two years before their marriage, after breaking things off with his ex, Rivell.
On February 3, 2007, the lovebirds officially tied the knot in downtown Philadelphia in front of 350 friends and family. The two made a wild duo, always proving that they were anything but a typical couple.
The husband and wife reportedly got tattoos on the insides of their lower lips together! Rothstein got the area code 313 tattooed because that was where they bought their wedding rings.
Margera, in typical "Bam style," got the words "Dr. J," the nickname of basketball legend Julius Erving, for reasons known only to him as it had nothing to do with the wedding.
THE FIRST DIVORCE
About a year into their 2007 marriage, it seemed they had both been wrong about the MTV curse, or perhaps it was the way things were meant to be.
As 2009 rolled around, thunder threatened in the marriage. In July that year, the television personality was rushed to the hospital after his wife called 911 following her husband's 4-day alcohol binge.
From there, things started to go downhill, and by October 2010, they were already living in separate cities and only seeing each other once a week.
In 2019, he spoke with Dr. Phil in a private one-on-one session to help him fix issues pertaining to his marriage and family.
Rothstein reportedly knew about all his extramarital activities with other women, and soon enough, she got tired of his antics. The divorce was finalized in November 2012.
MARGERA FINDS LOVE AGAIN
Margera, a man who never lets anything get in the way of his rock and roll, soon found love again. This time, he went all out with an Icelandic wedding at the Random Hero Festival in Reykjavik, Iceland.
The skateboarder tied the knot on Saturday, October 5, 2013, with his model and photographer bride, Nicole Boyd. Boyd is also a small-time actress and graphic designer.
A LITTLE BAM IN THE OVEN
Many of Margera's fans see him as the wild, predictably unpredictable daredevil that never hesitates to test the limits and push to the extremes. This is why when he and Boyd revealed they were expecting a child, many were left surprised.
In a very straightforward Instagram post, Margera revealed that his wife was pregnant with a photo of her showing off her small growing baby bump. He wrote:
"Pregnant!"
The wonderfully surprising news came months after he revealed that he was working hard to maintain his sobriety and was ready to return to skateboarding.
In December 2017, they finally welcomed their son, and the daredevil took to Instagram again to share the fantastic news. He posted a snap of his wife holding their baby in the hospital and captioned:
"Phoenix Wolf."
Fans were more than delighted to finally meet Bam Margera's son, Phoenix Wolf, and as expected, there was endless jubilation in the post's comments section. The man was certainly proud to be a father.
TROUBLE IN PARADISE
While many might argue that Margera's wildest days are far behind him, the Bam Margera of today is still experiencing ups and downs like always.
In 2019, he spoke with Dr. Phil in a private one-on-one session to help him fix issues pertaining to his marriage and family. He reportedly revealed to Dr. Phil that he disowned his mom, April, and could not stand his wife, Boyd.
His life was in shambles, he cried out. They soon got to the root of his problems and frustrations. Today, Margera is a happy husband and father to his adorable son, Phoenix Wolf.
Please fill in your e-mail so we can share with you our top stories!