Magic Johnson Pays Moving Tribute to His Beautiful Wife Cookie on Valentine's Day
Magic Johnson recently showed how much adoration he has for his wife of many years, Cookie Johnson. He took to social media to share a befitting tribute to her as they celebrated lover's day. 
NBA legend Magic Johnson let fans know that his wife Cookie Johnson was his forever valentine in a refreshing post on Instagram as he honored her by celebrating their love.
Magic threw it back to a time when he and Cookie were still young lovers when he shared a sweet photo of him and Cookie. In the post, which has since had many gushing, the retired basketball star and his wife were photographed cuddling up.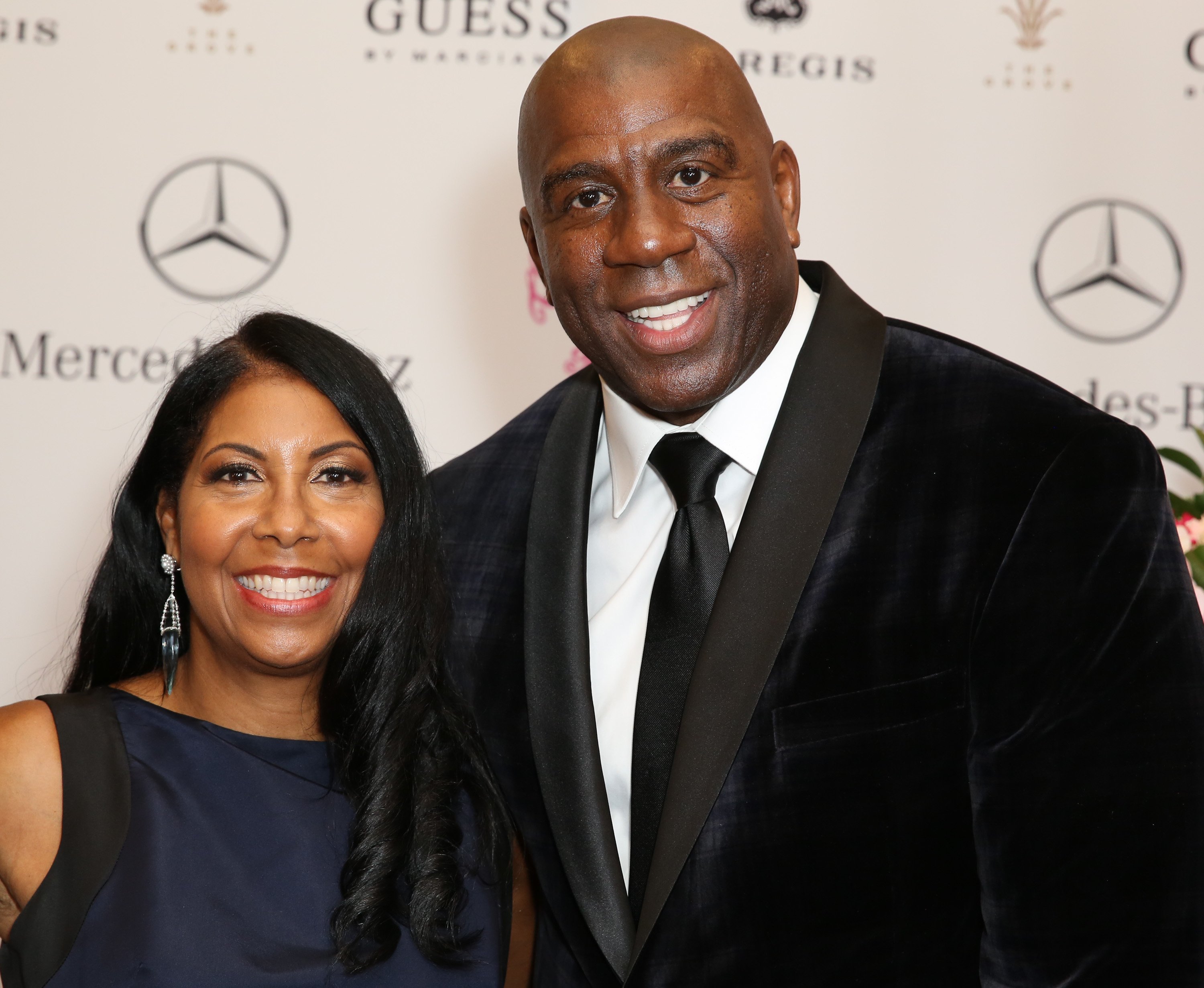 The next slide showed them in a more recent time looking evergreen and radiant. Here, Cookie rocked a floral top and black knee-length skirt while her spouse looked sharp in his grey suit. Magic captioned the images:
"Happy Valentine's Day to my beautiful wife and forever Valentine @the cookiej. I love you more and more every day and thank God for you!..."
Cookie returned the favor on her page, sharing old photos of their young love and some of their precious moments together. The star included a recent one as well.
Her caption was quite heartwarming as she affirmed that she and Magic were love birds who fit like hands and gloves. She also attached hearts and lovestruck emojis. 
Once speaking about living with HIV, Magic gave his wife all the credit for her unconditional love. 
It all started in 1977 when Magic and his woman met at a party as college freshmen. Magic was quite popular, pulling the attention of many young women, and Cookie had thought she didn't stand a chance.
However, fate proved her wrong. Since their dating days, they have been together through different milestones and hard times. It is safe to say that Cookie and Magic's love is an enduring one. 
In 1991, Cookie and her man experienced a significant change in their marriage, and they became the subject of news and tabloids for a while. In November of the same year, Magic publicly announced that he had been diagnosed with HIV. 
Just as the news sent shock waves across the country, his family also felt the effect. Magic's status shook his marriage, but he and his wife stood the test of time. 
Once in an interview, Cookie shared that Magic revealed his HIV status a few days after they tied the knot, and she had fallen on her knees in despair. She narrated that Magic had asked her to leave if she wanted to.
However, she was willing to stay with him, which she did through the years. Once speaking about living with HIV, Magic gave his wife all the credits for her unconditional love.