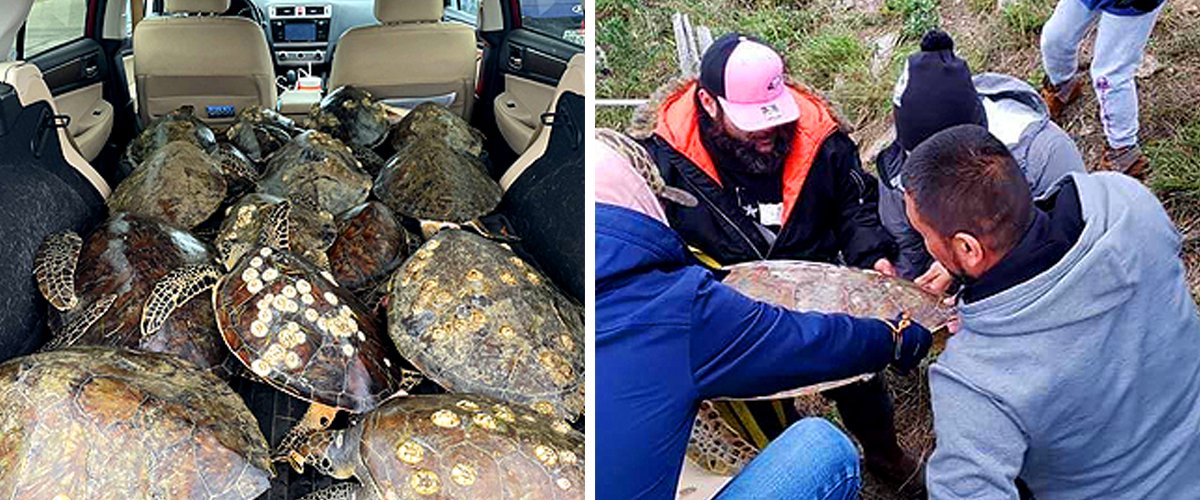 twitter.com/lara_hand facebook.com/tj.reyna.79
People Join Efforts to Saves Lives of Cold-Stunned Sea Turtles from the Winter Storm in Texas
Volunteers on South Padre Island have been working tirelessly to save as many turtles as possible.
Turtles are cold-blooded animals, which is why they cannot regulate their internal temperature. So due to the freezing weather in recent days, they have been practically paralyzed.
Since they cannot move or swim properly, they are at risk of drowning. To avoid this tragedy, a large number of volunteers have traveled the coast to take the turtles in their cars to a safe place.
The South Padre Island Convention Center and Visitors Bureau is serving as a temporary shelter as weather conditions improve. In the shared images, you can see the place full of shells.
One person tweeted an image of her mother's car, a retired person who spends the winter volunteering in central Texas. In the photo, you can see the back of the car full of turtles ready to go to the refuge.
OUT OF PLACE
The South Padre Island Convention Center and Visitors Bureau has become a haven for turtles since its neighbor, Sea Turtle Inc., reached its full capacity to receive the freezing animals.
Ed Caum, executive director of the South Padre Island Convention and Visitors Bureau, spoke to the press and explained that they are collecting the turtles, which are about 3,500, and fear for the next cold front that is approaching.
THEY DO THEIR BEST
Due to weather conditions that do not appear to improve, Caum said they have no idea when they can return the turtles and release them into the Gulf. Having recovered the electrical energy, they have been able to maintain the temperature of the place at 60 ° F.
Local residents have brought the cold-stunned turtles to the resort, and some of them do not have heating or basic amenities in their own homes. Some people carry one or two turtles, while others have carried dozens.
UNUSUAL CONDITIONS
Wendy Knight, executive director of research and conservation center Sea Turtle Inc, said this event is unprecedented. They regularly receive between 100 and 500 turtles during the winter.
Due to these extreme weather conditions, Sea Turtle Inc. has counted about 4,700 turtles that volunteer residents have taken to its facilities, which were already full, and to the convention center.
FROZEN TEXAS
The low temperatures that have hit Texas in recent days have taken humans by surprise, as many are not prepared to cope with the cold and its consequences.
Power outages and problems with the water supply have put millions of inhabitants in vulnerable situations, considering that the air and water have reached unusually low temperatures.
Please fill in your e-mail so we can share with you our top stories!