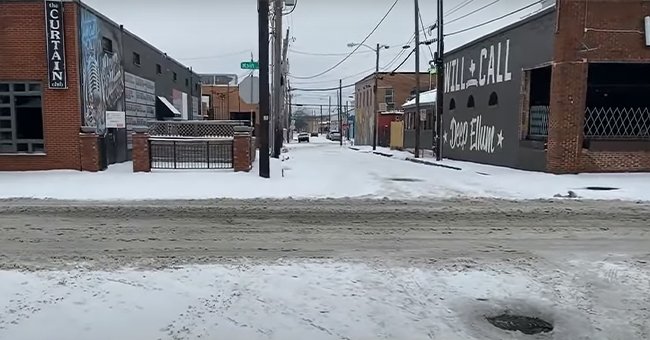 YouTube/ABC News
Nurse Helps Elderly Neighbors Amid Texas Winter Storm despite Having the Opportunity to Leave
A 39-year-old Texas nurse has made headlines for choosing to help her elderly neighbors amid the harsh winter storm plaguing the state even when she had the opportunity to leave for safety.
Amid the devastating winter weather conditions ravaging the state of Texas, a nurse named Emily Grigsby has emerged as an angel for her elderly neighbors after she began tending to them.
Grigsby, who resides in Austin, was with her husband Will, and their sons experienced the power outage alongside millions of other Texans last week and tried to spend the first night keeping it together for her children.
However, once the first 24 hours passed and nothing became better, she decided to check on her neighbors and found out they weren't showing on the power outage map. Speaking about it, she said:
"Then I started checking on my elderly neighbors once that 24-hour mark passed, and that's when I found how dire the situation really was."
The 39-year-old, who had the opportunity to escape the dire situation with her family, decided at the moment that something needed to be done to help her elderly neighbors. Many of them had no way of keeping themselves warm.
Health workers have had to trek to work in the snow to attend to their patients.
Grigsby, partnering with her family, tended to her neighbor, who uses a wheelchair, bringing food to her three times a day. She also does pulse checks from her neighbors every day to make sure they are alive.
On Thursday, she had to travel through 32 miles to attend to her neighbor who had burned herself while trying to melt snow and use it to flush her toilet. Although about 75% of her neighborhood has evacuated, Grigsby has no intention to leave.
The compassionate nurse plans to stay, helping the few that remain until the situation has been fixed. Nurses all over the state have had to sacrifice their well-being to fulfill their oath to help others.
According to reports, health workers have had to trek to work in the snow to attend to their patients. Delivery nurse Brooke Wilson walked for 30 minutes to the St. David's Women's Center of Texas in North Austin.
She explained that she didn't want to let down her patients. Another nurse, Amy Belknap, trekked for about a mile to attend to her patients in the oncology department. Across the state, hospitals have been lamenting deteriorating conditions.
In recent news, the extreme weather condition named Winter Storm Uri has killed at least three and injured ten after a tornado struck a coastal area in North Carolina. Several homes have been reported destroyed.
Please fill in your e-mail so we can share with you our top stories!