Kimora Lee Simmons' Model Daughter Ming Puts Her Curves on Display in Lace Savage X Fenty Lingerie
Former model Kimora Lee Simmons' daughter, Ming Lee Simmons, makes waves as she poses on Instagram looking desirable in lace lingerie from the Savage x Fenty brand.
Kimora Lee Simmons' daughter is all grown up and following in her mother's poised struts. Ming Lee Simmons shared a short video clip on her Instagram story as an ambassador for Savage.
Ming Lee is stunning wearing one of the ice-blue printed two-piece sets available from the collection. She filmed herself in the mirror while sitting upon a suitcase in her dressing room.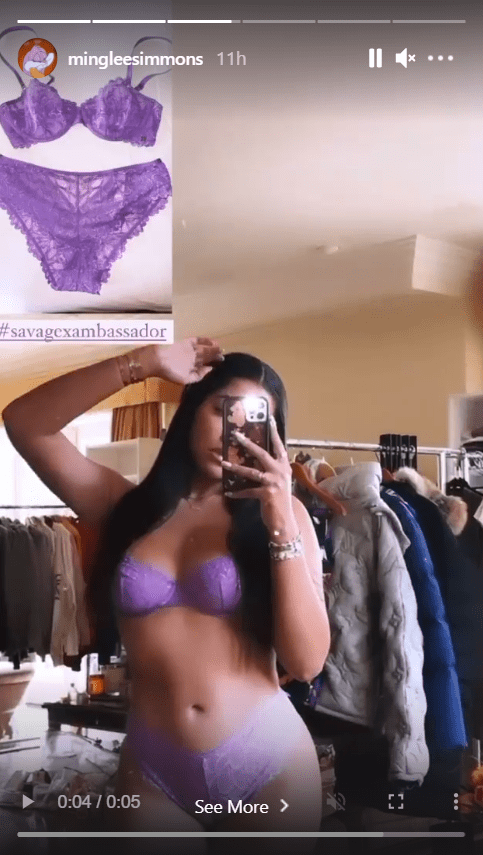 Ming Lee is radiant and shows off her sculpted legs, her bared midriff, and her slender arms in the selfie. Behind the young model is a coat railing hung with various clothes and jackets.
Ming included a small icon to showcase the actual two-piece in the corner of her IG story. The aspiring trailblazer already has over a million followers on Instagram. Her mother spoke about their recent collaboration for Baby Phat:
"We're a family business ... a heritage brand. It's an old meets new legacy kind of a situation for me."
Ming (21) and her sister Aoki (18) joined Kimora's long-time venture BabyPhat in December 2020 and will be revitalizing the brand with their youthful outlooks and influences. 
The new line's first products have already been released - a decadent lip gloss, hand lotion, and shimmer-infused body mist, which come in three scents, Opulence, Divine, and Ethereal, based on their creator's preferences.
Ming and her sister began their lives in the fashion industry at the age of two thanks to their mother's status.
Kimora had founded Baby Phat in 1999 with her husband, the founder of Def Jam Records, Russell Simmons. The fashion icon reiterated that Baby Phat Beauty is a brand about female empowerment too.
In the wake of the Black Lives Matter movement, Kimora also expressed that diversity and representation of women of color in the fashion and beauty industry are imperative. In an interview, she affirmed:
"We want that inclusivity, that diversity, that focus from all brands for everyone all over the world."
Ming and her sister began their lives in the fashion industry at the age of two, thanks to their mother's status. From the time they were toddlers, they would model their mother's impressive line of clothes.
By the time Ming was almost a teenager, she could drape, design, and sew her own clothes. Both girls grew up in the spotlight due to their mother's prominence in the fashion world.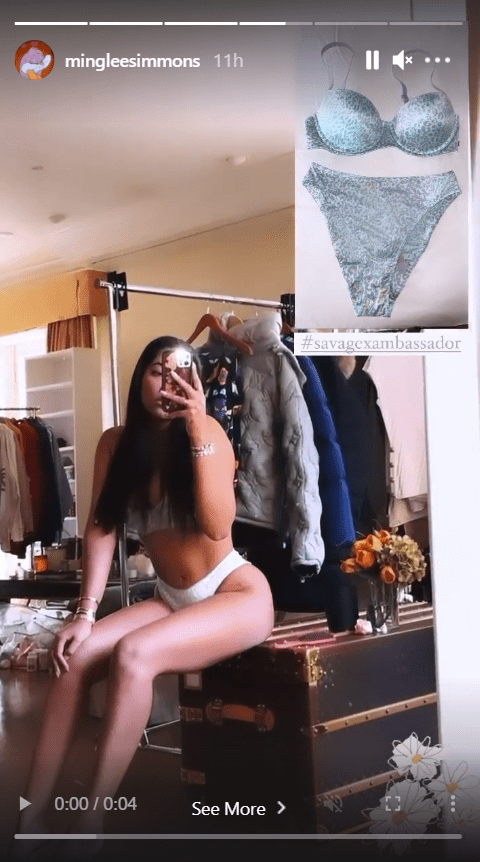 Kimora also has a son named Kenzo from her ex Djimon Hounsou, and they were together for five years but parted ways in 2012. Kimora and her current partner, Tim Leissner, have a son, Wolf, 5, and adopted a 10-year-old boy named Gary last year.
Kenzo, Ming, and Aoki were featured on her reality television series "Kimora: The Life In The Fab Lane," which graced screens in 2013. Like her daughter, Kimora began her modeling career when she was young, 13-years-old.