Getty Images
Pamela Anderson Stuns Fans Doing Post-wedding Interview in Bed with New Husband Dan Hayhurst
American-Canadian actress Pamela Anderson surprised many of her fans when she granted her first interview since tying the knot with husband Dan Hayhurst lying with him on the bed.
Pamela Anderson and her husband, Dan Hayhurst, are enjoying spending so much time with each other that the latter does not wish for the lockdown to come to an end.
The couple's fans caught a glimpse of them when Anderson granted her first interview since marrying Hayhurst on Christmas Eve last year. Anderson and Hayhurst recently spoke to co-hosts of the British talk show "Loose Women."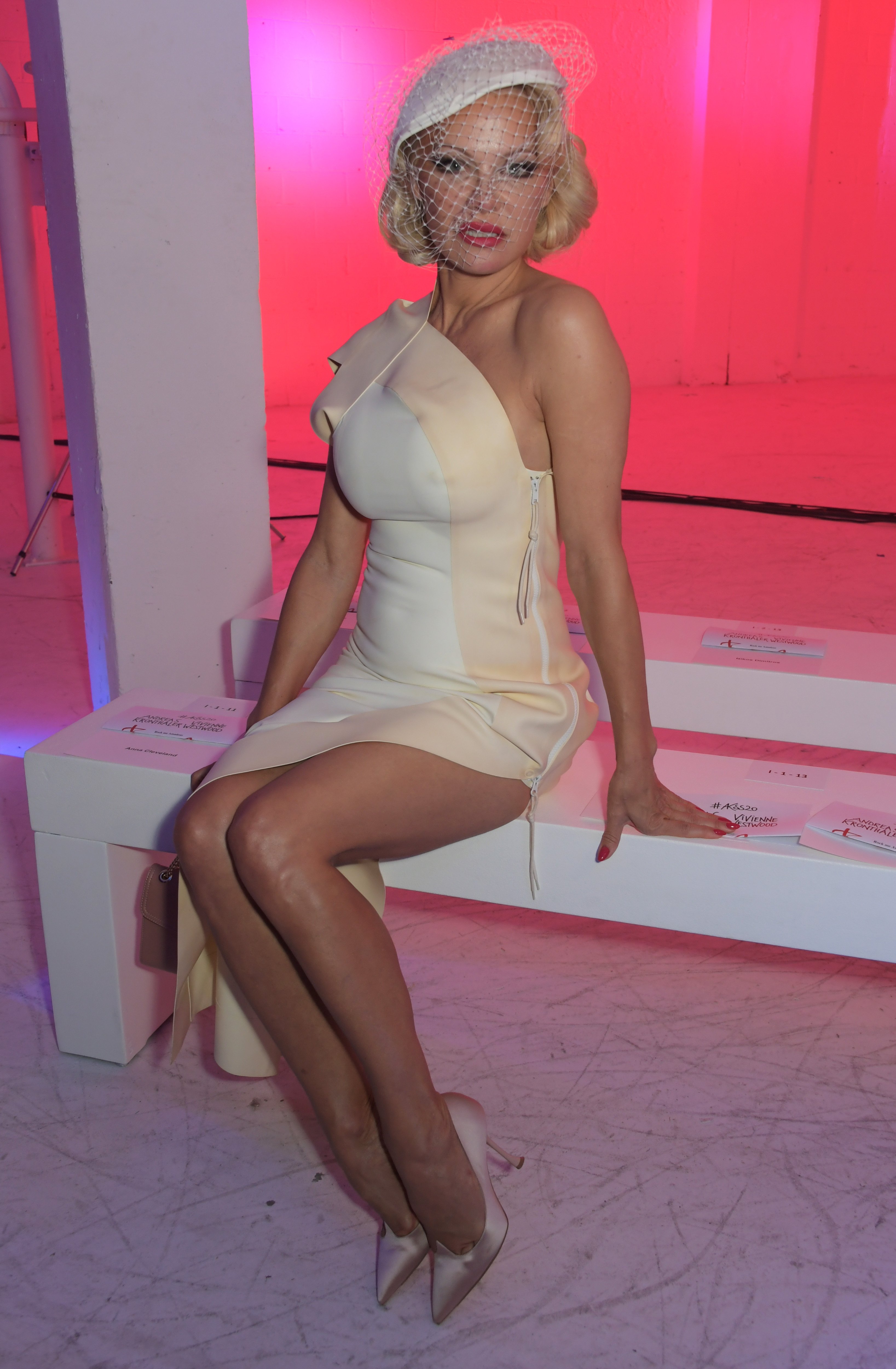 Pamela Anderson looks stunning in white at Paris Fashion Week, September, 2019 | Photo: Getty Images.
They were seen lying in bed, wrapped under the sheets in what seemed to be an intimate appearance. During the recent interview, the couple opened up about their nuptials.
One of the hosts asked Anderson about one of her quotes about being in the arms of the man she loves, adding that they did not expect her to be in Hayhurst's arms for the interview. The actress replied:
"Oh, we (she and Hayhurst) haven't left bed since Christmas Eve."
Anderson revealed she met Hayhurst on her property, where he was working while she was stuck during the pandemic. They had a connection and remain stuck with each other.
The 53-year-old actress further said she had been home for a year and a half renovating, adding that she had renovated the cabins and plans to add a dock. She described the house, which she bought from her grandparents, as a gorgeous property.
Hayhurst replied, saying he doubts they are coming out of lockdown and believes they will stay in lockdown forever.
Anderson went on to reveal details of her and Hayhurst's wedding, which was a low-key affair. She said that she would have preferred them to be by themselves on their wedding day, but it was nice having some family members there.
The "Baywatch" star said there were no problems with invited or uninvited guests. She further revealed that the wedding was beautiful and quiet, adding:
"Our witnesses were the First Nations people that came to do a cedar blessing on us… to get rid of all of our demons. Still working on that [laughs]."
The couple was asked how they will spend their time after the COVID-19 restrictions are lifted, and Hayhurst replied, saying he doubts they are coming out of lockdown and believes they will stay in lockdown forever.
When Anderson was asked what made her husband so special, she replied that he is a good guy and the kind of guy she would have met if she stayed at home and not toured the world and got crazy.
She added that it is nice to be with Hayhurst before joking that he is a real man who can actually change a light bulb, drawing laughter from the co-hosts and her husband.
Anderson's marriage to Hayhurst is the fifth in her lifetime. She was married to Tommy Lee from 1995 to 1998 and Kid Rock from 2006 to 2007. Anderson was twice married to Rick Salomon from 2007 to 2008 and 2014 to 2015.
The actress later claimed to have married Jon Peters, though their marriage was not legally binding as they split two weeks later. Hopefully, her marriage to Hayhurst will fare better than the rest.
Please fill in your e-mail so we can share with you our top stories!