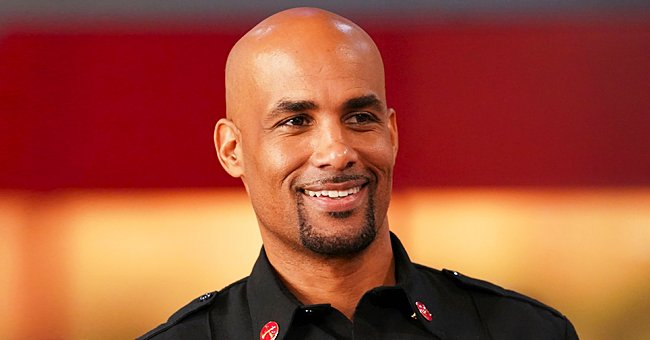 Getty Images
'Station 19' Star Boris Kodjoe's Wife Shows Her Enviable Body in Tight Black Jumpsuit (Photo)

"Station 19" star Boris Kodjoe's wife Nicole Ari Parker flaunted her gorgeous and enviable body on a recent Instagram post, wearing a tight black jumpsuit.
Showing off her fabulous bod in a new photo on Instagram, Nicole Ari Parker seemed exceedingly happy wearing a well-fitted black jumpsuit. Boris Kodjoe is sure to enjoy the snapshot of his beautiful wife.
With a wide smile, it seems that Parker was riding off the endorphins from a possible walk or run through the green surroundings. The bush and pathway looked exciting with the sun shining brightly on her flawless skin.
Boris Kodjoe going to day 2 of the American Black Film Festival on June 16, 2017 in Miami. | Photo: Getty Images
CITY GIRL TRANSFORMATION
Parker seemed completely unafraid to show off her hourglass shape, with her hands wide open in the air whilst standing in a power stance. The actress poured her joy into the post's caption which read:
"Being a full on inner city girl, hiking wasn't part of my life. But now..Omg...best thing everrrr. These ?? were made for alla this. Thank you God for Nature. ⛰#fbf#letsgobackplease @gymwrap"
All types of emojis gushed through the comment section from hearts to heart-eyes to fire. The post received almost a whopping 45000 views with many fans joining in on the outdoor fun.
FRESH AIR
The post included quirky white writing wriggling at the top which boldly said 'Fresh air'. Obviously, Parker was incredibly joyous to be out and about in the lovely bush.
Boris shared a cute Instagram post of his son, speaking about how proud he is of him.
Beyond her flattering tight black outfit, the actress wore other accessories to suit. Her hiking boots seemed to intensify how great her legs looked while her white bandana highlighted her gorgeous face.
MISCONCEPTIONS AND MARRIAGE
Last year, rumors were flying that there were some serious issues in Parker and Kodjoe's marriage, claiming that Kodjoe was cheating. This gossip sparked after Parker said the following:
"I don't necessarily want to be single, but I miss the single life. I miss the text messages for no reason."
Kodjoe responded to the rumors in quite a fury. Writing on Instagram, the actor said he was in disbelief about the quarantine boredom that led to these ridiculous ideas that were spreading on the internet.
A FAMILY MAN
Despite all the rumors Kodjoe seems to be a committed family man. In November of last year, the actor celebrated his now 14-year-old son Nico's birthday in style.
Boris shared a cute Instagram post of his son, speaking about how proud he is of him. He also complimented Nico on his "strength", compassion and conviction in the Insta photo's caption.
It seems that Kodjoe, his wife, and children's compassion go beyond just caring for their immediate family. To assist the fight against the coronavirus, the family created the #HelpOurHeroes campaign.
This campaign works by donating masks to first responders every time someone purchases a Gymwrap mask. During the middle of last year, Kodjoe claimed that they had donated half a million masks.
Please fill in your e-mail so we can share with you our top stories!