Magic Johnson's Wife of 29 Years Stuns in Colorful Jumpsuit in TBT Snap from Hawaiian Vacation
Magic Johnson's wife, Cookie, looked incredible in the colorful jumpsuit she wore while posing next to her husband in a throwback picture from their vacation in Hawaii.
Magic Johnson has been married to his wife, Cookie, for about 29 years, and the pair love to take vacations together. He recently shared a throwback picture of him and his wife from their Hawaiian vacation.
Taking to Instagram, Magic posted a series of pictures which included a view of where they stayed and some of the activities they engaged in.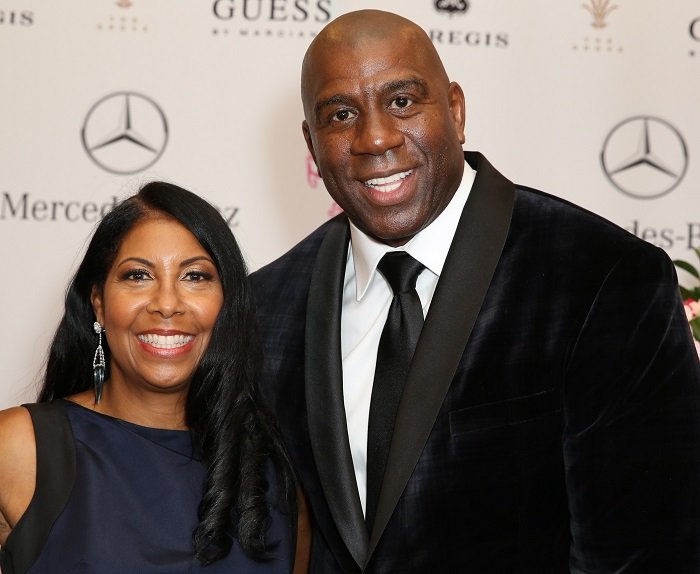 The first post was a shot of the basketball star standing next to Cookie who wore a colorful jumpsuit with matching colorful hair bandanna. Cookie's jumpsuit had a halter neck top and the bottom part was flared. The waist had a thin belt and was cinched. The post had the caption:
"Thinking back on our last vacation in Hawaii."
On the other hand, Magic had on a white round neck T-shirt which he paired with purple shorts. He was standing next to Cookie barefoot, and both of them looked relaxed as they stood in front of a pool.
The second image in the throwback series was a landscape view of a lake. The clear blue skies could be seen with the sun glistening over the surface of the water.
Magic has credited Cookie's unwavering love as one of the reasons he was able to survive this long.
Magic also shared a picture from the hotel they had stayed in when they were on vacation. The shot showed a gold plated signboard bearing the name of the hotel. The last image was a top view of what looked to be the pool area.
The images were shared with Magic's 2.5 million followers and it had over 20,000 likes with lots of comments from admirers of the couple. Someone said:
"That background is so beautiful. Thanks for sharing and enjoy ?."
Cookie and Magic met during their freshman year of college. Their relationship started off with Cookie not paying him much attention because most of the girls on campus wanted Magic at the time.
The pair who have two kids have been together through numerous ups and downs throughout the years with Cookie supporting Magic after finding out that he was HIV positive shortly after their marriage.
Through the years, Magic has credited Cookie's unwavering love as one of the reasons he was able to survive this long. To him, marrying her was one of the best decisions he ever made in his life.
For Cookie and Magic, their love is something they enjoy celebrating. In 2019, they had a lavish soiree to celebrate Cookie's 60th birthday in St. Tropez.