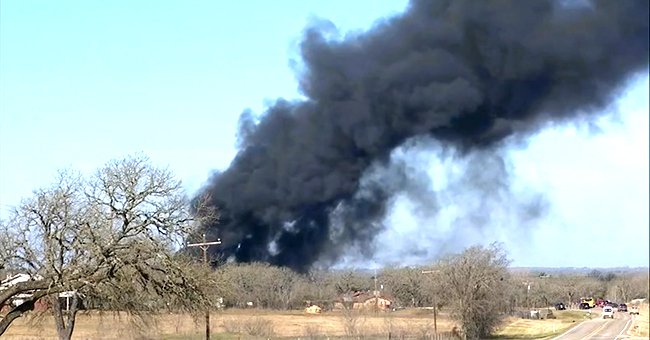 Twitter/abc7newsbayarea
Train Hits 18-Wheeler in Texas & Triggers Destructive Fire — Details Revealed

There was an accident involving a train and an 18-wheeler in Texas, but luckily the Sheriff's department has revealed that there were zero casualties—here's what happened.
A train was involved in a collision with a truck outside Cameron, Texas, in the early hours of Tuesday morning at a crossing that has been described as a regular road crossing with a barrier.
The police confirmed that the train was a Burlington Northern Santa Fe (BNSF) train carrying mixed freight while the truck was an 18-wheeled flatbed vehicle devoid of cargo.
The 18-wheeler reportedly crashed into a train car containing petroleum, and an explosion resulted from the collision that authorities called "a hazmat situation."
Fortunately, the train conductor and truck driver did not lose their lives in the ordeal. Of the 110 train cars in the convoy, it was reported that a total of 13 cars derailed, with five burning with intense flames.
In a Facebook live video session, Milam County Sheriff Chris White stated that the accident was called in at exactly 6.40 a.m and noted that it was only by "the grace of God" that people situated in the surrounding areas came out unscathed in the crash aftermath.
A five-mile-wide evacuation zone has reportedly been set up.
Homes were evacuated, and the flames gutted at least one house. White alleged that the fire was primarily from petroleum—apparently, the fire had missed more hazardous substances located towards the train convoy's posterior end.
He told reporters that the threat was over, and the focus now was on putting out the fires, which are reportedly still burning five train cars.
The Sheriff cautioned residents of the area to avoid the crash scene until it is deemed safe by authorities. Out of an abundance of caution, a five-mile-wide evacuation zone has reportedly been set up.
The accident's exact cause is still unknown, but local authorities have assured residents of the Texas county they would get to the bottom of it in time.
Please fill in your e-mail so we can share with you our top stories!