instagram.com/j_evans1219
'Teen Mom' Star Jenelle Evans Is Experiencing Spinal Cord Issue — Here Are the Details
Jenelle Evans from "Teen Mom" is experiencing spinal cord issues and had shared her journey on social media.
Jenelle Evans from "Teen Mom" has been experiencing spinal cord issues and has been posting about the experience on her Instagram stories in multiple posts.
Her husband, David Eason, shared his own post of an old photo of her enjoying a beverage and asked fans for their prayers. He explained that she was having a myelogram MRI done.
Evans took to her Instagram to explain the procedure that she had done was to find out the cause of her neck popping issue. She shared that she was bedridden.
The Sun reported the content of her Instagram stories. The mom of three shared that the procedure was invasive, and she could not leave bed for two days. She explained:
"After this procedure is done, they don't want you getting up. They don't want you doing any extraneous activity for 24 hours. I have to lay here in bed flat."
She shared another Instagram story of herself in the hospital with an IV in her hand. In the picture, she wrote that she would explain the situation in a YouTube video.
MTV fired Evans in 2019 after a tragedic accident with the family dog. Her husband had been fired earlier for making homophobic and transphobic comments.
The couple seems to be together as Evans recently shared a photo of them.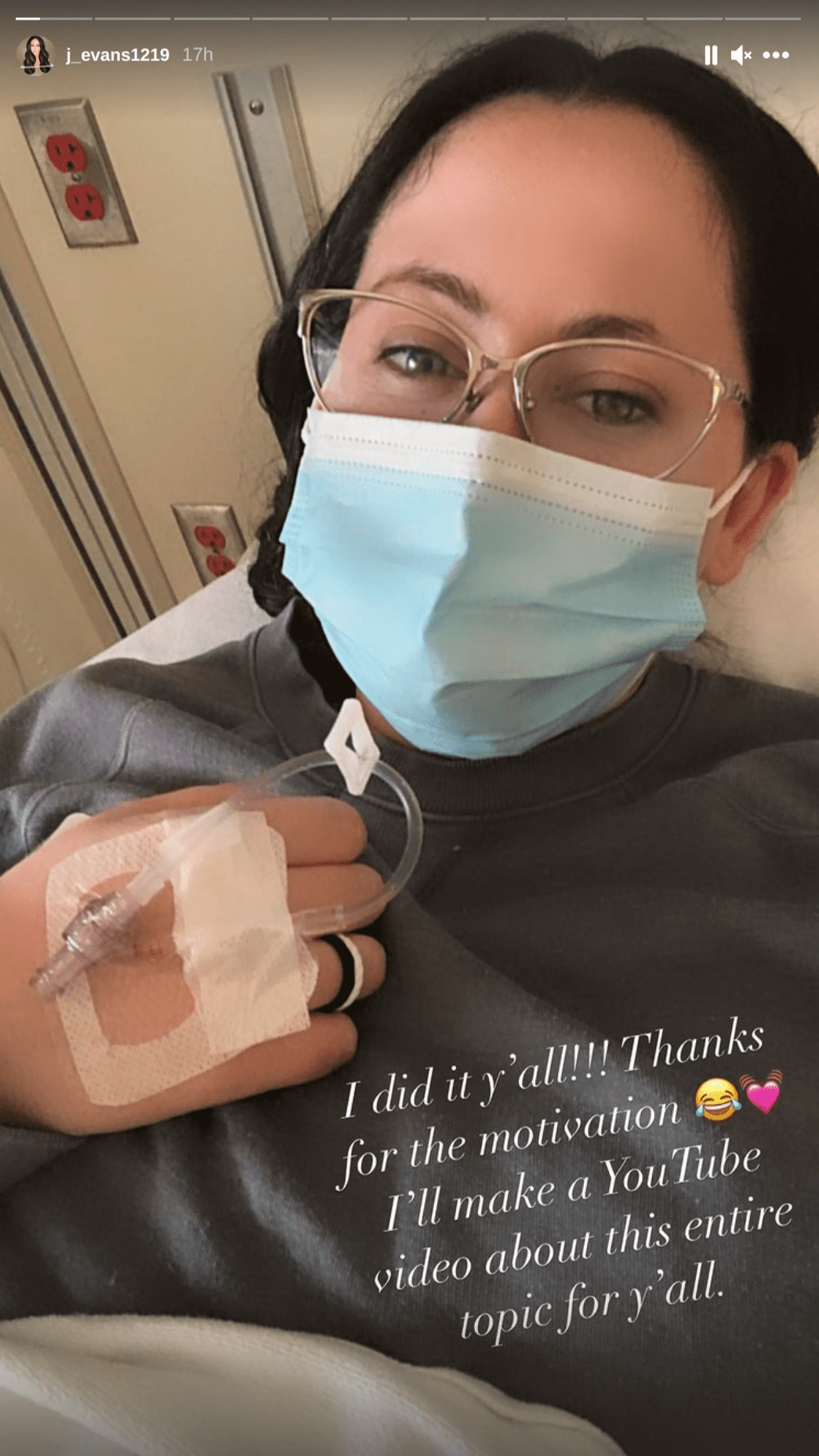 Jenelle Evans has been experiencing spinal cord issues. | Photo: Instagram/j_evans1219
She recently shared that she has new plans for her career. In a Tiktok video, she shared a behind-the-scenes glimpse of a new make-up room and game space for future content.
The reality star who had got slack from others online about getting a real job explained that she had exciting news to share with her fans. She elaborated and explained:
"Well, let me show you what I'm up to. I got somethin' up my sleeve, and I can't wait to share it with you guys."
Evans appeared on MTV's "16 And Pregnant" spin-off show, "Teen Mom 2," when she was pregnant with her eldest son Jace, who shares with her ex, Andrew Lewis.
During her time on the show, audiences saw her go through life and find new partners. Her second son Kaiser, she shares with her ex-fiance Nathan Griffith,
She is now married to David. They have a daughter, Ensley, who they had in 2017. Although the couple has had many ups and downs in the past, they are currently happy together.
Despite assault allegations, a restraining over and losing, and gaining the custody of their three children. The couple seems to be together as Evans recently shared a photo of them.
Please fill in your e-mail so we can share with you our top stories!