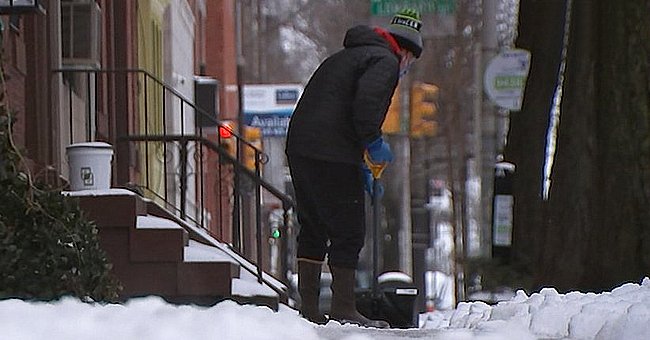 twitter.com/ABC7NY
Philadelphia Man Raises Money for Cancer Charity by Shoveling Snow from Sidewalks
A man named CJ Walsh shovels sidewalks in his Fitler Square neighborhood. Being a selfless man, he's raising money for his charity, "Team I Hate Cancer."
"Team I Hate Cancer," co-founded by CJ Walsh and his brother in 2006, has raked in over $400 this winter. They provide mental health therapy and wigs to families with cancer diagnoses.
To aid more families in need, Walsh is shoveling nonstop. Last summer, he and his brother cycled from Philadelphia to Maine to raise $50,000 for national charities such as the Flatwater Foundation.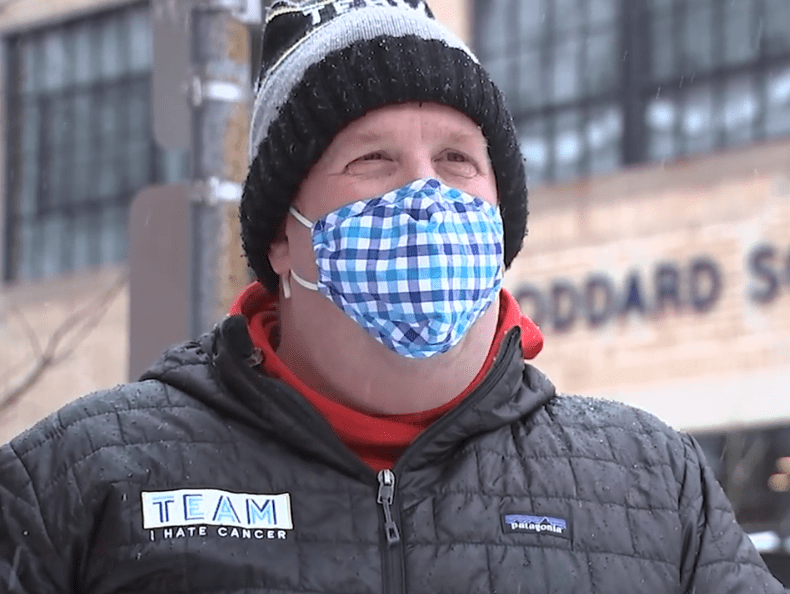 CJ Walsh during a recent interview. | Photo: Facebook/Localish
"Team I Hate Cancer's" goal is to raise money for national programs and charities. The non-profit paid for therapy for families for a whole year. For Walsh, it is a personal mission.
During this winter, Walsh used nature to his advantage three times. His services range between $25 to $70. Recently, he shoveled out 16 homes. For him, it helped people in need.
THE FURNITURE STORE OWNER
Jim "Mattress Mack" McIngvale cares about the vulnerable just like Walsh does. McIngvale is the owner of Gallery Furniture. He opened his doors to anyone seeking warmth amid a harsh winter storm.
For a week in advance, McIngvale started preparing for the winter storm by buying 15,000 gallons of diesel that would run the store's generator for a week or two.
Doug Condon and Nina Richardson offer another example of why not all heroes wear capes.
Security personnel enforced hand sanitizers and facemasks as part of a COVID-19 plan. McIngvale promotes the shelter through the business' social media following and media coverage.
For those who need special accommodations, such as babies whose bottles need to be warmed or seniors who need to plug their oxygen gear in, McIngvale and his workers made arrangements in detail.
Doug Condon and Nina Richardson offer another example of why not all heroes wear capes. They helped a delivery woman who ended up stuck in a flower bed in the middle of terrible Texas weather.
Chelsea Timmons had been delivering the last of her workdays in her Toyota Rav4 and knew she had time to make it home, even though the snow was coming down rapidly.
However, she lost control of her vehicle while delivering Valentine's Day groceries to Condon and Richardson, and her car crashed into their flower bed in a hilly neighborhood.
After they found Timmons, they took her into their home, where she stayed until a towing company could arrive. However, due to the cold weather, it would take five days for her to return home.
Another hero is Benjamin Kagan, a 14-year-old Chicago high school student who discovers ways to obtain COVID-19 vaccines while people struggle to find and make appointments.
Due to the vast distribution of the COVID-19 vaccine across the country, some eligible groups have yet to receive appointments. Kagan then lent a hand to his grandparents during their spring break.
Watching the evening local news one night, Kagan learned about the Chicago Vaccine Hunters, a Facebook group comprised of Chicagoans working together to find vaccines for people in need.
Kagan created a Google form where Chicago-area residents can submit names and contact information. After that, Kagan or another volunteer will get in touch to arrange a meeting.
The tech-savvy teen decided to start his own vaccine advocacy group, Chicago Vaccine Angels, which has attracted more than 50 volunteers in only a few weeks.
Kagan said they'd helped more than 250 people to appointments. Since then, he's become a vaccine appointment expert, and he's even been contacted by clinics that are running low on vaccines.
Please fill in your e-mail so we can share with you our top stories!