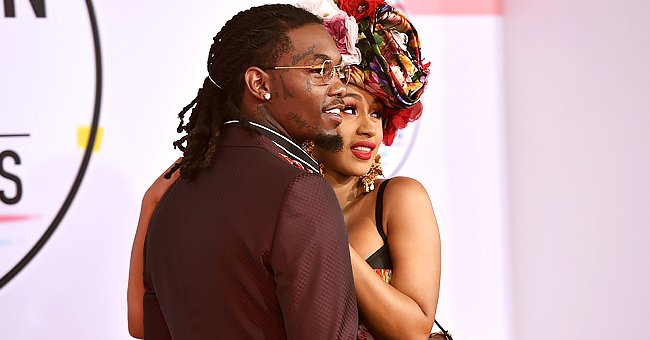 Getty Images
Cardi B's Daughter Kulture Looks Cute in Headband with a Bow as She Kisses Her Toy Minnie Mouse
Cardi B's little girl Kulture looked beautiful, rocking a headband in a picture her mom shared on her Instagram Stories. The adorable Kulture looked lovely cuddling her toy.
Cardi B might be an award-winning singer with lots of record-breaking songs to show for it, but much more than her successful career, she is a doting mother to her daughter Kulture.
The "Wap" singer loves to feed her fans with cute pictures of her two year-old-daughter Kulture, who she shares with rapper Offset. When she is not posing with her luxury bags, she is flaunting her little girl.
The mother of one shared a heartwarming picture of her adorable daughter on her Instagram Live, looking calm, sitting at the corner of the house and fondling her Minnie Mouse toy as though she was playing with a baby.
The highlight of the picture the rapper shared was Kulture's sweet outfit. The two-year-old looked beautiful wearing a red headband with a bow alongside some good-looking pink footwear.
Kulture has become known for her love of pink. The two-year-old has already unleashed her sense of style and has become fascinated with the color most girls are obsessed with.
Aside from loving pink, Kulture also has an eye for fashion, just like her mom Cardi B and her rapper father Offset. The cutie has attained almost a celebrity status amongst fans and even has her own social media page.
Her parents, in return, never fail to shower her with love and luxury.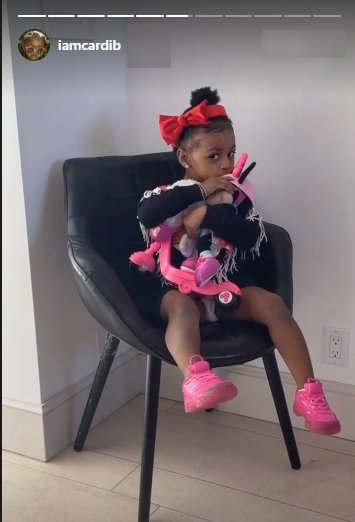 A picture of Cardi B's daughter, Kulture in an adorable outfit | Photo: Instagram/iamcardib
Cardi B opened a new page for her little one, and in less than a day, thousands of fans flocked to it to identify with the beautiful Kulture. According to reports, the page gained over 15 thousand followers in about 15 hours.
Cardi B has ensured to fill the page with amazing mother-daughter content. Fans can catch a glimpse of the bond the rapper shares with her little one by viewing the amazing pictures and clips on the page.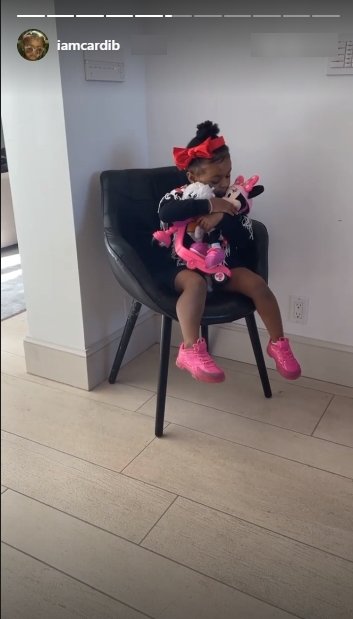 A picture of Cardi B's daughter Kulture in an adorable outfit. | Photo: Instagram/iamcardib
Kulture has been an internet sensation since before she was born. From Cardi B's famous nude photoshoot where she announced her pregnancy to the grand revelation of her daughter's name, there has been a lot of attention around her.
The 2-year-old gained more attention this year when she crashed her parent's Valentine's Day date. Kulture reportedly came into her parents' outdoor dinner bearing gifts.
The moment triggered laughter from their fans who remarked that the moment was cute. Her parents, in return, never fail to shower her with love and luxury.
Offset once showed his fatherly side when he was spotted painting Kulture's nails in an adorable clip that the singer shared. It was an adorable sight for fans as they gushed about how doting he is towards his daughter.
The rapper also does not fail to lavish his wealth on her and does not mind spending $8k on a customized car seat for the two-year-old, even if he was sure it would it was bound to have peanut butter and jelly on it in less than a week.
During Kulture's second birthday, her parents reportedly went all out to throw a lavish birthday for her. For most fans, Kulture is living the dream of every child.
Please fill in your e-mail so we can share with you our top stories!