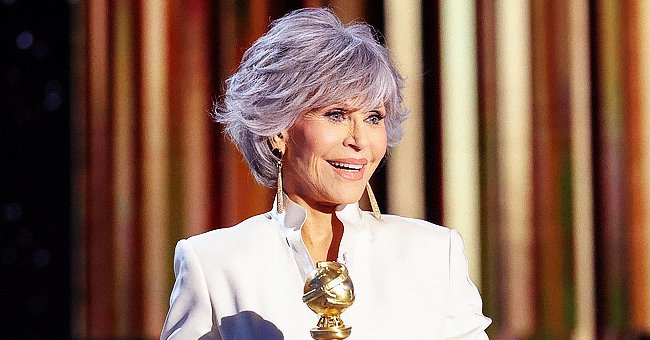 Getty Images
Jane Fonda, 83, Melts Fans' Hearts Revealing Unexpected Zoom Error Amid the 2021 Golden Globes

Former fashion model Jane Fonda recently experienced a technology fail, and she looked super cute, realizing her Zoom call had no sound output.
Jane Fonda took to Instagram and posted a video of herself during a Zoom call giving a speech for her award from the Golden Globes Awards ceremony.
Since the event was held virtually this year, the stars had to accept their accolades from home. In her post, Fonda wrote, "Now I know why no one was talking to me."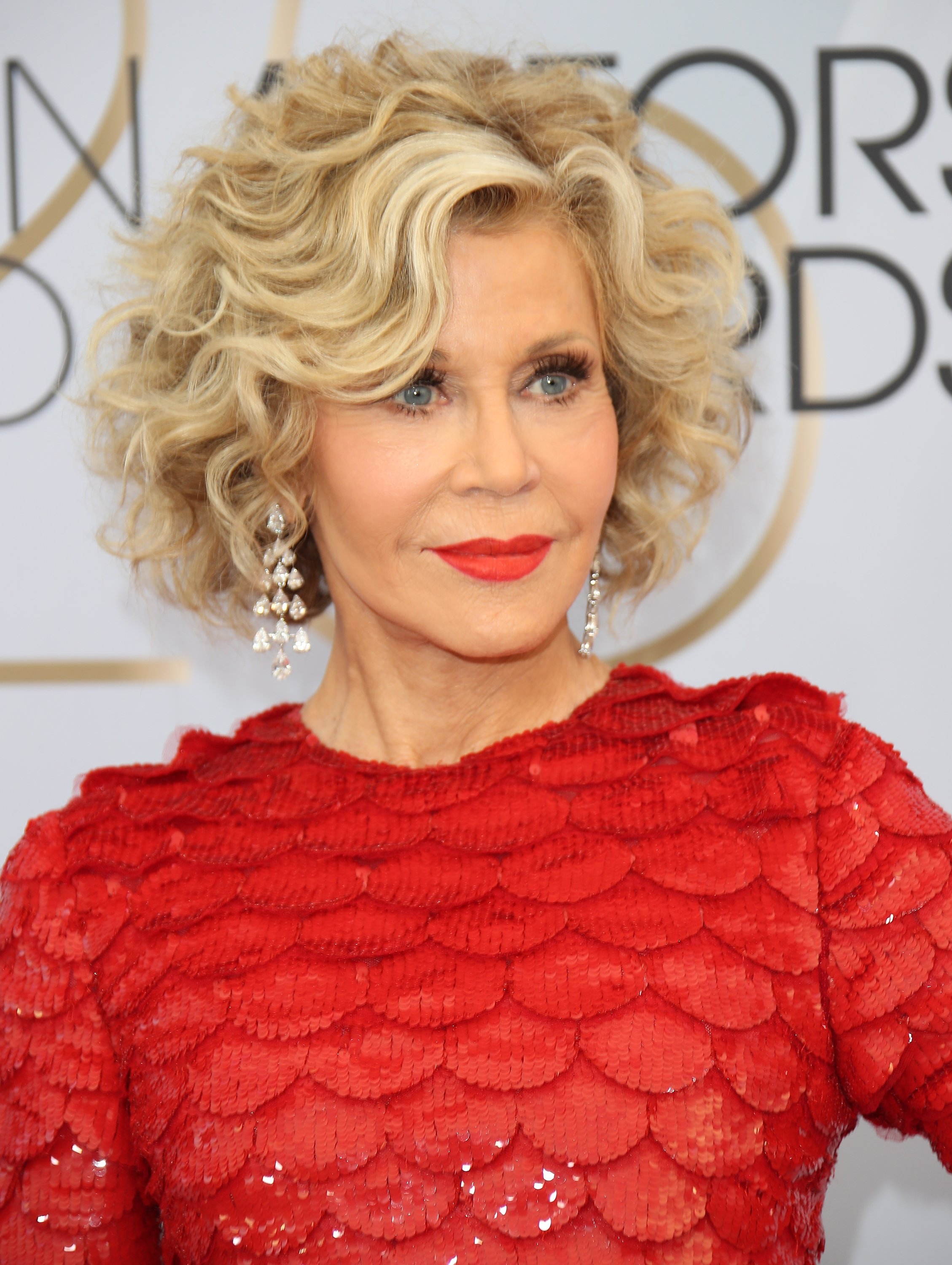 Jane Fonda attends the 25th Annual Screen Actors Guild Awards at The Shrine Auditorium on January 27, 2019 in Los Angeles, California | Photo: Getty Images
JANE FONDA'S EPIC TECHNICAL FAIL
Although the clip does not have sound, you can see Fonda sitting down while holding her award. She wore a cream white suit and dyed her hair purple.
The actress faced away from the phone camera and turned her attention towards another cam in front of her as she was giving her speech. On the Zoom meeting screen, five people are visible from the video.
Beside Fonda is a black drawer that has a beige marble countertop. On top of it is a black mini bag pack, a remote, two water bottles, and a black box.
A lamp is also visible, and a wall frame is hung up on the wall. As Fonda continues to speak, she appeared to notice that there may be no sound output from her end.

A fan's comment on Jane Fonda's post | Source: Instagram/@janefonda
She then appeared to be talking to the person taking the video and pointed at the screen. Fans found the footage ridiculously hilarious and pointed out how cute she is while congratulating her for the award in the process.
One Instagram user said, "So cute! Congrats Jane, you're an amazing lady, and we're lucky to have you! Another wrote, "You're the cutest person stop it."

A fan admires Jane Fonda | Source: Instagram/@janefonda
According to E! Online, the 83-year-old attempted to tap into a Zoom conference call to accept the Cecil B. DeMille Award but experienced technical difficulties. "Can you hear me?" she asked the other five before letting out a brief wail.
The person taking the video then informed her that she is not in the broadcast and that people can't hear her. She reportedly exclaimed, "No? Why?" As the people on the screen continued to speak to each other, she tried to get their attention.
Despite the struggle with modern technology, she accepted her award, got her voice across, and gave a great speech. Fonda touched on diversity, which is a subject that she has never shied away from.
HER INSPIRING SPEECH
Fonda decided to talk about something very dear to her heart. She first gave recognition to actors and directors that tell stories that change people's lives.
"You know, I've seen a lot of diversity in my long life, and at times I've been challenged to understand some of the people I've met. But inevitably, if my heart is open, and I look beneath the surface, I feel kinship," she shared.
Fonda continued to share that all decision-makers in the entertainment industry should open up the line for opportunities to other creatives. "So that everyone rises, and everyone's story has a chance to be seen and be heard," she said.
FONDA'S LOOK FOR THE EVENT
The "Monster-in-Law" star gave the heartwarming speech wearing a sleek white suit with cream-colored trim for the occasion. She paired the look with metallic Sarah Flint pointy-toe pumps and Pomellato drop earrings.
According to People, she reportedly revealed that she would not buy a new outfit for the ceremony. Fonda shared that she vowed years ago that she would never rebuy new clothes because one spends too much money on clothes then get rids of them.
Please fill in your e-mail so we can share with you our top stories!