'Hannibal' Star Anthony Hopkins Spreads Happy Vibes Grooving in a Hawaiian Shirt — Fans React
Actor Anthony Hopkins decided to spread some Tuesday cheer this week by uploading a dancing video. The star's short clip received a lot of positive reactions from his fans.
On Tuesday, Anthony Hopkins had a different idea for the day when he uploaded a video of him dancing. The star was recorded standing in front of a door before he started breaking into dance.
A delightful song played in the background as the "Hannibal" actor showed off his impressive dance moves. He appeared to be spreading some happy vibes to his fans as we all battle the COVID-19 pandemic.

Hopkins wore a colorful short-sleeved Hawaiian-inspired T-shirt, red shorts, black and white sneakers, and some dark sunglasses. He was recorded while standing not too far from a door with glass walls.
It wasn't clear if the actor was on holiday or perhaps on his way to the beach; however, the video thrilled his fans. One fan replied to the Twitter post noting how funny Hopkins was.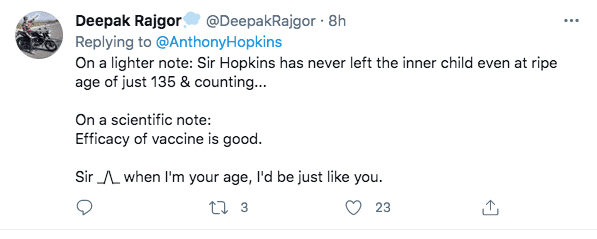 The fan confessed how the star had made his day. She shared that her brother had a serious COVID-19 case and admitted that she hadn't laughed in three weeks until she opened his post.
The follower explained that she was commenting to thank him for the good cheer. Someone else who was of Colombian decent told the actor that he rocked for his skills in the clip.
Tuesday Tunes 🎶 pic.twitter.com/kAFFh4cEZG

— Anthony Hopkins (@AnthonyHopkins) March 2, 2021
The fan shared how being Colombian was an attitude that came from the heart. They also noted that being Colombian was about dancing, being happy like nobody was watching, and Hopkins nailed it!
A third person jokingly noted how Hopkins hadn't let his inner child leave him even at the age of 135. The fan concluded that when they were the star's age; they would be just like him.
Someone else thought imagining Hopkins as his "Hannibal" character while watching him dance made the video even better! Hopkins might be all jolly now, but he hasn't had an easy road in life.
In February 2021, he opened up about his past issues with alcoholism. He explained, at the time, that he'd had a wake-up call all those years back that changed his life forever.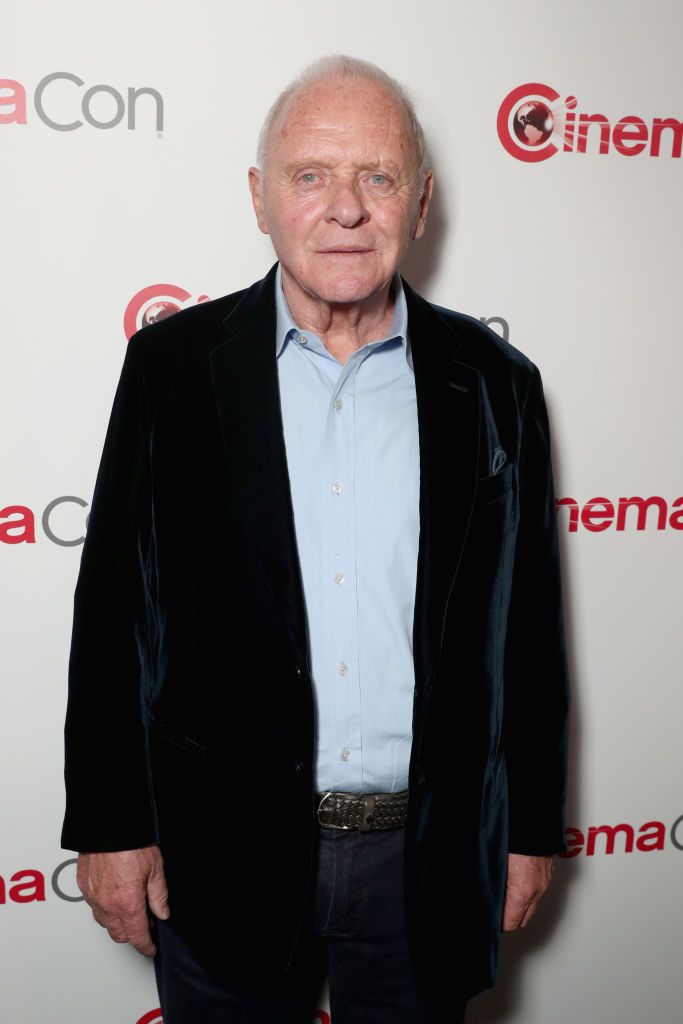 Hopkins was drinking himself to death until he heard a voice asking him if he wanted to live or die. Luckily, "The Silence of the Lambs" actor chose life and never touched a drink again.
In December 2020, he posted a video on Twitter to mark 45 years of sobriety. Getting his life back on track also led him to find love in his longtime and current wife, Stella Arroyave, who married him in 2003.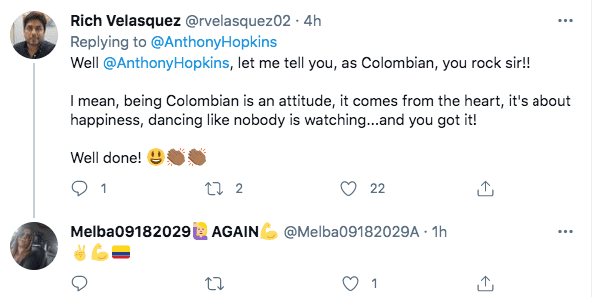 The legendary actor confessed to "Daily Mail" in 2013 that his wife was good for him because she helped him slow down. She even helped save him from depression at one point.  
After Anthony Hopkins' short rendition, the actor extended the challenge to other stars.

Speaking about dance moves, last May, Hopkins was one of the celebrities who took part in Drake's "Tootsie Slide" challenge. He had just joined TikTok when he shared his delightful clip.
After his short rendition, the actor extended the challenge to other stars. He called out his fellow acting buddies, Sylvester Stallone and Arnold Schwarzenegger, to show off their own moves.