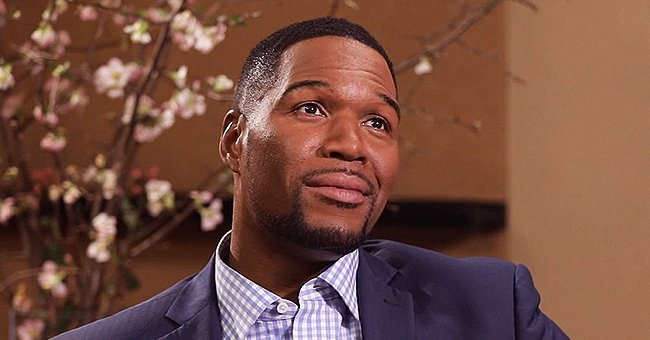 YouTube/Graham Bensinger
Michael Strahan's Fans React after Seeing What Looks like a Wedding Ring in This New Video
"Good Morning America" host Michael Strahan has left fans puzzled and speculating about his marital status after sharing a video with his daughter Isabella Strahan on social media.
Followers almost instantly noticed that Michael Strahan was wearing what appeared to be a wedding band on his left ring finger in a video of him dancing with one of his daughters on Instagram.
Strahan and Isabella are filmed performing the same moves and then doubling over with laughter when they get it wrong. The clip then cuts to show a close-up of Strahan waving his hand near the camera showing a ring.
The fun video was initially shared to the television host's TikTok account. Strahan is dressed in casual black attire while his daughter has on a tye-dye sweatshirt and tracksuit pants.
She has her auburn curls tied up neatly in a bun. It is only when Strahan goes up to the camera and flashes the peace sign for a good few seconds that you can see the ring. He captioned the image:
"We tried LOLOL!"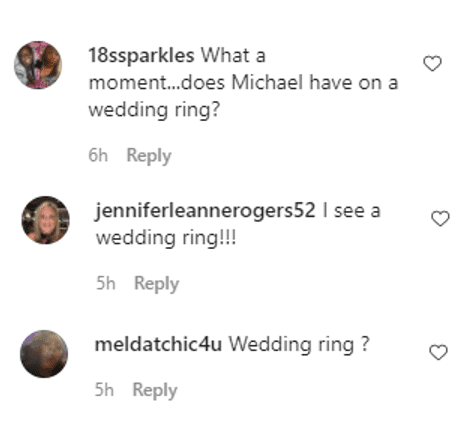 Screenshot showing comments on Michael Strahan's IG post | Source: Instagram/michaelstrahan
Strahan has four children, two with each of his ex-wives. Tanita (28) and Michael Jr. (25) were born to Wanda Hutchins, to whom the star was married to between 1992 and 1996.
After that, the "Live With Kelly and Michael" personality had twins, Isabella and Sophia, with Jean Muggli. They were married from 1999 until 2006 and had an ugly divorce.
[Strahan] sued Muggli for custody of the twins claiming that their mother was verbally abusive.
Strahan recently battled COVID-19 and thanked his daughters for their support during the recovery process. He shared a heartfelt Valentine's Day post which he dedicated to all four of his kids.
The 49-year-old spent the weeks after announcing he had contracted the virus in his home in Manhattan. In a video message to his co-workers at "GMA," he reminded viewers:
"Make sure you take care of yourselves. Wear your mask, wash your hands, use your wipes."
It is evident that Strahan shares a very close relationship with his children, especially his teenage daughters. Last year, he sued Muggli for custody of the twins claiming that their mother was verbally abusive.
Strahan did not believe that the twins were in a conducive environment and accused Muggli of conducting an abusive behavior pattern towards Isabella and Sophia.
The girls live with their mother in North Carolina. Strahan revealed that he had proof of Muggli's physical and emotional abuse towards the teenagers which he would share with the court.
Strahan has visitation rights to see his children but would prefer if the judge ordered that he have primary custody. In 2019, the exes had sought a parenting coordinator to help resolve their issues.
Please fill in your e-mail so we can share with you our top stories!